Coming into this recent earnings statement, I liked the price formation of Green Mountain Coffee Roasters (NASDAQ:GMCR) (purely technically) and I bought the stock at $24, making a tidy profit and getting out on the 11th at around $32 (though sadly, this profit was only on paper). I like the company, so I was wondering if it could be a value stock even after this jump. Its fundamentals looked nice at a glance. P/E around 15, which is lower than most comparables in its sector. It has steady growth. It could be a great value pick.
That's when I fell upon Seeking Alpha's Sam Antar and his uniquely well-informed analysis of the risks getting into the company. With massive fraud as a possibility, I owed myself the due diligence to do my research and either learn how to pick 'em, or learn how to short 'em.
Mr. Antar's arguments on the buildup of inventory were very convincing. It was clear that something was desperately off with the books. The rate of inventory growth is higher than accounted for by pure sales growth.
Lets take the May report. I'm sure if you were following GMCR at all in May, you know what happened. Overnight the price dropped 40%. This period is where the biggest inventory build-up occurs. Compared to the year before, inventory on hand doubled, while sales only rose 40% (2nd Quarter, 2012). That's a lot of dead money sitting in the stock room, for possibly no reason. It might not even be there, but solely the product of a fraudster's imagination.
So what's happening? Mr, Antar proposes, two possibilities: a fraud where most of that inventory doesn't exist, or mismanagement where the company has ordered a bit too much stuff. I don't like either theory. The second allegation is easier to argue against than the first.
In order for mismanagement to explain the situation, the excess inventory would fit relatively well into how far real sales fell short of company expectations. These two values are not even close. Now we consider fraud. I like this explanation even less.
To get to the root of the problem we should focus on where the excess inventory comes from. In May inventory was up 200% from the year before. Interestingly, almost all of this gain (75%) comes in the form of raw goods. This is explained by an increase in green coffee volume and price, with the price 24% higher than the year before (2nd Quarter, 2012).
Even more interestingly, this excess inventory is still sitting around come August (3rd Quarter, 2012) when earnings are next stated. As well, the company is sitting on almost the same amount of raw products as May.
The damning proof that the beans are causing the bloat is that, with regards to finished goods, the growth in inventory is commensurate with the growth in sales! In May, sales have increased 47% with finished goods inventory increasing 66% (2nd Quarter, 2012). In August, finished good inventories actually decreased year over year! (3rd Quarter, 2012)
So now we know where the inventories are increased, and here is where GMCR's management may prove their worth. In 2011 coffee prices spiked more than 50%. Perhaps not coincidentally, this is the point at which GMCR's shares began their descent from the all time high of $110.
Looking at 2011 financial statements, a few quick calculations show that although costs of inventory, especially coffee, increase dramatically, the real volume increase is equal between finished goods and raw goods (Fiscal Year 2011 and Fourth Quarter 2011). So what is the explanation?
Check out the price of coffee around May 2012. It is about this time that coffee hit its lower bound trend-line (marked red in the below chart). It wasn't going any lower, and if 2011 was any indication, it could go higher. High raw goods prices is not a good situation when facing discount competitors that don't need to retain dead margin in the form of income-neutral brewing manufacture - company statements say GMCR at best breaks even on the coffee makers (Full Year, Fourth Quarter 2011).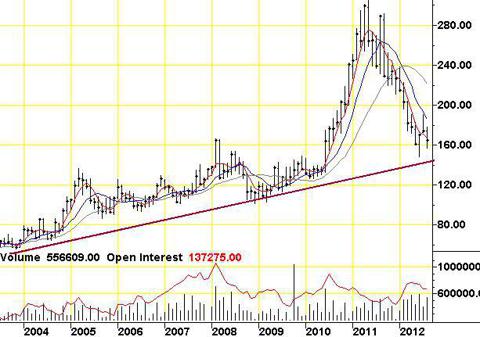 Click to enlarge
(click to enlarge) Chart from TradingCharts.com
As such, I propose, much to the contrary of mismanagement or fraud, the buildup of inventory is taking advantage of low coffee prices now to build a reserve of coffee beans. This will allow the company to ride out possible future high coffee prices and to grow as a mature company, offering stable quarterly earnings.
As further evidence of my assertion I put forward that the stock of coffee beans is little changed from May to August (2nd, 3rd quarter 2012) indicating in my mind there exists a reasoned reserve that will be kept constant at current prices and be depleted in times of high coffee price.
The test of this hypothesis will be, of course, how the company's stock of coffee beans changes in the future. If you plan on investing in this company, the indicator of continuing fraud would be growth of current stocks not commensurate with sales growth. Depletion of coffee stock during times of high coffee price would be indicative that my hypothesis was correct. I expect that should we return to high coffee prices as in 2011 that the ratio of coffee stock to finished goods would return to the same level as in 2011, keeping pace with consumption in the form of finished goods.
My last comments are that in the mid-term I see no reason to believe that GMCR is facing a balance book issue. There could be issues in the long-term with new entrants to GMCR current lone market, but I see this inventory buildup as preparation for a pricing war between GMCR's brand name K-cups and discount entrants. If coffee rises in price, as seems a possibility, given droughts in Colombia, this decision today may very well be seen as prescient, as a reserve of coffee beans would allow GMCR to compete on an uneven playing ground.
For further comments, I plan on following this up with a recommendation that includes formal price targets and justifications. I think this will be an interesting stock to follow in the mid-term, but it is certainly more complex an issue than trend confirmation.
Disclosure: I have no positions in any stocks mentioned, and no plans to initiate any positions within the next 72 hours. I wrote this article myself, and it expresses my own opinions. I am not receiving compensation for it (other than from Seeking Alpha). I have no business relationship with any company whose stock is mentioned in this article.
Disclaimer: I do not claim to be a professional market analyst, I just have lots of data to work with. At the end of the day, it is your money, so please exercise due diligence not just with me, but with anyone giving advice on this complicated, and often very subjective, matter.