One of the most interesting myths regarding Amazon.com (NASDAQ:AMZN) is the now often-repeated mantra that collecting sales taxes will have no impact on its business. The explanation for this takes many forms. All of them are debatable.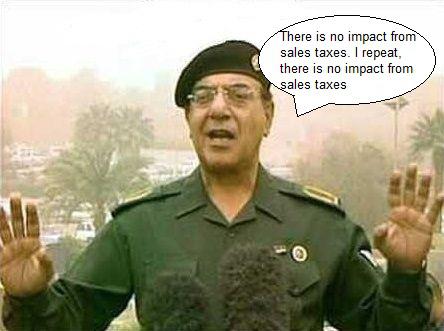 Amazon.com already collects sales taxes in as much as 50% of its sales
One of the often-repeated defenses of why sales tax won't impact Amazon.com stems from the fact that a good part of Amazon.com's revenues are already taken in jurisdictions where Amazon.com collects taxes. So the story goes that if the impact wasn't noticed in those jurisdictions, it won't much matter that the remaining jurisdictions will also collect taxes soon.
But was there no impact? It happens that Amazon.com mostly collects taxes on its foreign sales. Now, although foreign revenues have been growing at about the same pace as the US, there is something else taking place here, as the table below, from Amazon.com's latest 10-Q, shows: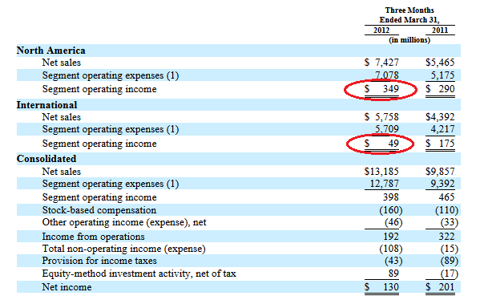 Alas, it's not that reassuring that Amazon.com collects taxes on its international sales because those sales are presently much lower margin than sales in the US. It's important to understand that, faced with collecting taxes where it didn't previously collect them, Amazon.com either faces an earnings impact (from lowering prices to keep them constant in after-tax terms) or a revenue impact (from lower sales due to higher after-tax prices).
Amazon.com offers the best price with or without taxes
This is often repeated by Amazon.com representatives. But again, it's misleading even if true. This is so because if Amazon.com is not collecting taxes on day X-1 and starts collecting them on day X, if nothing else changes then prices will be higher by the amount of the tax.
It would require one to believe that Amazon.com can increase prices 5-9% from one day to the other without any revenue impact, for the phrase not to be misleading. But obviously it can't, so obviously there has to be an impact.
There were reports of people front-running the tax change
This is basically the most damning evidence. If there's no impact from introducing the collection of sales taxes, then why is there a pop in sales just as the measure is about to come into effect?
Yet, there were reports of this very phenomena taking place as Amazon.com got ready to collect sales taxes in California (said collection started on September 15).
If people were bringing forward buying activity to beat the tax man, obviously right after the sales taxes start being collected activity will suffer.
Finally, if there's no impact, why did Amazon.com fight it for so long?
This is self-evident. Amazon.com itself believed there's an impact, and wished to avoid it for as long as possible. It requires deep denial to dismiss this.
Conclusion
There's no way for the collection of sales taxes not to have an impact on Amazon.com. The collection of sales taxes will either have a revenue impact - making for slower growth - or an earnings impact, if Amazon.com chooses to eat part of the increase in prices to remain competitive.
Amazon.com started collecting taxes in Texas on July 1, and now in California on September 15, so these impacts can start appearing in the present quarter (the revenue impact can be mitigated by the new Kindle Fires, though).
Amazon.com remains an extraordinary bubble, trading at 315 times estimated 2012 earnings, while these earnings are declining, not growing. It's also likely that earnings estimates for 2013 will continue to see strong downward revisions.
Disclosure: I am short AMZN. I wrote this article myself, and it expresses my own opinions. I am not receiving compensation for it (other than from Seeking Alpha). I have no business relationship with any company whose stock is mentioned in this article.