Do Shareholder's Care About Valuation?
Asset managers have had a tough time over the past twelve months.  This seems perfectly logical given the fact most asset managers have seen down performance and asset flows continue to deteriorate.  The median asset manager (a list of 29 companies) is down over 30 percent during the past year.  Some great franchises have come under significant pressure [Gamco (NYSE:GBL) down 20 percent, Calamos (NASDAQ:CLMS) down 30 percent, and Legg Mason (NYSE:LM) down 59%].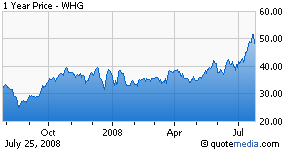 Westwood Holdings Group (NYSE:WHG), stands out significantly on that list and we think a major share collapse is coming as the largest shareholder accelerates their selling. Westwood is up over 55% over the past twelve months despite the obvious headwinds facing the asset management space, especially those with an equity focus.  Propelled by the addition to several Russell indexes, decent relative performance and some recent mandate wins, valuation of WHG has been driven to egregious levels. 
If I didn't know what Westwood does, I would assume they sold fertilizer or wind turbines.  When trying to understand how a company like WHG can possibly be valued by investors, it is often helpful to try and determine what the stock price must be discounting to justify a valuation.  To justify WHG's current valuation, shareholders must assume the company triples assets under management in short order. Based on current industry trends and historical asset growth, this seems highly implausible.  The stock has remained under the radar -- with no analyst coverage (no analysts to downgrade or numbers to miss) and virtually zero short interest.  I believe this is an undiscovered short opportunity, and given the huge dislocation between share price performance and valuation, I believe investors in WHG face greater than 50% downside from current levels.  
Westwood is a Dallas-based asset management firm that was founded in 1983.  They went public in 2002 and has well known value investor Susan Byrne (Chairman and CIO) at the helm.  The firm invests primarily in equities, with two products -- large cap value and smid cap value -- comprising roughly 80% of AUM.  The firm has modest distribution and sales force, and focuses on separate accounts, sub-advisory and mutual funds.  AUM in the second quarter of 2008 ended at $7.7 billion, DOWN 1.3% year-to-date, while the stock price is UP nearly 35% over that same period.  Below is the year to date performance of WHG's retail mutual funds. 
                                                            YTD                  YTD                  6/30/08                        
                                                            6/30/08             7/23/08             AUM (millions)              
GAMCO Westwood Balanced                 -4.44%              -5.54%              $151
GAMCO Equity                                      -8.36%              -9.93%              $188
GAMCO Westwood Int. Bond                  1.00%               0.11%               $14
WHG Income Opportunity                       0.50%               -0.11%              $117
WHG SMidCap                                      -1.99%              1.19%               $67
WHG LargeCap Value                            -7.93%              -9.67%              $39
WHG SmallCap Value                            -5.96%              -2.72%              $13
WHG Balanced                                      -4.27%              -5.45%              $9        
Source: Morningstar
While WHG has had decent relative performance, I do not believe Westwood is in a position to bring in the massive inflows that the valuation suggests.  WHG and its managers are not new emerging managers, which are typically affiliated with significant ramps in AUM.  The firm and Susan Byrne have been around for over 25 years.  While I believe three year track records of some the WHG Funds should help marketing, their funds distributed by GAMCO have not been large beneficiaries of high Morningstar ratings (i.e. GAMCO Equity Fund).
On the most recent conference call, management announced new sub-advisory engagements for the State Farm Equity Fund and the Principal LargeCap Value III Fund.  While these are nice wins for the company, I do not think they will drive material earnings power and were likely known by selective buyers of the stock given the weird move into earnings.  The fact these wins were not deemed material enough by Westwood management to file an 8k when they were awarded in April or May supports my belief that these will likely be immaterial to earnings (State Farm prospectus) (Principal Prospectus http://www.principal.com/retirement/ind/RF1042A.pdf). According to my estimates, the State Farm sub-advisory adds roughly $400 thousand of revenue potential ($66 million of AUM at 46 basis points).  The Principal relationship is more uncertain given the poor performance of the LargeCap Value III Fund, its weak Morningstar rating (one star), and the continued relationship with the other sub advisor, AllianceBernstein.  Combined, these appear to be non-evens when compared to the stock's move and the carnage in the comp group.
So back to my strategy of trying to determine what the market must be discounting to arrive a stock's current price.  As the table below shows, if I assume WHG doubles AUM from 6/30/08 levels AND achieves operating margins of 35% (up 800 basis points from current levels), the stock would still command a crazy multiple for asset managers of 18.5x earnings.  Even if AUM were to triple with operating margin expansion to 35%, WHG would simply be trading inline with some of its asset management peers.   
                                    2Q08                Assuming Assets:                    
                                    Actual              Double              Triple
AUM 6/30/08                 7,747                7,747                7.747
AUM increase                                        2.0x                  3.0x
AUM                             7,450                15,494              23,241
Average Fee                  0.51%               0.51%               0.51%
Revenue                        9.7                    78.7                  118.1
Op Margin                     26.9%               35.0%               35.0%
Pretax                           2.6                    27.6                  37.5
Tax rate                        33.4%               35.0%               35.0%
Net income                    1.7                    17.9                  24.4
Diluted shares               6.41                  6.41                  6.36
GAAP EPS                   $0.27                $2.79                $3.84
Stock (7/23/08)              $51.60              $51.60              $51.60
P/E                               47.8x                18.5x                12.3x
The obscene valuation may be less worrisome to existing shareholders than the overhang from Westwood's largest shareholder.  GAMCO Investors (ticker GBL) owns 1.13 million shares or about 17% of shares outstanding.  GAMCO had been bleeding shares into the market for nearly a year, until recently.  Their two most recent filings on 7/23 and 7/24 suggest the selling is accelerating, as they represent the two largest sales, as indicated by Form 4's.  While GAMCO has not been intense sellers, they do own roughly two months of daily volume, and appear more intent on selling their position in larger chunks. 
Complacent longs are likely to realize that they have minimal upside with a huge overhang like GAMCO, and a lot of downside given the absurd valuation and treacherous market dynamics.  Given the massive valuation disparity between WHG and GBL, GBL currently trading at 16 times the 2009 consensus, we believe GAMCO is acting prudently and will be an overhang for quarters to come. This supply/demand imbalance makes WHG an ideal, low risk short candidate and a precarious long that will be quite hard for shareholders to justify owing.
If investors want exposure to Susan Byrne and her track record, I suggest investing in one of the mutual funds.  You will be able to invest in her funds at net asset value, where I believe you are paying a multiple to NAV with an investment in WHG.  My price target on WHG is $30.00, which is still a premium to the group, and represents 40%+ downside from Thursday's close.
Disclosure: Short WHG