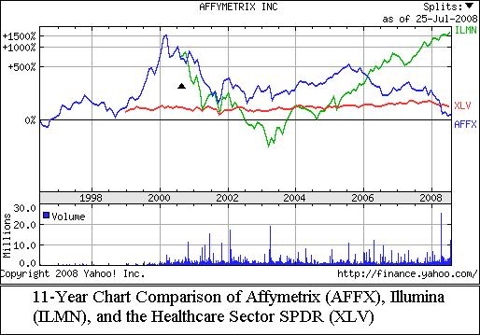 Affymetrix (NASDAQ:AFFX) recently reported disappointing results that missed analyst estimates and lowered its full-year guidance in the process, sending the shares down sharply to trade near all-time lows set 12 years ago around the time of its initial public offering (click to enlarge chart to enlarge). The Company reported a five cent loss per share and revenues that were down by 1.6% from the year-ago period at $86.9 million [M], blaming weak sales of its GeneChip systems to drug companies for a large part of the shortfall as big pharma companies such as Pfizer (NYSE:PFE) are implementing cost-cutting initiatives and trimming their R&D budgets.
Affymetrix also lowered its outlook for full-year revenue to $455 - $460M from previous guidance of $490 - $510M amid continuing weak pharma sales. The Company is also struggling against its much larger competitor, Illumina (NASDAQ:ILMN), which sells similar systems for genetic analysis and recently posted better-than-expected results and raised its guidance.
Affymetrix is currently trading at a market cap of $528M with $460M in trailing 12-month revenues (although this includes a one-time $90M patent payment from Illumina in January), $590M in cash, and $436M in debt. The Company has 69.4M shares outstanding and a high short interest of 15.9M shares representing over 23% of the float as of mid-July. The company's much larger rival Illumina is valued at a market cap of $5.3 billion on trailing 12-month revenue of $472M, $303M in cash, and $400M in debt. While Affymetrix may appear to be a value based on this comparison; it lacks the growth and market share gains of its larger rival.
Illumina experienced a 65.8% increase in 2Q08 revenue from the year-ago period thanks to strong sales of its Genome Analyzer systems and consumables versus a 1.6% decline in 2Q08 revenue for Affymetrix. While Illumina may be priced for perfection while trading at all-time highs; Affymetrix may be more of a value trap even after the recent decline due to its recent history of missing estimates, sinking margins, and lowering guidance. Until the operating results begin to show signs of a turnaround, I would stay on the sidelines with Affymetrix and would rather play Illumina through the HealthShares Enabling Technologies (HHV) exchange-traded fund with the Company as its top holding and a 13% stake.
Disclosure: None