Below we highlight the Dow 30 stocks that have reported earnings this season along with the one-day change in response to their reports.  As shown, 13 of the 20 Dow stocks that have reported went up in reaction to earnings, with JPM going up the most at 13.5%.  JPM is followed by C, UTX, PFE, T and BAC. 
MRK got hit the hardest with a decline of 11%, followed by AXP and MSFT.  Overall, at least there have been more positives than negatives.  Of the 20 Dow stocks, 13 have beaten estimates while just 3 have missed.
click to enlarge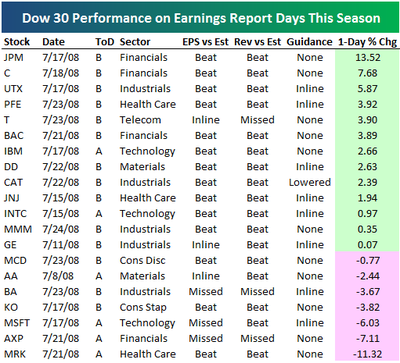 For those interested, below we highlight the best and worst performing stocks on the first trading day following earnings reports.  As shown, airliner UAUA has had the biggest up move on the day of earnings at 68%.  UAUA is followed by LCC (58%), HBAN (40%), MTG (39%) and WFC (33%).  Other notables on the list of earnings winners include AMR, WB, and DAL.  On the list of losers, Overstock (NASDAQ:OSTK) and FCSX top the list with declines of 41%.