Barron's Bill Alpert, a beneficiary of Intuitive Surgical's (NASDAQ:ISRG) da Vinci surgical robot after a bout with prostate cancer, has nothing but praise for the company's product - but is more guarded in his outlook for its shares.
Don't allow my ungrateful scrutiny of Intuitive's stock price to blind you to the terrific benefits that the company delivered to patients like me: less surgical trauma; a shorter and cheaper hospital stay; a quicker return to my supposedly productive work. 

But those who buy the stock at these levels may find themselves abandoned by momentum investors when the da Vinci robot's steep ascent levels off.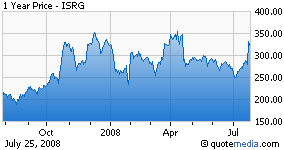 After jumping more than $40 this week on strong Q2 earnings and a positive outlook shares trade for more than 75x trailing earnings - one of the heftiest premiums among S&P 500 stocks.
While ISRG boosted its growth forecast for total procedures to 57-58%, it also allowed that in its leading market - prostate surgery - growth was slowing. This isn't surprising: After reaching 2/3 of 90,000 annual U.S. procedures, its untapped market is shrinking rapidly.
ISRG counters that its growth in other surgical procedures such as hysterectomies is just beginning to take off. It appears to be targeting 1.5M da Vinci surgeries per year. Alpert's analysis suggests a possible 0.5M U.S. surgeries, and maybe that many or a bit more from abroad - but still well short of 1.5M. Furthermore, ISRG estimates each robot can produce $573K in yearly revenue from consumables and service contracts. That implies an average of 5 procedures per week per robot, vs. a current 3.
Intuitive believes it can sell it can sell 6,000 robots worldwide - 4,000 in the U.S. and 2,000 abroad. Merriman analyst Jose J. Haresco thinks the numbers are more than double reality: he sees 1,800 domestic sales and another 600 globally.
If sales begin to slow, it's hard to predict how steeply its multiple could fall. Alpert notes:
Shares of profitable medical-device makers that saturated their markets, like coronary-stent maker Boston Scientific (NYSE:BSX), have settled into earnings multiples in the high teens. Even if that earnings arithmetic proves too stingy, Intuitive shares could fall by at least 25% once most people get their surgery robotically, as I did.
:::::::::::::::::::::::::::::::::::::::::::::::::::::::::::::::::::::
See Intuitive's Q2 earnings call transcript.
David Gordon dissects ISRG's Q2 and comes away a happy shareholder.