When Facebook (NASDAQ:FB) announced its IPO, we had considered investing in the company because of its rapid revenue and profitability growth. We were surprised to hear concerns about Facebook's ability to monetize its growth, because although its revenue and profit per user were small, the company had over 845M monthly active users of Facebook. Even the Winklevii have public pages on Facebook despite Cam and Ty's dispute with Facebook founder Mark Zuckerburg. Even Microsoft (NASDAQ:MSFT) invested $240M in Facebook for a 1.6% stake in 2007. (Although considering Microsoft's performance since 1999, we probably would not have included this as a thesis point in favor of us contemplating a Facebook investment for our proprietary account.)
When we saw that Facebook's IPO was going to be priced at $28-$35 per share, we felt that the implied P/E of 65-82X Facebook's 2011 EPS was a bit rich. We noticed that the company generated $919M in free cash flows in 2011, up from $383M in 2010. We were aware of the fact that Facebook had impressive revenue growth and profit growth. However, we were more than aware that future growth rates for Facebook would be lower simply because the company was so big already. Three days before Facebook's IPO, the company announced that it would raise the IPO price range to $34-$38. Based on the financial performance of Facebook during 2012, we see that Facebook's IPO was a great value… for the selling shareholders, that is.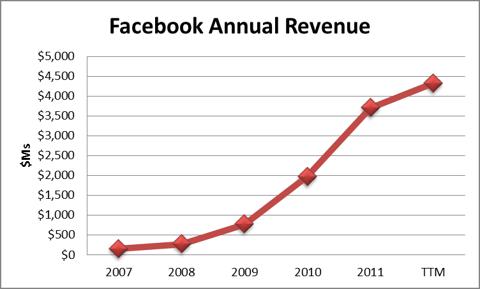 Click to enlarge
Sources: Morningstar Direct and Facebook's S1 Filing
Facebook's Corporate Highlights: Good News and Bad News
The good news for Facebook is that it saw its revenue grow by 32% year-over-year in Q2 2012. The bad news is that it has decelerated from the 45% revenue growth enjoyed in Q1 2012. Facebook's operating income, adjusted for stock-related compensation expense, grew by 8%, which was quite underwhelming considering that it was the most-touted IPO since Google's (NASDAQ:GOOG) 2004 offering. We noticed that Facebook went public eight years after its founding, and we compared that to the six years that Google spent as a private company before its 2004 IPO. While Facebook's adjusted operating margins were an otherwise healthy 43.5% in the quarter, we have to point out that its adjusted operating margins were 52.6% in the prior year's second quarter. Facebook's Monthly Active Users were 955M as of Q2 2012, an increase of 29% year-over-year. Nearly 57% of Facebook's MAUs used a mobile device to access Facebook.
Outlook
We think that the company still has a way to go before it stabilizes. We can certainly see that Facebook and Zynga (NASDAQ:ZNGA) had too much hype when each company was in the process of filing its IPO. Zynga also had to deal with the impact of "Facebook hype" because it generates over 80% of its revenue from the Facebook platform and Facebook gets 14% of its revenue from Zynga. We also believe that because of the "unique" corporate structure that Mark Zuckerberg set up, Amazon's Jeff Bezos and Mark Zuckerberg share a similar mindset in business operations. We can see that analysts have reduced their estimates for the company for the Q3 2012 and Q4 2012 periods, as well as FY 2013. Even with the downward revisions, the company is still trading at 34X adjusted non-GAAP FY 2013 EPS. We would increase our outlook on the company based on how the company performs in Q3 2012 and once the November 14 lock-up expiration date passes. We also have concerns about whether Facebook can compete in the mobile communications world
Corporate Asset Management & Valuation
The good news for Facebook is that it has $10.2B in gross liquidity, no bonded debt, and only $706M in capital lease obligations on its balance sheet. Facebook only burned through $758M during the first six months of the year, which included $575M in acquisitions of patents from Microsoft (which acquired those patents from AOL). We have noted that the company is expected to spend $806M in cash and stock (as of September 14) to acquire Instagram, even though Instagram has no revenue.
Facebook's stakeholders can take solace in the fact that Facebook's shares are at a more reasonable level now. Because of the proceeds raised from its IPO in May, as well as the rapid decline in its price, Facebook is trading at 3.5X book value and only 5X net cash. While the company's P/S ratio is lower than the ungodly 22.5X it reached at its peak, it is still trading at 11X P/S.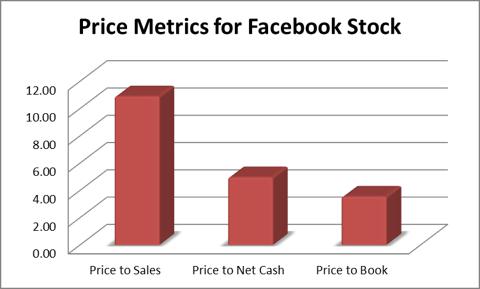 Click to enlarge
Source: Morningstar Direct
CONCLUSION
In conclusion, we are glad to see that Facebook's share price of $22 is at a more reasonable and rational valuation relative to the irrationally high price of $45 reached in its first day of trading on May 18, 2012. Based on the fact that the company has seen its free cash flow trend turn negative as well as the fact that it is acquiring Instagram for 23M Facebook shares and $300M in cash ($806M value as of September 14), we believe that it is too early to establish a long position in the company. Facebook bulls can point to the money raised in its IPO and its massive liquidity as well as its beaten down stock price relative to its widely anticipated IPO. We think that with the potential for Twitter to make inroads on Facebook, as well as the fact that Facebook has made a number of "changes for change sake" with its website, this IPO has been an IPU and investors should wait to see stability and clarity from the company. So far, we can see that Facebook's IPO was a great deal for the selling shareholders and the I-Bankers, but not for the investors who bought into the story.

Click to enlarge
Source: Morningstar Direct
Disclosure: I have no positions in any stocks mentioned, and no plans to initiate any positions within the next 72 hours. I wrote this article myself, and it expresses my own opinions. I am not receiving compensation for it (other than from Seeking Alpha). I have no business relationship with any company whose stock is mentioned in this article.
Additional disclosure: This article was written by an analyst at Saibus Research. Saibus Research has not received compensation directly or indirectly for expressing the recommendation in this article. We have no business relationship with any company whose stock is mentioned in this article. Under no circumstances must this report be considered an offer to buy, sell, subscribe for or trade securities or other instruments.