Why own any stock other than Apple (NASDAQ:AAPL)? While the S&P 500 and its tracking exchange traded fund are up over 25% since the market lows of last year, the world's largest company has more than doubled in the last year.
Apple has been the best performing stock in the market for some time, and the company's strong recent revenue growth in Asia and hotly anticipated iPhone 5 have caused bullish sentiment towards this company to each all-time highs.
Still, Apple's stock has outperformed the S&P 500 and most of the broader indexes on a fairly consistent basis over the last several months by a fairly wide margin.
Apple has also outperformed the S&P 500 by nearly 50% since the market lows of last year, but the stock has performed only in-line with the market of recent.
(www.thestreet.com)
Apple has risen over 50% since January, and over 20% in the last several months, but the stock is up just over 4% in the last month. Many market leaders in cyclical sectors such as GE (NYSE:GE), Caterpillar (NYSE:CAT), and Citigroup (NYSE:C), have also significantly outperformed the world's largest company of recent.
This is why I think it is important to look at several potential warning signs that Apple's shares may be peaking.
The first warning sign that Apple's share may be peaking is that the stock has already likely priced very optimistic iPhone 5 earnings. Apple analysts have notoriously been horribly inaccurate at assessing quarterly earnings as the iPad has narrowed the company's margins. With Apple's margins shrinking, the company's revenue and earnings growth gap has narrowed. Analyst estimates were much more accurate than in previous years during the fourth fiscal quarter of last year and the third fiscal quarter of this year. Analysts obviously significantly underestimated the company's iPhone 4S launch, but individuals covering Apple should have much stronger models moving forward since the company's previous iPhone launch was less than a year ago.
Apple analysts have also been fairly accurate at assessing the company's likely iPhone sales as of late, and the company's iPad success has narrowed the gap between revenue and earnings growth.
Most analysts have Apple's price target at between $750 and $800, and if these individual estimates are correct, it is hard to imagine that analysts will raise the target price significantly if Apple simply meets expectations. First fiscal quarter estimates have not been revised at all despite the company's recent disappointing earnings miss and the significant deterioration in economic data in Europe and Asia. Apple also guided very conservatively for next quarter, and the company's guidance has been more accurate of recent.
The second reason why Apple's shares likely have limited upside is because bullishness is peaking. Apple has always been a popular stock, but the recent run-up in the company's share with few major pullbacks have increased bullish sentiment significantly.
Apple's put to call ratio is now .65, suggesting nearly 40% fewer puts to call are being traded. The company's standard put to call ratio is 1. The implied volatility premiums are also at all-time lows.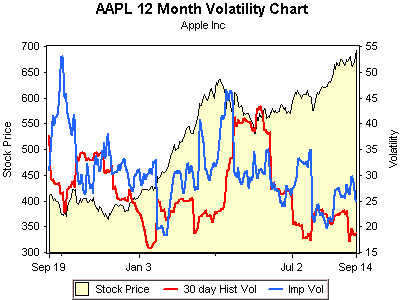 (www.thestreet.com)
Volatility levels in Apple puts are at one-year lows, and the volatility premium in the company's put options are also significantly below the 30-day average as well, suggesting traders and investors are very complacent. Apple shares have rallied over 20% in the last 3 months, and a trader or investor could buy January 2013 puts at the $690 strike for nearly $42, or 6.5% of the current share price.
The third reason the company is likely topping is because the PC market is becoming increasingly cannibalized by tablets, and the company's iPhone market share is likely unsustainable. Apple's highest margin product has been the iPhone, and the company has nearly 30% of the smartphone market in the U.S. Apple has also taken significant market share in China since the company's iPhone 4S launch doubled the company's Asian revenue from 10% to 20% in the second fiscal quarter.
The recent earnings and guidance of Intel (NASDAQ:INTC), Hewlett-Packard (NYSE:HPQ), and Dell (NASDAQ:DELL) strongly suggest that the tablet market is increasingly cannibalizing the PC, and Apple's iPad is the company's lowest margin product. Competitors such as Amazon and Google are also willing to lose money by offering very cheap tablets to ensure that these company's can control content.
Apple's recent iPhone launches have also been very successful, but the company's products are still not ideal for lower income users and corporate users. While Apple obviously has very loyal customers, the company has not been able to expand its market share of the smartphone market beyond 30% for several years, as many corporate and older users prefer a simpler and cheaper phone.
To conclude, Apple is obviously a great company, and the stock has been the most popular stock in the market for some time. Bullish sentiment towards the world's biggest company reaching the highest levels in decades and Apple iPhone 5 launch having been anticipated for some time, and the company's product cycle may be peaking. Apple shares trade at nearly 13x average estimates of next year's likely earnings and the company has over $100 billion in cash, but market share can decline quickly in the mobile markets, and most of the company cash is abroad. While Apple has been one of the best performing stocks in the market for some time, past results are not always indicative of likely future performance.
Disclosure: I have no positions in any stocks mentioned, and no plans to initiate any positions within the next 72 hours. I wrote this article myself, and it expresses my own opinions. I am not receiving compensation for it (other than from Seeking Alpha). I have no business relationship with any company whose stock is mentioned in this article.