PepsiCo (NYSE:PEP) and Coca-Cola (NYSE:KO) have been fighting each other for market share forever, with the new combatants now dueling it out in China. Coca-Cola (discussed in this article) recently announced plans to invest $30 billion dollars over the next five years in order to expand internationally. PepsiCo has not been idle on the international front either, as it recently received approval for a joint venture with Tingyi-Asahi Beverages, China's number one beverage player, in March of this year. And as in years past, PepsiCo is once again playing catch up to Coca-Cola with an international carbonated market share of 21.7% as compared to Coca-Cola's 53.1% market share.
In its Q2 2012 earnings call held on July 25, 2012, PepsiCo noted it has moved 20 plants and 20,000 employees as a result of the Tingyi-Asahi venture. The company indicated it expects to experience sequential improvement in volumes as a result of the new China venture.
PepsiCo noted it is focusing its efforts on brand building, innovation, execution, productivity and driving cash returns. With regard to PepsiCo improving its brand, the company reported it had significantly improved its Lay's and Gatorade brands, but still has some more work to do related to is Lemon-Lime brand. On a negative note, PepsiCo noted its core grocery channel has not been performing very well, but has been offset by growth in other channels.
PepsiCo indicated its Quaker Real Medleys and Gatorade Chews are doing well with manufacturing for the snacks currently operating at capacity.
PepsiCo has also been busy in Russia with its integration of Wimm-Bill-Dann. The company noted its Wimm-Bill-Dann and Power of One initiative in Russia drove outstanding results for the region and helped in mitigating the macroeconomic headwinds faced in other portions of Europe.
PepsiCo reported its Doritos Locos Tacos initiative with Yum Brands (NYSE:YUM) Taco Bell has experienced strong growth, as discussed in this article and confirmed by Yum Brands.
PepsiCo reported organic net revenue growth of 5%, and noted the strong growth was partly a result of structural changes associated with re-franchising its bottling operations in Mexico in the fourth quarter of last year. As a result of the new franchising agreements with its bottling partners, PepsiCo no longer reports bottling revenue for Mexico. The new franchising agreement was noted as strengthening operations and also for improving operating margins and key efficiency metrics.
In spite of economic headwinds in Europe, PepsiCo reported organic net revenue growth of 3% in the second quarter. The company also reported strong revenue growth in Asia, Middle East and Africa of 10%.
In the company's outlook, PepsiCo forecast continued strong net effective revenue growth, but expects continued negative impacts associated with currency translation and deconsolidation of revenue related to structural changes. The company also expects to experience commodity cost pressures.
PepsiCo's stock price has gone ballistic over the last year and has recently taken a dip as shown below: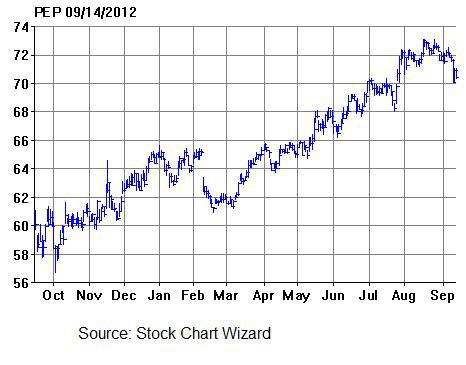 With the recent dip in PepsiCo's stock price and its bright prospects for China, an investor might consider a protected investment in the company such as a married put. A married put provides unlimited upside with limited downside. A married put enables an investor to take advantage of a stock's upside in price, but not its downside. A married put may be entered by purchasing a put option against a stock. A married put position is typically selected further out in time in order to reduce the "insurance" cost per day.
A variety of married put positions for April 2013 option expiration are available as shown below: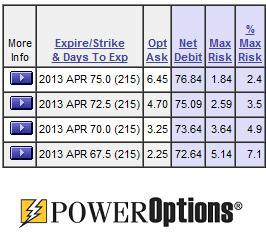 The positions in the table above do not include expected dividend payments to be received during the holding time. For example, when including expected divided payments, the third position in the table has maximum risk of 3.6% as compared to the maximum risk of 4.9% as indicated in the table. So, even if the price of the stock plummets, the maximum risk which can be sustained is 3.6% when considering expected dividends. The third married put position in the table above looks attractive and may be entered against PepsiCo's stock by purchasing the 2013 April 70 put option for $3.25.
PepsiCo Married Put Trade
PEP stock (existing or purchased)
Buy 2013 April 70 Put for $3.25
A profit/loss graph for one contract of the PepsiCo married put position is shown below: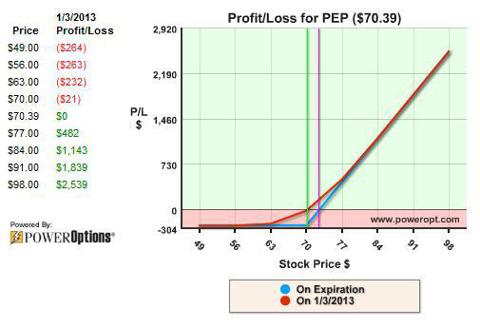 For a stock price below the $70 strike price of the put option, the value of the married put remains unchanged.
Disclosure: I have no positions in any stocks mentioned, and no plans to initiate any positions within the next 72 hours. I wrote this article myself, and it expresses my own opinions. I am not receiving compensation for it (other than from Seeking Alpha). I have no business relationship with any company whose stock is mentioned in this article.