Masco Corporation (NYSE:MAS) has experienced a strong run-up in prices this year. Shares have increased 48% since January in a move that has added over $2 billion to the valuation of Masco. Through this analysis, I present the case that Masco is overvalued at these levels and selling shares or shorting the security is the correct action in light of the fundamental picture of the organization.
Diminishing Returns
In order to analyze Masco, I have relied on two key ratios: return on assets and return on equity. Return on assets is the net income of the firm divided by the firm's total assets. This metric tells the researcher how efficiently the firm uses its assets to generate profits.
Return on equity divides profit by the directly-invested shareholder equity that lies on the balance sheet. Return on equity tells the analyst how effectively management utilizes shareholder investments to bring a return to the firm.
Click to enlarge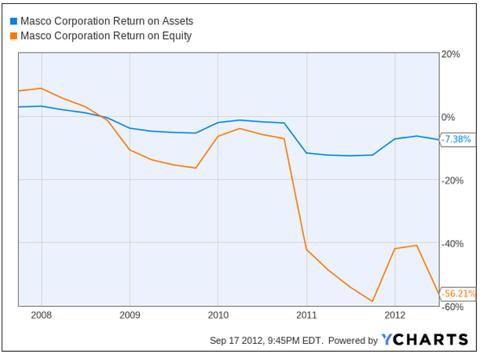 The chart above shows five years of return on assets and return on equity for Masco. Immediately it should be apparent that the firm is performing progressively worse through time. At the beginning of 2008, the firm earned a slight profit on its assets and equity. However, beginning in the third quarter of 2008, the firm began operating at a steadily-increasing loss.
In 2011 and 2012, the firm began a dramatic collapse in performance with a return on equity of around -45%. This means that for every dollar invested directly into the organization, Masco lost 47 cents. The magnitude, intensity, and duration of these losses denote an organization that is in steady decline.
As the firm has declined from a growth perspective, it has also suffered from a profitability standpoint. A key method for measuring profitability is profit margin. Profit margin is a metric that essentially tells the analyst how much of every dollar of revenue the firm is able to keep as profit. The chart below shows the historic profit margin for Masco.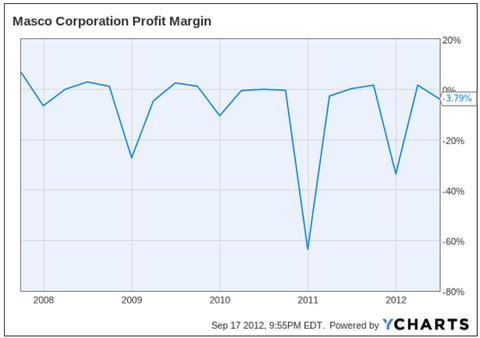 As the chart clearly shows, Masco has operated at a loss for most quarters in the past five years. Additionally, almost every single profitable quarter has been followed by declining profits or operating losses. With this picture in place, it is nearly impossible for a firm to be growing or even successfully defending its competitive edge.
Masco's problems can be distilled to two issues: growth and profitability. As we have demonstrated, Masco has not experienced growth in any of the previous five years, as seen from return on assets and return on equity. Additionally, in only seven quarters in the past five years, Masco has earned a profit and four of these quarters were immediately followed by a much larger loss.
These are chronic issues of which the market appears to be trading in defiance. I believe that the market is erring on the side of irrational optimism and prudent investors seeking a short trade can potentially be rewarded in Masco. The market has continued to push the stock to multi-year highs, while the firm hits multi-year fundamental lows. This decoupling allows the nimble investor the opportunity to short at a potential near-term high.
Technically Speaking
Despite the fact that Masco has been decaying from a growth perspective and profits have been negligible, I do not advocate immediately shorting the stock. Masco has exhibited strong upward price momentum and shorting in the face of this movement is foolhardy.
In the past month, prices have rallied over 20%, and while this rally provides a more favorable short entry, I believe investors should wait until a technical breakdown prior to initiating a trade. In the chart and explanation below, I have outlined my belief as to the most appropriate technical trading framework.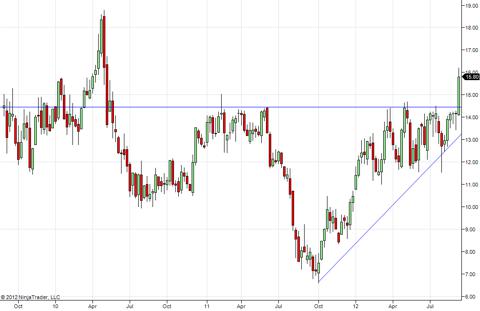 As can clearly be seen, prices are rallying and making new highs. In other conditions, I would actually consider purchasing this stock, since the recent price action is a textbook upwards breakout. However, as fundamentally established, Masco is not an appropriate security to be holding at this moment.
That said, I believe that investors should be prepared to short the security once the price has ended its uptrend. The immediate level that I consider the uptrend to have reversed is the breakout level of $14.50 per share. If the price is able to close below this level, then I believe that a short is appropriate. By waiting for a break of this level, investors position themselves to best capitalize on the decline of Masco.
Disclosure: I have no positions in any stocks mentioned, and no plans to initiate any positions within the next 72 hours. I wrote this article myself, and it expresses my own opinions. I am not receiving compensation for it (other than from Seeking Alpha). I have no business relationship with any company whose stock is mentioned in this article.