Rowan Companies (NYSE:RDC) in the last year and a half has been remaking itself as an offshore drilling service company. Ultimately, it intends to join the ranks of the still more lucrative deepwater and ultra-deepwater drilling service companies. In May 2011, it sold its major manufacturing business LeTourneau Technologies to Joy Global (NYSE:JOY) for $1.1 billion in cash. In July 2011, RDC sold its land drilling business to Ensign United States Drilling for $510 million in cash, plus working capital of approximately $30 million. It put these monies into its offshore drilling business. It ordered two newbuild ultra deepwater drillships at a cost of approximately $605 million each. Then it added an order for a third.
Just last week, on Sept. 10, 2012, it ordered yet another. The first UDW drillship, the Rowan Renaissance, is to be delivered to South Korea in late 2013. This has already been contracted out for three years to Repsol (OTCQX:REPYY), beginning in early 2014. RDC expects to contract for the drillships with later delivery dates far before their delivery dates, too. The one contract for the Rowan Renaissance increased the RDC contract backlog to $4 billion, which is a new high for RDC.
The first year's day rate for the newbuild Rowan Renaissance in West Africa is for up to $624,000 per day. The day rate for the subsequent two years in the Gulf of Mexico is $614,000 per day. If you estimate operating expenses at about $200,000 per day, the Rowan Renaissance will be pulling in roughly $400,000 per day in income for RDC from early 2014 onward. This will allow RDC to earn about $700,000 from this one ship in about five years. It will more than pay for itself in those few years. Plus, it will have an overall lifetime of 25-30 years in which to earn much more. The other UDW drillships will follow a similar pattern. The second ship will be delivered in Q2 2014. The third ship will be delivered in Q4 2014. The fourth ship will be delivered in Q3 2015. It looks like the future is bright for RDC.
Can't anyone do this? Probably a lot can, but few have wanted to. There was the 2008-09 recession, which saw oil prices plummet to $30/barrel. This made virtually all deep sea drilling uneconomical. Then there was the Macondo disaster in the Gulf of Mexico in 2010. This led to cutbacks in drilling, and it further scared new competition away. The only people who stayed in the market were the ones who were already there. RDC was already there with its offshore jack-up rig drilling. As the deep sea drilling started to come back, RDC saw its opportunity and it seized it. RDC believes its already strong experience with jack-up rigs is transferable to deep sea drilling. No doubt it plans to hire some new deep sea drilling experts as well.
RDC is already doing well with its fleet of 31 jack-up rigs. This fleet is among the youngest in the industry. It has 19 high spec jack-ups and nine premium jack-ups. In other words, virtually all of RDC jack-ups are in greater demand, and they garner higher day rates than the average jack-up rigs. The average age of the RDC fleet is about 16 years. This is one of the youngest in the industry. Over two-thirds of jack-ups industry-wide are more than 25 years old. This puts RDC's jack-ups in high demand, and it lets them command premium day rates. The chart below shows a comparison of RDC jack-up day rates to those of its peers.
Click to enlarge images.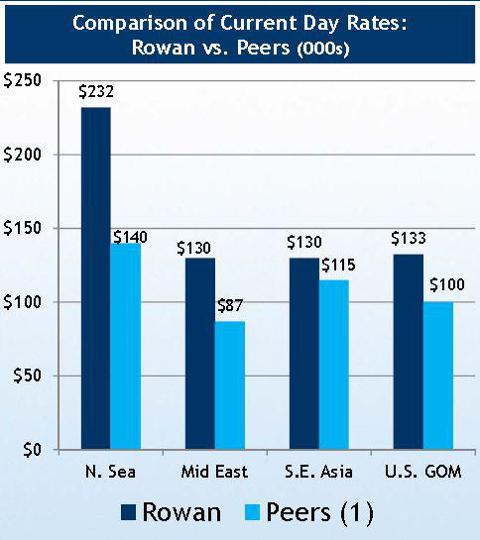 The six jack-ups in the North Sea command far higher rates than peers. Conditions are harsh there. In other areas, RDC's jack-ups still command higher prices than the peer average. Plus with a younger fleet in more demand, the utilization rates are slightly higher as well. Furthermore, the high spec jack-ups (those with greater than 350 feet of water depth drilling capability) garner a significantly higher utilization rate. Many of the shallower drill sites have already been drilled. Plus, many of the new sites need horizontal drilling capability that only the newer jack-ups have.
In sum, RDC is set up to do well in the near term, and it is set up to see its business take off as the new UDW drillships are delivered. RDC already has a good reputation as an offshore driller. It can build this easily into a good reputation as a deep sea driller. Further its new drillships are state of the art. A third party drillship ranking by ODS-Petrodata put all three of RDC's new UDW drillships at the very top of its rankings (No. 1, No. 2, and No. 3). The fourth drillship had not been ordered at the time of this ranking.
In Q2 2012 revenues were $351 million, up 57% over last year due primarily to fleet additions and higher utilization rates for existing rigs. Revenues were up 5% over Q1 2012 due primarily to higher utilization rates. It beat EPS estimates by one cent at $0.51 for Q2 2012. The transit time was approximately 11% of available rig days in Q2 -- about even with Q1 2012. However, RDC expects the transit time levels to go up to 14% and 20% in Q3 and Q4, respectively. This will lead to slightly lower revenues. The good news is that RDC expects transit times to decline to 8% of rig days in 2013.
All told, the outlook for the rest of 2012 is not great with respect to revenues and earnings. However, RDC is a quickly growing company. Analysts call for it to grow by 83.30% in 2012 and 67.00% in 2013. It trades at a relatively low P/E of 13.44 and a forward P/E of 10.42 for the kind of EPS growth multiples it has. RDC stock may take off at any time. One critical time may be after the Q4 2012 earnings report. FY 2014 will then become the forward year. This will see almost a full year of income from the Rowan Renaissance (the newbuild UDW drillship being delivered in late 2013). RDC should also see some revenue from the second newbuild UDW drillship, which is scheduled for delivery in Q2 2014.
These rather large additions to the overall revenue structure of RDC should make a good bump in profitability for FY 2014 a sure thing, especially if the second newbuild UDW drillship is contracted out long term far in advance of its delivery, as the Rowan Renaissance was. This may well translate into a pop in the stock price soon after the FPE begins to reflect FY 2014 earnings (probably in early February 2013). This is when the average investor will see RDC's new, lower FPE on Yahoo Finance. If you plan to invest in RDC, you should keep this in mind. Sometimes a stock will rally before the report, and sometimes the rally will come afterward.
The two-year chart of RDC provides some technical direction to this trade.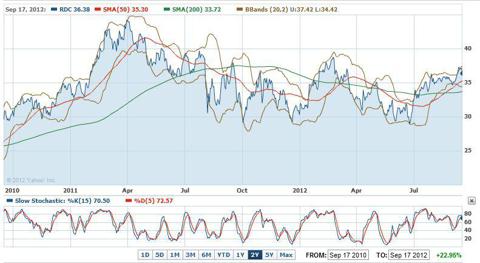 The slow stochastic sub chart shows that RDC is currently near overbought levels. The main chart shows that RDC has recently broken out of a minor downtrend (is in a minor uptrend). Longer term, RDC appears to be in a consolidation phase. It is a good company, but I do not see a huge impetus for it to rise dramatically in the near term, especially with likely weaker performance coming in Q3 and Q4 of 2012. Rather, I would wait to catch it on a downswing -- or I would start to average in very gingerly. I would keep the Q4 2012 earnings report date in mind. Perhaps a few days after the earnings report, when the new forward P/E for 2014 begins to appear on Yahoo Finance, I might start to more seriously average in. This is presuming that the overall market is not at that time falling due to the U.S. going off the fiscal cliff.
Overall, RDC looks as if it will be a great stock in the near future. It has some great newbuild UDW drillships coming in the future. They should ensure its growth for years. You will want to take advantage of that. This moment in time may be a little early, but you will want to keep this stock on your radar for next year and subsequent years.
You should also consider that the entire deep sea drilling industry is making a comeback. The historical chart of day rates for ultra-deepwater rigs shows this.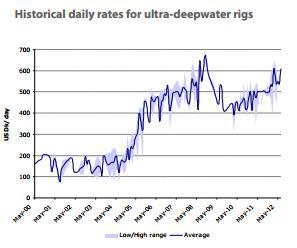 RDC is choosing to be a big part of this comeback in deepwater drilling. You may wish to choose to go along with it for the ride.
If you think Rowan Companies is or will be an attractive investment, you may also wish to consider other deepwater drillers that are positioning themselves well with relatively new deepwater and ultra-deepwater drilling rigs. A few of these are Noble Corp. (NYSE:NE), Atwood Oceanics (NYSE:ATW), SeaDrill Limited (NYSE:SDRL), and Ensco (NYSE:ESV).
(Note: Some of the fundamental fiscal data above is from Yahoo Finance.)
Disclosure: I have no positions in any stocks mentioned, but may initiate a long position in RDC over the next 72 hours. I wrote this article myself, and it expresses my own opinions. I am not receiving compensation for it (other than from Seeking Alpha). I have no business relationship with any company whose stock is mentioned in this article.