By Carla Fried
If you're in the market for dividend income, it's time to grab your passport.
Not just because plenty of foreign stocks offer juicy yields of 3% or more. In a new research report, S&P IQ makes the case that some foreign markets have high yields and low dividend payout ratios. That metric is the key to finding companies that will likely have the financial strength to keep up the dividend payment, and moreover, increase the dividend payout over time.
Alec Young, S&P IQ's global equity strategist, points out that the United Kingdom offers a compelling market for dividend seekers. For example, the iShares MSCI United Kingdom ETF (EWU) has a current yield of 3.7%, but the payout ratio is 40%, suggesting there's plenty of room for maintaining and increasing those dividend payouts.
That's not the case over in Spain. Young says the estimated 2013 dividend yield is 6.5%, but Spain's dividend payout ratio is 150%. That "undermines its ability to maintain high yields, much less offer valuable dividend growth potential," cautions Young.
Among the largest holdings in the iShares MSCI United Kingdom ETF are Vodafone (VOD), BP (BP), Royal Dutch Shell (RDS.B) and GlaxoSmithKline (GSK). Their dividend yields are more than double the payout on a 10-year U.S. Treasury note.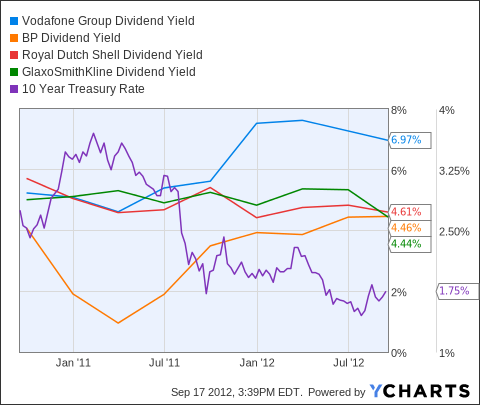 VOD Dividend Yield data by YCharts
Another way to give a foreign accent to your dividend portfolio is with the Vanguard Emerging Markets ETF (VWO). Young at S&P IQ notes that the average payout ratio in emerging markets is just 40% and the street expects 10% dividend growth in 2013. The ETF's current yield is 2.2%.
Sound odd to be suggesting dividend payers in emerging markets? After all, aren't those markets supposed to all about growth? As the chart below shows, dividend income is alive and well in emerging markets.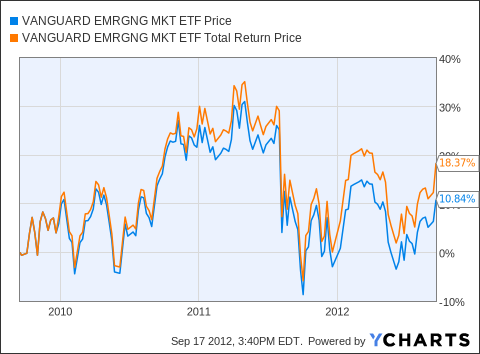 Thanks to strong dividend income, the total return (price + yield) is substantially higher than the price performance alone.
Disclosure: I have no positions in any stocks mentioned, and no plans to initiate any positions within the next 72 hours. I wrote this article myself, and it expresses my own opinions. I am not receiving compensation for it. I have no business relationship with any company whose stock is mentioned in this article.