Last week, I shared the background and overall asset allocation for my recently introduced "Conservative Growth/Balanced Model Portfolio".  You can refer back to the article or visit my website to learn more.  As I stated in the previous article, the equity component of the portfolio is overweight relative to the S&P 500 in the Industrial, Consumer Discretionary and Financial Sectors.  I previously shared my basis for taking these exposures. 
Last week, I reviewed my selection of an Energy stock, Chevron (NYSE:CVX) that qualified for inclusion and then my reasons for including three Industrials:  Administaff (ASF), Carlisle Companies (NYSE:CSL), and Illinois Tool Works (NYSE:ITW).  Today, I would like to address another "overweight" sector, Consumer Discretionary, where we started the model with positions in Bed Bath Beyond (NASDAQ:BBBY), Columbia Sportswear (NASDAQ:COLM) and Lowe's (NYSE:LOW).  For an earlier perspective on BBBY and LOW, you can refer back to an article I wrote at the end of Q1.
BBBY, which pays no dividend, may be considered an odd choice for a conservative growth portfolio that included income generation as a goal, but the ability to pay earns it a spot.  The company has seen its growth decelerate significantly from a few years ago, and the PE now sits at the lowest level since its IPO in 1992.  Further, the EV/EBITDA is just 7.5X, while the EV/Sales ratio of 1.0 is 60% below the 10yr median.  P/B is below 3X (all tangible).  The company has no debt and over $250mm cash.  With its largest competitor in a still fragmented market suffering (Linens N Things), BBBY should continue to take share over time.  Expectations are rather muted.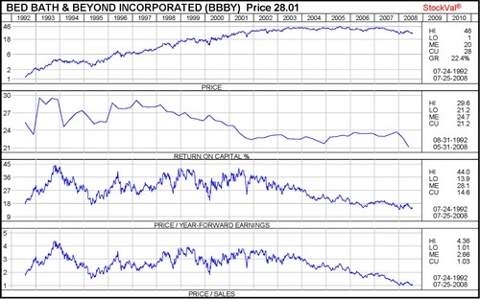 COLM is a stock that I have come to know only recently.  Readers may recall that I had contrasted it with Under Armour (NYSE:UA), which I had found to be overvalued in April.  Since then, COLM too has pulled back substantially.  I bought stock personally after the model launched last week and added to it after a pullback that followed horrible earnings and guidance (a function it appears of the macroeconomy rather than lack of execution).
The clothing manufacturer affords investors some margin of safety in the near-term while offering the potential for strong returns when the economy begins to grow again.  The stock is majority-controlled by insiders and has a massive short-interest.  The balance sheet is pristine, with no debt and cash of $325mm (compared to a $1.3 billion market cap).  Importantly, inventory growth has been overstated by its own retail store expansion, but this quarter management delivered on its promise that the levels would normalize.  The stock trades at <1.5X tangible book value.  The dividend yield is 1.7%, with a payout ratio of just 20%.  They have increased in each of the past three years.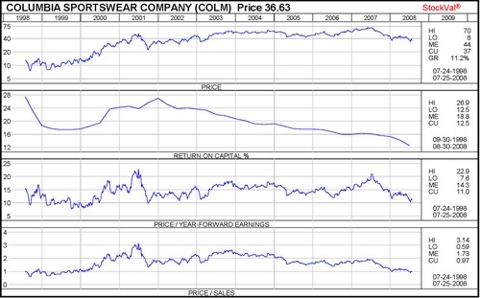 LOW and its larger rival Home Depot (NYSE:HD) should take share in the still highly-fragmented home improvement store category.  I am not sure how this year will play out, but I am confident that the expectations are muted and the long-term potential remains strong.  The stock is extremely inexpensive on many measures:  The 13 PE is the lowest since 1992, P/TB is <2X, P/S of .6X is 50% of the 5-year median. 
While LOW is certainly impacted by the slowdown in new home construction that will last for quite some time, it could benefit from DIY and contractor remodels as people are "prisoners" in their homes due to mortgage finance issues.  Of course, I expect that a certain amount of their business isn't going anywhere: light bulbs, pool chemicals, fertilizer, etc.   The balance sheet is solid at 20% net debt to tangible capital.  The dividend yield is 1.7%, but the company has hiked the dividend in each of the past 14 years and has ample room to continue to do so given the low payout ratio.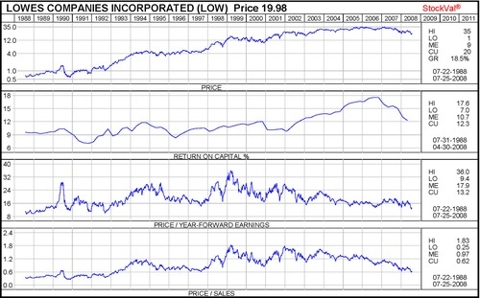 I don't mean to sound like a "deep value' guy, which I don't profess to be, but this seems like a fantastic time to pick up high-quality franchises at extremely discounted prices.  If we are headed into an even more serious downturn, these stocks certainly could decline further, but they each have very strong absolute and relative financial positions and should outperform peers.  On the other hand, with the valuations so low, the slightest signs of improvement could generate significant capital appreciation.  Note that while LOW has some exposure to durables (kitchen equipment, etc.) that could experience deferred purchasing for quite some time, it and the the other two names, focus on goods with much shorter lives.  Clothing and towels eventually wear out, and, for LOW, I have mentioned that the bulbs do need changing too. 
It is so easy as an investor to assume that trends keep trending, in which case one would want to stay away from these stocks.  The problem is that the trends do change, and the stocks usually figure it out way before you and I do.  Each of these stocks has a defensible bottom already at this point.  COLM has been in decline only a year, but it has fallen 50%.  LOW peaked in late 2005 and then early 2007 and has fallen over 40%.  BBBY has been in decline since mid-2005 and has fallen almost 50%.  I am not advocating purchasing falling stocks that just started to fall or that are falling for inexplicable reasons!  The investor bases have more than likely transitioned for all of these stocks.
Disclosure:  Long BBBY, COLM and LOW.