Commodity Chart Of The Day -- Cocoa
(click image to enlarge)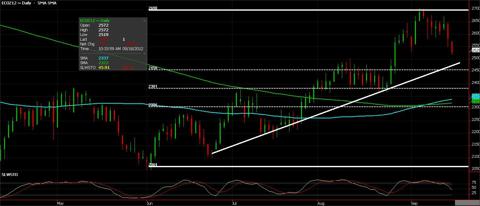 After climbing over 30% this summer, cocoa prices have started to correct. In the last two weeks, prices have lost 6.5%, fast approaching the up sloping trend line that has served as support since late June. I am recommending bearish exposure and have advised traders to use the Fibonacci levels as exit targets. Ultimately in the coming weeks, I'm expecting the December futures to trade back near its 100 and 200 day MAs, which would represent a loss of approximately 7%.
Over the years, I've noticed a strong inverse relationship to the U.S. dollar, so if the greenback can catch a bid -- albeit just a bounce -- this would likely help the cause. Support in December is eyed at 79.00, and a 38.2% Fibonacci retracement would lift prices in this contract back over 81.00 near its 20 day MA.
This could be played by bearish ratio spreads, out right puts, or my favored play is shorting futures while simultaneously selling out of the money puts.
Risk Disclaimer: The opinions contained herein are for general information only and not tailored to any specific investor's needs or investment goals. Any opinions expressed in this article are as of the date indicated. Trading futures, options, and Forex involves substantial risk of loss and is not suitable for all investors. Past performance is not necessarily indicative of future results.
Disclosure: I have no positions in any stocks mentioned, and no plans to initiate any positions within the next 72 hours. I wrote this article myself, and it expresses my own opinions. I am not receiving compensation for it. I have no business relationship with any company whose stock is mentioned in this article.