The mortgage market is entering uncharted territory with interest rates falling to unprecedented lows and the Federal Reserve trying to drive them even lower. Not surprisingly, value investors are asking: how will this affect high flying mortgage real estate investment trusts (mREITs) like Annaly Capital Management (NYSE:NLY)?
The Federal Reserve is trying to stimulate the economy by buying up $40 billion worth of mortgage backed securities starting next month. The Fed has also voted to keep short term interest rates low until 2015. Theoretically, the Fed's action will increase business for mREITs like Annaly, Two Harbors Investment (NYSE:TWO), PennyMac Mortgage Investment Trust (NYSE:PMT), and American Capital Agency (NASDAQ:AGNC). This action is supposed to increase demand for mortgages by keeping interest rates low.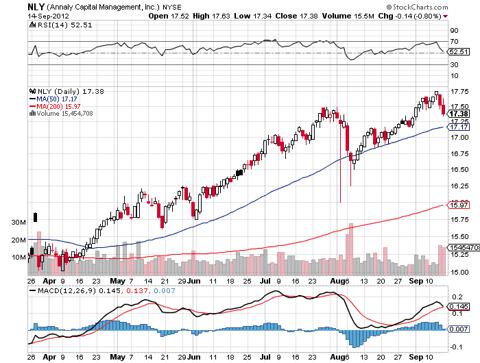 Yet as you can see above, it had the opposite effect on Annaly's share value. Annaly's shares fell by around 25¢ late in the week. The Fed's supposed gift to mREITs has actually had a dampening effect on their share values. Mr. Market seems to think that mREITs will see little or no boost from Mr. Bernanke's new policy. Is he right?
Fed Stimulus Will Not Lead to Mortgage Bonanza
Probably not. Falling mortgage rates have convinced more Americans to refinance their mortgages. USA Today reported that mortgage refinancing has quadrupled in some parts of the country, such as in Tucson, Arizona. More people are moving to refinance, but not necessarily to buy homes.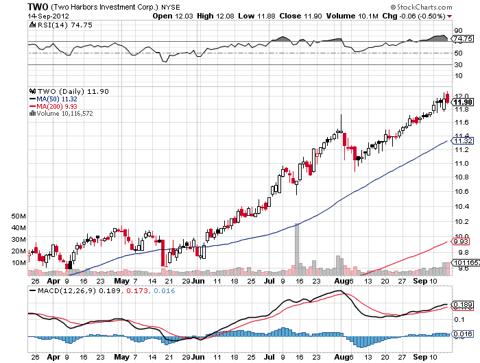 The reason home sales may not increase is that increasing the amount of mortgage financing in the market might drive up property values. Increased property values might lower demand for homes and new mortgages. So the Fed's latest stimulus attempt has two sides for mREITs. On one hand, it increases demand for one of their main products, refinanced mortgages; but it might also lower demand for another product. As you can see above ,Two Harbor's stock price is a little stagnant.
The Fed is essentially increasing the size of the mortgage credit market, which increases the potential market for mREITs. Yet increasing the markets has not helped Annaly, even though the mREIT has moved to increase its capitalization by issuing more preferred stock. A press release indicates that Annaly is trying to raise another $400 million through this move, probably in anticipation of expanded business.
One obstacle that mREITs may face sooner or later is that they may have saturated the market. All the people that can refinance will, so at some point, the mREITs will run out of customers. This does not seem to be happening yet because the number of mortgage applications rose by 11% in the week of September 3rd through September 7th. Yet the number of actual mortgages is not necessarily rising because lending requirements are much tougher. Fewer people can get mortgages even though they're cheaper than ever because of lower interest rates.
In other words, the unprecedented growth in the share values of mREITs, such as Capstead Mortgage (NYSE:CMO) and Chimera Investment (NYSE:CIM), might be over. That does not necessarily make an mREIT like Annaly a bad investment; it just means that its high flying days might be over for good.
Annaly Still Has Some Good Points
After all, Annaly still comes with a dividend yield of $2.20 a share, or 12%. That alone makes it attractive to a lot of value investors. This is one of the few stocks these days that actually delivers a really juicy dividend.
Annaly also displays some interesting numbers that seem to show how warped the mortgage market has become in recent years. The company has reported sales growth of 33.4% but a decline in income of 73.8%. In other words Annaly, seems to be doing more business than ever before while losing more money.
Politics Clouds - Annaly's Future
In other words, this is not your normal stock or your normal company in your normal business. The mortgage market is no longer playing by the rules of the free market; instead it's being distorted by political factors and other outside forces. This situation can benefit a well-capitalized company like Annaly, but it creates all sorts of new pitfalls.
For example, what happens if Mr. Romney and Mr. Ryan win the presidential election and make good on their pledge to fire Ben Bernanke and change the direction of the Federal Reserve? Republican vice presidential candidate Paul Ryan is attacking the Fed on the campaign trail. If they turn off the credit spigot, will the mortgage market dry up and deprive mREITs of any future market growth?
Even though Annaly is still capable of generating a lot of dividends, its future is cloudy and about to get a lot cloudier. The mortgage credit market has become completely politicized, and it is no longer playing by market rules. That makes Annaly a speculative stock rather than a value stock right now. Its future is still very much in doubt because of the political landscape.
Disclosure: I have no positions in any stocks mentioned, and no plans to initiate any positions within the next 72 hours. I wrote this article myself, and it expresses my own opinions. I am not receiving compensation for it (other than from Seeking Alpha). I have no business relationship with any company whose stock is mentioned in this article.