I have placed three master limited partnerships (MLPs) in "My Personal Pension Plan." My Personal Pension Plan is my account name focused specifically on funding my retirement years. I hedge all positions because financial loss is not part of my strategy. The pension plan has high yielding securities and a growing net asset value. The three names have yields ranging from 8.54% to 10.10%. I will describe my rationale to own these names at current prices.
QRE Dividend Yield data by YCharts
QR Energy, LP (NYSE:QRE)
QR Energy is an upstream MLP. QR Energy's core production areas are the Permian Basin, Mid Continent, Ark La Tex, Michigan, and the Gulf Coast. The quarterly distributions are 48.8 cents per unit. This amounts to an annual $1.95 payout per share. The annual distribution yield is 10.10%.
QRE Total Return Price data by YCharts
QR Energy has production in five core areas. The Permian Basin and Ark La Tex areas are the two key production areas in terms of actual production, proven reserves, and reserve life.


Between the Permian Basin and Ark La Tex, 89% of proven reserves exist. 85% of production is based in these two areas. The reserve life ranges between 14.8 years to 20.5 years.
Here is a historical table of QR Energy's quarterly distributions since the initial public offering: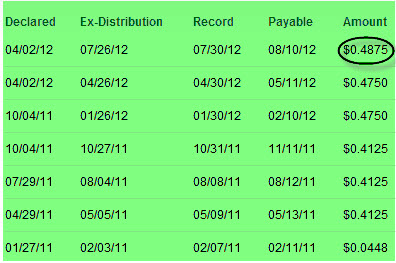 The company has consistently increased quarterly distributions over its brief operating history. This is a good sign for income investors seeking pay increases. My Personal Pension Plan admires securities with an increasing distribution.
Breitburn Energy Partners L.P. (BBEP)
Breitburn Energy Partners is an upstream master limited partnership. The company had a successful 10 million unit secondary offering on September 6th. The units were priced at $18.51. The units have rebounded back to a current closing price of $19.59. Quarterly distributions have increased for nine consecutive quarters. The quarterly distribution is 46 cents per unit. The current annual yield is 9.57%.
BBEP Total Return Price data by YCharts
The long life, hedged operations are located in 7 states: California, Wyoming, Michigan, Indiana, Kentucky, Texas, and Florida. The Federal Reserve Quantitative Easing programs have increased cash within the economy. This should, ultimately, weaken the U.S. dollar and increase oil, natural gas, and natural gas liquid prices.
Production Mix
Breitburn Energy Partners has a 2012 production mix of approximately 50% in oil and 50% in natural gas. The business model focuses upon long life assets. Management, as with all upstream MLP's, has to keep an active acquisition and disposition program in effect.
Active Hedging Program
Management has a clearly defined hedged portfolio. The company has approximately 65% of oil hedged at $90 or higher. Approximately 65% or higher of natural gas is hedged at $5.05 per MMbtu. Henry Hub natural gas spot prices closed today at $2.83 per MMbtu.
Vanguard Natural Resources, LLC (NYSE:VNR)
Vanguard Natural Resources is a limited liability corporation. Their upstream revenues and monthly distributions are taxed as a master limited partnership. The company does not have a General Partner or associated Incentive Distribution Rights. The result is the unit holder receives higher distributions. Vanguard Natural Resources pays a monthly 20 cent distribution. This equates to a 8.54% yield.
Active Hedging Program
In a September 13 "Better Investing Annual Conference Presentation," management outlined Vanguard Natural Resources' hedging program.
Crude closed recently at $96.99. Vanguard Natural Resources may have to decrease its monthly distributions if the production is not hedged and oil prices decrease. Hedging is prudent and effective.
Action
I plan for my retirement, bills, vacations, and housing upgrades. My Personal Pension Plan allows my cash flow to meet the expense side of the ledger. I believe I will never see a penny from Social Security. The Federal debt and Federal deficit tell me that, "Social Security's Future is A Thing of the Past". Thus, I need to ensure I have Social Security income replacement. I have to think for myself and make reasonable investment portfolio decisions. I am harvesting high income dividends.
Disclosure: I am long VNR, QRE, BBEP. I wrote this article myself, and it expresses my own opinions. I am not receiving compensation for it (other than from Seeking Alpha). I have no business relationship with any company whose stock is mentioned in this article.