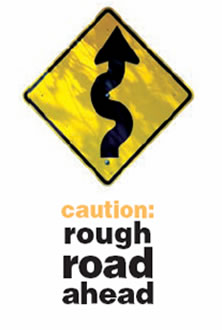 The week is off to a bad start:
So happy Monday to you!  We thought last week that, with 1/3 of the S&P 500 reporting by the week's end, we'd have some market clarity but the results were mixed and our feelings remain mixed as we wait for the markets to pick a direction and stick to it for a change. 
Oil is still way too high at $125 and RD2.0 found this great article from Conde Nast about how the MSM doesn't even ask the right questions when looking at the oil crisis so how can we possibly expect to find any answers?  This is a must-read article and one of my favorite lines is:
As journalism has passed from a hungry to an elite profession, there's no shock value in the fact that Exxon Mobil paid only $5 billion in U.S. income taxes last year while it paid $25 billion to foreign governments. Even with Exxon Mobil making $76,000 a minute, the last thing that occurs to many assignment editors and reporters is to investigate whether a windfall-profits tax would drive Exxon Mobil, BP, and other oil companies to invest in the alternative-energy strategies they boast about in their television commercials.
MJ pointed out that the CFTC finally discovered a manipulator after months of pressure from Congress.  The "Commitment of Traders Report" for the week contained a special announcement concerning the energy markets but, what that special announcement doesn't tell you but what commodities expert Ted Butler does, is what "you can only get from studying the different tables provided. As a result of the closer scrutiny, the CFTC suddenly 'discovered' that a very large trader in crude oil needed to be reclassified from the commercial category to the non-commercial category because the position that this trader held did not represent a bona fide hedge and was, therefore, a speculative position.  What was shocking about this position is its size. This one trader held a spread position of 147,000 contracts in NYMEX crude oil futures and a spread position of 326,000 contracts in futures and options combined, a position of more than 10% of both the entire futures market and futures and options combined." 
One person was moving 10% of the NYMEX contracts around and was considered a hedger, not a speculator, even though 326,000 contracts represents 15 TIMES MORE than all of the contracts that were actually delivered in the entire trading month of July or August.  According to Butler "The reclassification and revelation of the size of this single trader's positions raises some disturbing questions":
Why has the CFTC allowed such a large position to exist?
What effect has this position had on the market to date?
What potential does this position hold for disorderly market conditions, should the position be unwound in distress conditions? (Think of Amaranth)
How many misclassifications are there in other commercial positions? (Think of the short side of silver and gold)
What is the economic justification for such a large position?
As I said last week, we have reached a critical mass and the NYMEX crooks will have a lot of trouble maintaining their scam under the light of scrutiny by Congress and the media.  It is up to us to keep the pressure on them or they will simply trade new cons for old (today they have Iran rattling sabers again to defend the $125 line).  The direction of oil is critical here, if it heads back up, the markets head back down, no doubt but if they can't rally this week, our $110 target may be in very good shape as will 13,000 on the Dow.
Asia was mixed and flattish this morning, as is Europe, so we'll skip right past them and talk about what a huge data week we have here in the US.  Unfortunately, the big stuff comes Thursday and Friday including the GDP (very big), Chicago PMI (must get over 50), Non-Farm Payrolls and Earnings with the ISM on Friday.  Briefing.com lists the following:
So it's very likely to be chop, chop, chop until we see the GDP on Thursday morning.  We should have a good improvement over last time, but it's already expected, which makes it hard to rally off.  Meanwhile, we wait for the housing bill, which only helps (in theory) 400,000 of the 2.5M people being foreclosed on this year and that is just not enough.  Political compromise is not going to solve this crisis, we need real change - let's hope we find someone who can do that for us in the 100 days left before the election.
I'm loving our cautious portfolio mix at the moment as it looks like we're still in the summer doldrums at the moment.  We'll keep our eye on earnings, which are still coming fast and furious and we'll look at this week's selection a little more closely this evening.  Tyson Foods (NYSE:TSN) gave us a big miss this morning and is getting punished for it in pre-market.  Pacific Century Financial (NYSE:BOH) had a nice beat (always good to see banks surviving) as did Kraft (KFT), Old National Bancorp (NYSE:ONB) (another bank), Simon Property Group (NYSE:SPG) (real estate!), Verizon (NYSE:VZ) (but still going down) and Wrigley (WWY), who are flying on very good earnings.
It's going to be a bumpy ride so let's strap in and have some fun!
Note on Friday's post.  The opening Chart was from David Fry's ETF Digest and originally forgot to mention that or the excellent work David does every day.  Sorry David!