NetSuite (NYSE:N) has rewarded optimistic shareholders with a 50% return this year. This climb in share price represents an increase of $2 billion in shareholder value and in the immediate future, prices may continue to rise. Despite the fact that the security has increased dramatically in price and investors have been rewarded through their ownership of shares, I believe that an eventual capitulation is inevitable and price decline is possible in the future. Through this analysis, I make the case that NetSuite is not currently a strong company and the recent increase in share price has been due to speculative enthusiasm rather than solid fundamentals.
Organizational Returns
Two ratios which I have heavily relied on in this analysis are return on assets and return on equity. These two ratios capture two distinct areas of the firm which typically drive organizational performance. Return on assets measures net income as a percentage of the assets utilized to generate revenues. As return on assets increases, the firm increases its ability to efficiently use its assets to bring in profits. Return on equity is net income as a percentage of directly-invested shareholder equity and return on equity measures how effectively management uses shareholder investment to bring income into the firm. These two ratios are shown in the chart below.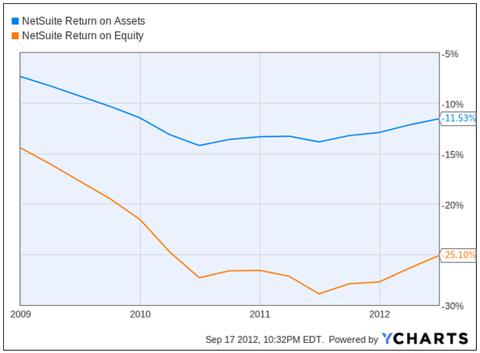 The chart shows the return on assets and return on equity for NetSuite since 2009. Beginning in 2009, return on assets and equity entered a steady decline that was not entirely completed until the middle of 2011. This decline represented a time in which the firm operated at a fairly significant loss. This loss was such that for every dollar of assets the firm utilized, it lost around 11 cents during these two years. In the middle of 2011 however, the firm began increasing its performance, however it is still not able to generate a profit.
These ratios demonstrate a fundamental weakness in NetSuite. Speculative investors who look for patterns in the data may glance at the chart and see an organization which is bottoming out and on the upswing. However, a simple examination of this data will prove this speculation incorrect. For the past three years, NetSuite has failed to garner a positive return on its assets or equity. This is substantial in that firms cannot operate in this manner indefinitely. Additionally, investors who believe that the firm is improving and on an upswing should note the smoothness of NetSuite's losses. To date, the only volatility that the organization has encountered has been to the downside, as can be seen by the return on equity through time. For the majority of the past three years, NetSuite has continued to lose around $11 for every $100 of company assets and the organization shows very little in the way of improvement.
A Lack of Margin
Not only has the firm suffered from a return standpoint, but NetSuite has also been unable to swing into a profit as measured by profit margin. Profit margin measures the firm's profitability as profit divided by revenue. This ratio allows the investor the ability to visibly see the "moat" or competitive edge of an organization. When profit margins are high, it is obvious that a firm is able to thwart competition and grow and defend its market share. As profit margins decline, the firm is placed into a desperate situation in which it must expend more capital to fight off competition.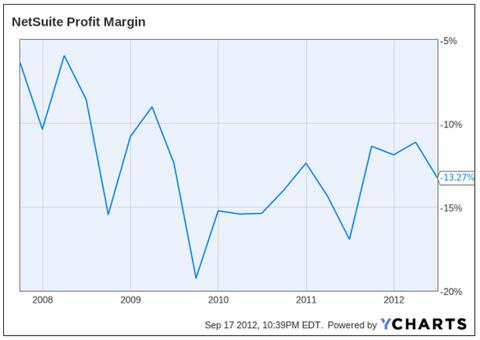 The chart above shows five years of profit margin history for NetSuite. NetSuite has not been able to earn a profit in a single quarter over the past five years. Additionally, the firm is currently experiencing losses on the magnitude of twice those it encountered in 2008, as measured by profit margin. These losses simply cannot continue. At some point, a firm is required to capitulate in the face of such unmitigated suffering. Many speculators believe that by some miracle the firm will be able to overcome the odds and climb to new organization heights, but NetSuite has not been able to demonstrate this throughout the past five years. To base our core belief on anything other than the fundamental facts is trading on emotion and I believe that the recent run-up in prices represents wholesale emotional investment. Many investors may claim that while profit margins are terrible, they are increasing since 2010, however in so doing they would be ignoring this past quarter's steepening of loss. NetSuite currently demonstrates no signs or symptoms of an organization with a bright future and investors would be wise to keep this security at arm's length or position themselves for a short trade.
Technically Speaking
In order to best capitalize on a fundamental idea, I believe that investors can utilize technical analysis. NetSuite is in a solid uptrend and investors who attempt to short without waiting for an opportune moment may be adversely impacted by steadily increasing prices. In the below chart and synopsis, I have provided a technical framework that I believe embodies the key elements of NetSuite's price history.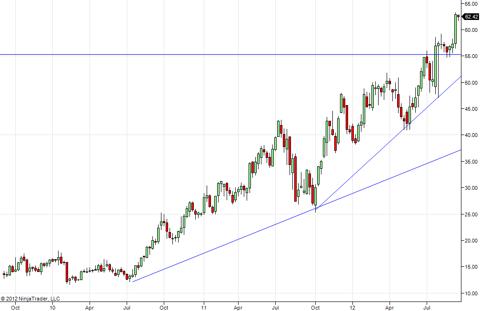 It can clearly be seen that NetSuite is an accelerating uptrend. As the months have progressed, price has increased its rate of ascent and continued making new highs. I believe that these highs are coming to an end and a substantial pullback in share price is near. I do not believe that now is the perfect time to short, however. I believe that the best time to short is when price has collapsed below its recent level of consolidation. If price is able to fall below $55 per share, then I believe that a short is warranted. Investors who short at this level should consider placing a stop-loss at $63 per share which will remove them from the trade if prices continue to the upside.
Disclosure: I have no positions in any stocks mentioned, and no plans to initiate any positions within the next 72 hours. I wrote this article myself, and it expresses my own opinions. I am not receiving compensation for it (other than from Seeking Alpha). I have no business relationship with any company whose stock is mentioned in this article.