The biotech industry is known for having some pretty major swings given onsets of FDA approval and denial, as well as with word coming from the results of various phase trials. Biogen (NASDAQ:BIIB) is no stranger to this; however, looking at the stock's progress over the last 12 months, some could argue that it's not following the traditional biotechnology paradigm. The stock is up almost 63% since last September. I want to address two issues: first, the source of this growth and second, the likelihood of sustaining this in the near future.
Biogen's golden boys for revenue growth have been their two multiple sclerosis drugs--Avonex and Tysabri, responsible for $2.7b and $1.0b in 2011 revenue, respectively.
Avonex
As of now, Avonex's success is reasonable given the quality of the drug. The medication falls under the umbrella term of "disease-modifying treatments". These remedies proceed by manipulating chemicals and biological agents that are used by the particular disease when inflicting damage on an individual. Avonex administers a particular interferon protein which strengthens the blood-brain barrier, the "boundary" that separates the brain and spinal cord from external agents traveling through the bloodstream. MS degrades this area, thus allowing for infected substances to enter the brain.
The implication of all of this jargon is that Avonex, over time, reduces the probability of developing physical disabilities (PDF). Moreover, the treatment also combats against "flare-ups", also known as "relapses", which are either the emergence of new symptoms or a worsening of previous ones. This is one of the more painful and uncomfortable consequences of MS.
Due to the difficulty of diagnosing MS, it is assumed that the prevalence of the condition can be upwards of 200 out of 100,000. This is particularly useful information for Avonex since Biogen's drug is used at the first onset of MS, instead of during more advanced stages. Since many of cases of MS never reach those levels that require other drugs, Avonex will almost always be suggested first due its location on the MS chronology.
The drug has been FDA approved since 1996 in the US and has experienced little decline or any major ulterior effects.
Although there are many disease-modifying treatments on the market, the success of Avonex lies with both its success rate and its minimization of dangerous side effects. Novartis's Gilenya is a similar treatment, yet it fails the second prong by inadvertently causing various infections, some of which becoming fatal.
Tysabri
Similarly, Biogen's other major drug, Tysabri has recorded its own successes. The drug operates by administering an antibody against the particular cell-adhesion molecule that causes the disintegration of the myelin sheath in secondary progressive and progressive relapsing multiple sclerosis. So far, it has yielded a "68 percent relative reduction (p<0.001) in the annualized relapse rate when compared with placebo and reduced the relative risk of disability progression by 42-54 percent (p<0.001)"
Almost perfectly coupling Avonex's treatment, Tysabri focuses on the latter, more severe condition of MS. The 4-week infusion treatment focuses on adults who haven't had much success with other drugs. Due to the nature of this, however, there is a slight risk that the success of Avonex and Tyasabri may be inversely proportional since a failure of Avonex in the long term may decrease revenue and consequently cause people to seek other treatment such as Tysabri. However, we remain hopeful that this occurs with Avonex competitors or natural causes instead.
Aside from MS, Tysabri gives Biogen some diversification by being an approved treatment for Crohn's Disease. The research on the association between these two indicates that one of the causes of Crohn's is contact between a particular integrin and the addressin receptor. Tysabri has been proven to block this interaction, thus reducing the impact of the disease overall.
The combination of these drugs comprise about 30% of the MS market, by revenue with 50% of all MS treatment coming from interferon beta-1a treatment, half of which being under the Avonex trade name (determined through SEC filings data).
The growth indicator is that both of these drugs, in addition to Biogen's other major treatments, have been experiencing consistent growth over the past few years, with Avonex usage increasing by 16% over two years and Tysabri shooting up 40% during the same time period.
Product

Indications

2011 Rev (millions of $)

2010 Rev

(millions of $)

2009 Rev

(millions of $)

Avonex

Multiple Sclerosis

2686.6

2518.4

2322.9

Tysabri

MS + Crohn's Disease

1079.5

900.2

776

Fampyra

MS (walking regeneration)

13.6

-----

-----

Fumaderm

Psoriasis

54.7

51.2

49.6
The Pipeline
This is where Biogen's growth truly lies. The reigning mantra currently is with BG-12, a drug said to revolutionize the MS market. Recent data from their trials, known as CONFIRM, indicated that the treatment reduced the annual relapse rate by approximately 44%, with that number increasing to 51% if the drug is given thrice daily instead of twice. This is compared to the placebo and the comparable reference drug, subcutaneous glatiramer acetate (TEVA's Copaxone), which only yielded a 29% reduction.
Aside from the raw data coming from CONFIRM, the true catalyst for the drug is its simplicity in application. Unlike Avonex and Tysabri which are injection and transfusion, BG-12 is orally administered. This truly does change the playing field since it reduces costs by eliminating the need to purchase peripherals required to inject or transfuse other drugs. Moreover, it will no longer be needed for patients to visit the hospital and have nurses assist in the procedure, especially with regard to elderly patients who may have difficulty with injections.
Additional comparative advantages include its safety profile relative to similar drugs. Over the past two years, BG-12 has documented very few side effects such as minor headaches, flushing, and GI pains. Unlike the aforementioned Gilenya, BG-12 should have a much higher administration rate amongst physicians who may feel more comfortable prescribing the Biogen drug to at-risk patients with other medical conditions.
Analysts are estimating around 3 billion dollars of revenue can be expected from BG-12 once it hits the market. This would easily be comparable to current top-line data from Avonex. BG-12 has been submitted for FDA approval with "fast track" designation. Approval status should be announced in 4Q12 or 1Q13.
Although BG-12 is Biogen's primary drug that has already been through Phase III testing, the company has two other drugs in the pipeline of note. Long-Lasting rFactor IX and VIII are two drugs designed at targeting versions of hemophilia and ALS (Lou Gehrig's Disease).
The key driver for the rFactor drugs is the lack of hemophilia treatment on the market. It's been reported that prior to these trials, it has been over ten years since that last advancement in hemophilia treatment. This gives a huge advantage to Biogen in that they now claim a major demographic of ill individuals without much competition. Both of the rFactor drugs are in Phase III trials, and scientists as well as analysts are optimistic. Expect data to be released by the end of 2012.
Financial
Aside from the operations angle of Biogen being quite successful as of late and into the future, the biotech company has seen quite a fair amount of associated revenue growth, quantifying the success of its drugs. Its year-over-year annual revenue growth has been at a solid 7%, while looking on a quarterly basis, its Q2 year-over-year growth is upwards of 17.5%.
The earnings-per-share have been doing exceeding well as they are up 34.4%. This is a clear indication of the value of Biogen's shares at the present.
Accordingly, Biogen does an excellent job of making sure the company's accumulating debt levels are kept low relative to their equity. The current debt-to-equity ratio is 0.17, which is beating most of its competitors.
Comparing gross profit margins in the table below is a clear indicator that Biogen is in the top tier of biotechnology companies.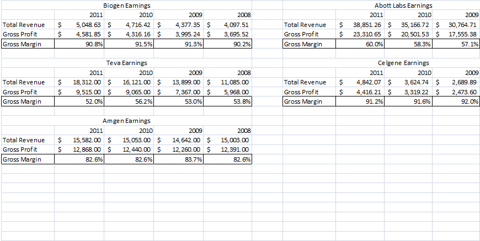 Although much of this information is speaking about the current and past states of the company, the inevitable question looms if we can expect this growth to continue even after the company posted an all-time high.
For an appropriate valuation, we can look back to 2004-2005 when Biogen had one full year of then-new Tysabri revenue. The company experienced growth of 9.5%. Using a much more conservative 7% growth figure, a DCF projection yields a target price of $193.50 by 2014.
The benefits of this model are two-fold:
The model used a decreasing revenue growth over four years, so it is not completely factoring in the implications of BG-12. The model terminating with 6% between 2013-2014.
Taxes were inputted to increase, although traditionally corporate tax rates should decrease or remain approximately the same.
All in all, this is an indicator that the company is expected to continue and increase in value over the next few years, especially due to the immediate significance of BG-12 and the rFactor trials. The pipeline is precisely the reason why we advocate purchasing the company now. This allows for exposure to the expected results by Q4 or 1Q13.
Returning back to the question posited in the title, it seems that with the continuous need for MS medication, evident by increasing drug revenue streams, and a solid pipeline that's true potential is still waiting to be unlocked, it's clear that for once, something that seems "too good to be true" actually isn't.
Disclosure: I am long BIIB. I wrote this article myself, and it expresses my own opinions. I am not receiving compensation for it (other than from Seeking Alpha). I have no business relationship with any company whose stock is mentioned in this article.