Consumer companies have long recognized the potential of emerging economies, which is why they have been gradually shifting to these high-growth markets to reap the attached benefits. In recent years, developed economies have been suffering from a debt crisis, and have been struggling to grow. On the one hand, emerging markets have been growing at a faster pace. Almost 80% of the global population makes up emerging markets. By 2020, the global population is expected to grow to 7.5 billion, out of which 6.2 billion will be in developing countries. During the same period, the middle class is expected to grow by 1.4 billion, out of which 98% will be in developing markets. Since per capita spending is expected to grow, this provides a solid ground for companies to tap the growing market share. We have identified the following three staple companies, based on their growing exposure to emerging markets and high dividend yields.
Procter & Gamble Co. (NYSE:PG)
The company reported revenue of ~$84 billion in fiscal year 2012, up 3% Year over Year. Its growth in developed markets has been slow due to weak growth in consumer spending over the years. Emerging markets contribute 38% to the company's total revenues, which have grown at an average of 14% in the last decade. Going forward, the company plans to target 10 developing markets, which offer the highest potential for growth. BRIC markets, which have grown at 20% per annum on average in last decade, are also part of these 10 markets.
| | |
| --- | --- |
| Countries | Compounded Annual Growth in Last Decade |
| Brazil | 23% |
| Russia | 25% |
| India | 27% |
| China | 17% |
Source: pg.com
It reported core EPS of $3.85 for fiscal year 2012. Currently, the company offers a dividend yield of 3.3%. It has been sharing the success with its shareholders, and has paid dividends for the 122nd consecutive year. In the last 10 years, the company paid $42 billion in dividends, and bought back $46 billion worth of its stock. In fiscal year 2012, the company had operating cash flows of $13.3 billion, up from $15 billion in 2008. Long-term debt maturities for the company amount to $4b, $3b and $4b for 2013, 2014 and 2015, respectively. The company is expected to maintain its dividend in the future, as is evident from its dividend history and strong cash flows.
Philip Morris International, Inc. (NYSE:PM)
Philip Morris sells cigarettes in over 180 countries, and has been increasing its market share. Revenue increased by 3% YoY in 2Q2012 on a constant currency basis. Asia, Eastern Europe, Middle East & Africa (EEMA) contribute more than 60% to total revenues. EEMA cigarette shipments volume was up 5.1% YoY in the second quarter. The company reported adjusted EPS of $4.88 for fiscal year 2011, and the figure is expected to grow by ~11% per annum in the near future. Philip Morris currently offers a dividend yield of 3.8%. Over the years, it has been increasing the dividend paid to its shareholders; 0.46 cents in 2008 to 0.77 cents in 2012. The trend is expected to continue given the company's solid performance. Although the company has been generating cash, its aggressive dividend payout policy and share repurchase program exceed free cash flows. Since 2008, the company has repurchased $24.4 billion worth of shares, and recently announced a plan to repurchase $18 billion worth of stock. The share repurchase program will further increase the company's debt level; however, it has a strong interest coverage ratio of over 14x. It is expected to generate free cash flows of $11 billion in 2013.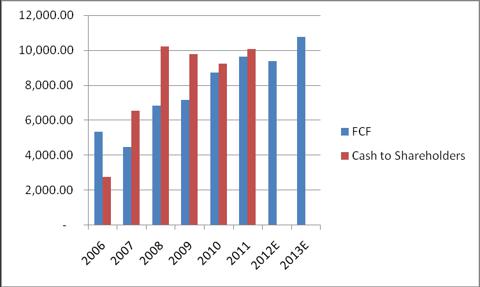 Source: Bloomberg and Qineqt s calculations.
Avon Products Inc. (NYSE:AVP)
Avon reported total revenue of $2.6 billion in the second quarter of 2012, down 1% YoY on a constant currency basis. A large chunk of the company's total revenue comes from emerging markets, which has been constantly increasing. Latin America constituted around 45% of total revenue in fiscal year 2011, compared with 40% in 2009. The developing Asian markets are expected to grow at 7.9%, while Russia and Latin America are expected to grow at 4.1% in 2013; this provides a great opportunity for the company to tap growth opportunities.
| | | | |
| --- | --- | --- | --- |
| | % of Revenue 2011 | % of Revenue 2009 | Operating Profit Margin 2011 by regions |
| Latin America | 45.% | 40% | 12.3% |
| North America | 18.5% | 22.5% | -8.7% |
| Central and Eastern Europe | 14% | 15% | 18.5% |
| Western Europe, Middle East and Africa | 14% | 12.5 | 11% |
| Asia Pacific | 8.5% | 10% | 8.5% |
Source: investor.avoncompany.com
Avon offers an attractive dividend yield of 5.6% in the current low-yield environment. Over the last five years, dividends for Avon have increased from 0.185 cents to 0.23 cents per share. It has an operating cash flow yield of 8.4% and a free cash flow yield of 10%. It has debt-to-equity of 250%, which is on the higher end compared with its industry average. However, it has healthy interest coverage of 15x, which indicates that the company comfortably covers its interest charges.
Disclosure: I have no positions in any stocks mentioned, and no plans to initiate any positions within the next 72 hours.
Business relationship disclosure: The article has been written by Qineqt's Consumer Staples Analyst. Qineqt is not receiving compensation for it (other than from Seeking Alpha). Qineqt has no business relationship with any company whose stock is mentioned in this article.