European corporate credit quality is expected to continue to erode in the second half of the year, but should stabilize within 12-18 months, according to Moody's.
In its latest quarterly review, Moody's says the high number of reviews for possible downgrade led to a rating reviews gap of -16 in the second quarter, following a gap of -18 in the first quarter.
The credit crunch is now in full swing and the impact on the broader economy is expected to intensify in the coming months.
Other key points of the report: 
The rapid evolution of the credit crunch has raised the number of Western European issuers placed on review for possible downgrade whilst the rapidly souring economic outlook is spurring an increase in the share of rating reviews that result in actual rating downgrades.
Credit quality will remain poor: at the start of the third quarter, only 20% of the issuers on Moody's 'Watchlist' were on review for possible upgrade.
Moody's changed the rating outlooks for 50 Western European issuers in the second quarter, comprising 19 positive moves and 31 negative moves. This resulted in a narrowing of the outlook gap to -12 from -21 in the opening quarter.
For the non-financial sector, the smoothed 12-month share of positive changes rose by 0.9 points to 44.1% in June from 43.2% in March.
This slight improvement suggests that the outlook in this sector may stabilize in the next 12-18 months, after a period of softening in credit quality.
Moody's said it expects retail to be the worst performing sector as slowing demand in Western Europe drives down revenue expectations.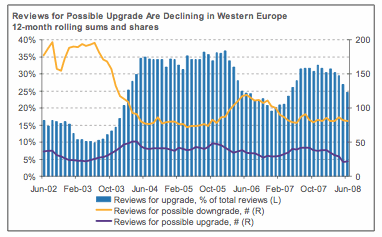 The full report European Credit Trends Q2 2008 is available for purchase.