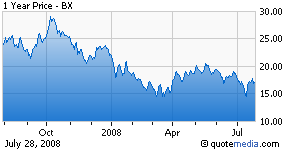 Remember when Blackstone (BX) went public? The S&P 500 opened at 1520.92. Blackstone traded a high of $38 per share that day (it's $17 per share now.) Remember all that hype - protectionists hating the Chinese investment in Blackstone, Congress vowing to change tax laws to target Blackstone, Private Equity premiums pumping up the market, CNBC constantly updating their annoying orange DOW RECORD HIGH ticker, and most ridiculous of all…the claim that the Blackstone IPO would be a market topping signal.
Now that 13 months have gone by and the S&P 500 has declined about 18%, you might think that I would believe that I was wrong about the "market topping signal" concept - I don't.
It wasn't coincident (the market high was 4 months later) and the last time we hit 1520.92 was during December 11, 2007 (about 6 months after the BX IPO.) And it wasn't causative, Blackstone wasn't responsible for the housing market or many of the other plagues that have beaten down stocks.
But for all the people who believe the BX topping signal, I wonder how many would dare say that KKR's IPO (KFN) will also signal that we are heading lower from here.