By Renee Ann Butler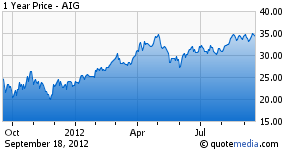 Finance stocks have been a huge gamble in recent years. In the wake of the financial crisis, they plummeted, but as the markets improve, they have increased in share price dramatically, with many finance companies returning over 40% so far this year. On the flip side of that is the costs investors, as taxpayers, had to endure -after all, many finance companies needed some assistance after the bottom dropped out and the government famously stepped in to help companies "too big to fail." It seems that at last one such investment is paying off.
"The Treasury Department said it would sell $18 billion of American International Group Inc. (NYSE:AIG) stock in a public offering, slashing its stake by more than half and making the government a minority shareholder for the first time since the financial crisis was roaring in September 2008," writes the Wall Street Journal. "The sale will mark a step that seemed hard to imagine four years ago, when the New York insurer was effectively nationalized as part of a controversial financial-industry bailout. The U.S. will move closer to recognizing a profit on its largest rescue, which included as much as $182 billion of committed aid, and AIG will revert to being mostly non-government-owned, fulfilling a priority of Chief Executive Robert Benmosche."
In early 2011, the U.S. government owned roughly 92% of AIG. In the recent offering, it sold 553.8 million shares of the company at $32.50 per share, slashing its stake to 21.5%. Then, the companies underwriting the offering, which included Citigroup (NYSE:C) and Goldman Sachs (NYSE:GS), exercised their option to purchase an additional 83.1 million shares. All in all, this brought the U.S. government's stake in AIG down to just under 16% and allowed the government to raise a decent profit.
"According to Treasury figures, Treasury and the Federal Reserve Bank of New York have received a combined positive return of approximately $15.1 billion from their overall $182.3 billion commitment to AIG," writes BusinessWire. "This profit does not include Treasury's remaining stake in AIG, which, if valued at the September 13, 2012, closing price of $34.44 per share, would provide an additional profit of approximately $8.1 billion."
"Everyone at AIG is deeply proud that we kept our promise to make America whole plus a profit," said Robert H. Benmosche, AIG President and Chief Executive Officer. "I am proud of the hard work and dedication the people of AIG have demonstrated to reach this milestone, and once again we thank America for the opportunity to prove that we would do the right thing with their money. I believe where we stand today is a testament to the strength of the AIG franchise, to the faith of our employees, customers, partners, and stakeholders, and to America's ability and willingness to fix problems and emerge stronger from tests of crisis."
That is all well and good for AIG, as well as the U.S. government, but this is not likely to be a typical outcome for government bailouts. "Most of the bailouts executed during the financial crisis have turned out to be successful. Most of the firms that received a bailout have paid it back with interest, with the government actually earning $87 billion on $319 billion of money that has been repaid, according to ProPublica, which has tracked all the spending," writes U.S. News. But, the exceptions to that are huge.
The U.S. government has not made anywhere near this level of progress with its other bailouts. Its investments in Fannie Mae (OTCQB:FNMA) and Freddie Mac (OTCQB:FMCC) are still well in the red in spite of receiving roughly $188 billion from the government. The U.S. government also holds sizable stakes in General Motors Co. (NYSE:GM) and Ally Financial Inc., in which it has invested around $68 billion.
Of course, none of this means that AIG is a bad investment. I think it shows a lot of promise. AIG said in its annual report that pay restrictions had limited its ability to "attract talent and retain and motivate our highest performing employees," writes Bloomberg. Now that AIG has repaid its TARP support, and moves away from government sponsorship, "we should expect them to return to private- sector normalcy in all corporate policy choices, including executive compensation," said professor of finance at Cornell University, Andrew Karolyi.
There is also a strong possibility that AIG may start paying a dividend. "We expect that once the Treasury is sold out, hopefully by mid-year next year, we're then in a position to be able to pay a dividend," said AIG CEO Robert Benmosche in an interview on CNBC. "I believe, strategically, we should have a dividend on that stock."
Now that the U.S. government is a minority shareholder in AIG, its oversight changes as well. It comes under the oversight of the Federal Reserve. Benmosche said, "We want our clients, for sure, to know that we're regulated, and when we make promises, somebody is watching over our shoulder to make sure we don't do what we did before and cause these problems."
Then, there are its general operations to consider. The company has been profitable for the last three quarters and is up over 43% through the middle of September. It has also been selling off some big assets - "from a $15.5 billion deal to sell its Alico health insurance operations to MetLife (NYSE:MET) to selling its Japan life insurance businesses AIG Star and AIG Edison to Prudential Financial (NYSE:PRU) for $4.2 billion," says InvestorPlace. "And though divestitures have been necessary to pay back the government, the sales have also allowed management to refocus. The business has abandoned global derivatives and other kinky investment schemes. Now, AIG is driven by three simple divisions: a global property insurer via its Chartis businesses, a U.S. life insurance and annuity company SunAmerica and the market-leading mortgage insurer United Guaranty."
There are a few downsides. "Consider that while AIG is profitable, a big reason for that profitability comes from huge tax breaks," writes InvestorPlace. "AIG didn't pay a dime in 2011 corporate taxes and in fact got money back from the IRS! And when you look at its landmark Q4 filing at the end of 2011 that pushed the company back to profitability, it involved a staggering $17.7 billion tax benefit from the government!"
I, for one, do not believe that this alone is enough of a reason to dissuade investors. I think that the prospect of a dividend, increased oversight and greater freedom to attract outside talent will help AIG deliver strong shareholder returns going forward.
Disclosure: I have no positions in any stocks mentioned, and no plans to initiate any positions within the next 72 hours. I wrote this article myself, and it expresses my own opinions. I am not receiving compensation for it (other than from Seeking Alpha). I have no business relationship with any company whose stock is mentioned in this article.