Shares of Oak Brook, Illinois-based McDonald's (NYSE:MCD) offer one of the most compelling stories for growth over the next few years. The growth I am taking about isn't the widely followed earnings growth, revenue growth, or same-store sales growth. While the 33,000+ existing locations will likely continue to generate impressive results in those areas, I prefer to focus on the tremendous growth in cash. Cash is king, and McDonald's is certainly a cash cow (pun intended). Just last quarter alone the company generated $1.48 billion in operating cash flow and currently holds $2.48 billion in cash on the balance sheet.
I think it is safe to say that everyone in this country has experienced a meal at McDonald's before. And as one of the most widely held stocks in the universe, its probably safe to say that significant portion of investors own this company, either directly or indirectly through an ETF or mutual fund. Although the growth story of McDonald's is not as robust as that of Chipotle (NYSE:CMG), Starbucks (NASDAQ:SBUX), or Panera Bread (NASDAQ:PNRA), I still believe that the stock is a great addition to any portfolio. I will focus on two main points as to why this stock makes sense in any equity portfolio, free cash flow and dividends.
Free Cash Flow
Free cash flow is simply operating cash flow minus capital expenditures. As an investor I like to look at free cash flow as what's left over after the company makes necessary expenditures to continue growing. Over the past ten years McDonald's has grown free cash flow at a compound annual growth rate of 17.43%. Not bad for the stodgy old burger chain that is likely in your grandparents' portfolio.
Annual Free Cash Flow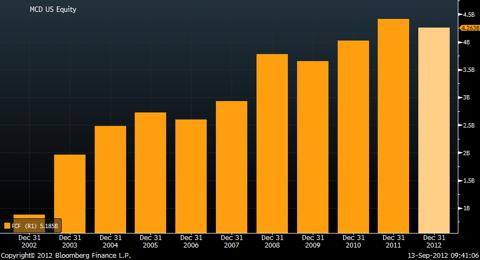 Source: Bloomberg
Even more impressive is looking at this metric through the eyes of a shareholder. In 2002 the company had a diluted share count of 1,281,500,000. Through share repurchase programs (which were funded through operating cash flow), the diluted share count has been reduced to 1,023,900,000 (as of Q2 2012 end). This 20% reduction in shares has let to a free cash flow per diluted share which has grown at a CAGR of 22.29%.
Free Cash Flow-Diluted Share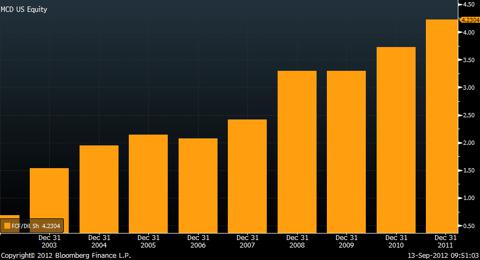 Source: Bloomberg
Dividends
The reason I began with cash flow is to demonstrate the phenomenal cash flow generating power this company exhibits. One thing investors cannot stand is dividends being reduced or removed. Given the conservative pay-out ratio, roughly 45-50% for the past few years, it is highly unlikely the company will run the risk of overextending itself. Proof of this can be seen in the chart below. In 2007 when the company paid out roughly 75% of earnings, they quickly reduced costs, not the dividend, in order to bring the payout ratio back to a more realistic level.
Dividend Payout Ratio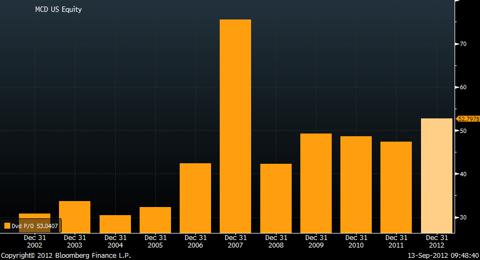 Source: Bloomberg
Investors will certainly cheer an increased dividend. Over the past decade McDonald's has grown their dividend by a CAGR of 26.56% (see chart below). I like to project the future in a conservative fashion, so let's assume the company grows its dividend at 10% per year for the next five years. At the end of five years your annual dividend payment would be roughly $4.65. Now assume the market continues to value McDonald's with a 3% dividend yield, shares would be trading at roughly $155 per share. Assuming you did not reinvest dividends over this period, your total return would be roughly 91% (13.77% annualized return).
Dividends Per Share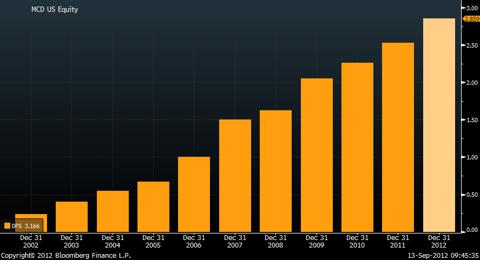 Source: Bloomberg
Conclusion
Shares of McDonald's appear to be favorably valued given the pullback we have witnessed since January. The stock appears to have placed a bottom around the mid-high $80 range and long term shareholders may be rewarded for accumulating shares during this period of weakness. The historic P/E ratio (chart below) shows a rather favorable valuation for the stock at current levels.
Price Earnings Ratio

Source: Bloomberg
Given the recent action from the Federal Reserve and their attempt to keep interest rates low until at least 2015, many investors continue searching for yield. Sitting in cash earnings next to nothing for the past few years will likely to take its toll on investors as they watch this market push higher. A great way to dip your toe in the water is to own stable, blue chip, dividend paying companies. I think this flow of money coming off the sidelines will bring a wave of demand and McDonald's share price should benefit greatly.
Note: All data reported and graphed is pulled directly from McDonald's SEC filings and press releases.
Disclosure: I have no positions in any stocks mentioned, and no plans to initiate any positions within the next 72 hours. I wrote this article myself, and it expresses my own opinions. I am not receiving compensation for it (other than from Seeking Alpha). I have no business relationship with any company whose stock is mentioned in this article.