Aetna Inc.'s (NYSE:AET) recent acquisition of Coventry Health Care (CVH) will provide the company with access to the expanding U.S. healthcare program; interestingly, recent acquisitions by the company's competitors have reaped them the same benefit. Once the integration is successful, we expect that Aetna will emerge as a leading player in the industry, with a large customer base (expected to add five million customers). The recent discount to the multiples is reflective of the tough economic circumstances that the industry as a whole is facing; however, we expect that the deal will bring in synergies, and the company will expand its market share. Therefore, we view the acquisition as a solid strategic move. We see an upside potential in the stock from here onwards, and hence rate it a buy.
Aetna is one of the largest healthcare companies is the U.S. and covers nearly 2/3rds of Fortune 500 companies. The company conducts its business through three business segments: Healthcare, Group Insurance, and Large Case Pensions. Healthcare consists of medical, pharmacy benefit management services, dental, behavioral health and vision plans, which are offered on both an insured basis and employer-funded basis. Group Insurance includes group life insurance products, also offered on an insured basis. Large Case Pensions manages a variety of retirement products, essentially for tax qualified pension plans.
The acquisition of Coventry, which will cost $5.7b in stock and cash (65% cash and 35% stock), is supposed to provide Aetna, widely known for its commercial health insurance, with access to government-backed medical programs, namely, Medicare and Medicaid. Coventry stockholders will be entitled to cash and stock valued at $42.08 a share, and the debt assumption will bring the total amount of the deal to $7.3b. The deal will be the largest of its kind in the managed healthcare industry since the Affordable Care Act was passed in 2010. The deal was intended to take advantage of the expanding U.S. healthcare coverage under President Obama's healthcare reform law, which seeks to expand Medicaid beginning in 2014. The deal is scheduled to be completed by the middle of 2013, and is expected to result in cost savings amounting to $400 million. The acquisition will also lead to Aetna enjoying a greater presence in markets of Florida, Kentucky, and Western Pennsylvania. In July, WellPoint (WLP) agreed to buy Amerigroup (AGP) in a $4.9b deal that similarly expanded WellPoint's footprint in the Medicare and Medicaid markets.
The deal will shoot Aetna's debt level to 40% of total capitalization, up from the previous 31%. Fitch seems to be worried about the development, and cites the importance of slashing debt levels in the future. It is also likely that the rating agency will put an A- rating on the company's unsecured debt, with a negative outlook once the deal is closed next year. The company has nonetheless committed to cutting down debt levels to 35%, while maintaining dividends and its stock repurchases. On the other hand, the acquisition will increase the revenue that the company generates from its government business. The government business currently generates around 23% of total revenues and is expected to go up to 30%. But while they may seem encouraging, the remaining revenues (70%) will still be coming from the commercial business, which is exposed to risks given the present economic circumstances. The integration is expected to add 45 cents to Aetna's EPS in 2014, and 90 cents the following year.
Aetna generated $33.7b in revenues in 2011 and had a net income figure of $1.98b. Revenues were down in 2011 in comparison to 2010 and 2009, owing to a decline (Table 1) in Healthcare premiums. Operating earnings for 2011 were higher as compared to the two prior years, primarily because of higher commercial underwriting margins (premium less healthcare costs). For the second quarter of 2012, EPS stood at $1.34, down from $1.42 for the same period a year ago. The company's guidance for this year reveals an operating EPS range of $5-$5.1.
Table: 1
| | | | |
| --- | --- | --- | --- |
| | FY 2009 | FY2010 | FY2011 |
| Revenues (Millions) | $ 32,073 | $ 31,604 | $ 31,254 |
Revenues for FY2010 fell by 1.5%, followed by a decline of 1.1% in FY2011.
Chart 1: Gross Margins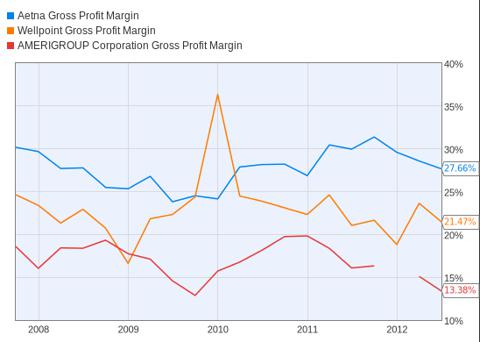 Valuations:
The stock is currently trading at about $39.4, down ~8% since the start of the year, amidst fears of pricing and cost trends. It trades at 7x its forward 2013 earnings, below its five-year and industry average of 9x. These discounts in the valuations apply primarily to concerns relating to high commercial exposure of Aetna. This discount is likely to disappear, as the Coventry acquisition will give Aetna more government exposure. Hence, we expect the company to trade at industry average, and therefore based on an average estimate of earnings of $5.54 and a P/E multiple of 9x, we estimate a price target of $49. Thus, we rate the stock a buy. The stock also offers a dividend yield of 1.8%.
| | | | |
| --- | --- | --- | --- |
| | AET | WLP | AGP |
| Forward P/E | 7x | 7x | 18x |
| D/E (MRQ) | 45% | 47% | 37% |
| Dividend Yield | 1.83% | 1.98% | - |
| LT growth rate | 10% | 10% | 15% |
Note: Estimates were taken from various sources such as Reuters, Yahoo! Finance and Bloomberg.
Disclosure: I have no positions in any stocks mentioned, and no plans to initiate any positions within the next 72 hours.
Business relationship disclosure: The article has been written by Qineqt's Healthcare Analyst. Qineqt is not receiving compensation for it (other than from Seeking Alpha). Qineqt has no business relationship with any company whose stock is mentioned in this article.