We've seen this quantitative easing movie before, and while history doesn't always repeat itself, it does rhyme:
1. Market falters under zero interest rate monetary policy
2. Federal Reserve starts quantitative easing (QE)
3. Prices rise in the stock market and other risk assets (risk-on)
4. QE ends and market falters (risk-off)
5. Lather, rinse, and repeat. See chart below:
(click images to enlarge)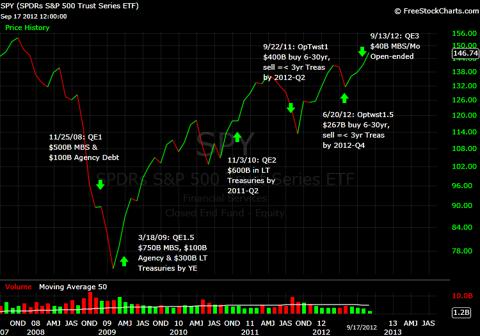 Click to enlarge
QE is a monetary policy used by the Fed and other central banks to stimulate the economy when conventional monetary policy has become ineffective. A central bank implements QE by buying financial assets from commercial banks and other private institutions with newly created money (i.e., increasing the monetary base). QE raises the prices of the financial assets bought, which lowers their yield. The effects of money creation since QE1 has boosted asset prices, and so far, gold (NYSEARCA:GLD) has outperformed stocks (NYSEARCA:SPY) and long-term treasuries (NYSEARCA:TLT) -- see chart below: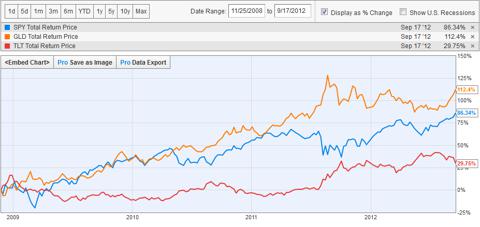 Click to enlarge
Source: YCharts
Fed Chairman Ben Bernanke on the Committee's rationale for open-ended QE3:
The Committee is concerned that, without further policy accommodation, economic growth might not be strong enough to generate sustained improvement in labor market conditions. Furthermore, strains in global financial markets continue to pose significant downside risks to the economic outlook. The Committee also anticipates that inflation over the medium term likely would run at or below its 2% objective.
Bernanke warned that the country's unemployment situation remains a grave concern because fewer than half of the 8 million jobs lost in the recession have been restored. According to the Bureau of Labor Statistics, the U.S. employment-population ratio is in serious decline, and has slumped to a 30-year low (see chart below):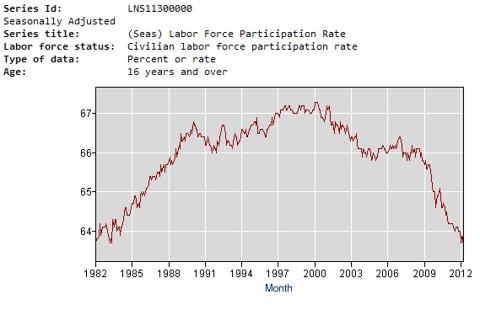 Click to enlarge
Source: U.S. Bureau of Labor Statistics
In light of an audacious QE3 policy amid a market reaching five-year highs, one needs to make careful considerations regarding what assets to buy. According to research by Strategas Research Partners, stocks currently offer the best relative value among an asset class selection of stocks, bonds, or homes based on a 50-year historical perspective (click here to watch video).
In conclusion, the objective of QE3 is to boost asset prices, thus creating a wealth effect to spur spending, investing, and economic activity in hopes of increasing hiring. The Fed expects this highly accommodative open-ended stance of monetary policy to remain for a considerable time, even after the economic recovery strengthens. While past performance from previous QEs is no guarantee of future results, the new round of QE (with the added "open-ended" kicker) should provide strong tailwinds to lift asset prices, particularly in stocks and gold (an alternative asset held as a hedge against currency debasement). It's worth repeating here: "don't fight the Fed".
Disclaimer: Please note the fact that a general recommendation made of a particular security, commodity, or investment area does not mean it is suitable for you or should be purchased by you. For example, we may already have purchased such securities at a lower cost, and/or the position for you may represent too much concentration in one security or industry. Before deciding to invest, you should carefully consider your investment objectives, level of experience, and risk appetite. The possibility exists that you could sustain a loss of some or all of your initial investment, and therefore, you should seek advice from an independent financial advisor if you have any doubts.
Disclosure: I hold a partially covered call position in SPY. I wrote this article myself, and it expresses my own opinions. I am not receiving compensation for it (other than from Seeking Alpha). I have no business relationship with any company whose stock is mentioned in this article.