On September 10th, Lee Enterprises (NYSE:LEE) announced that it had agreed to sell one of its community newspaper publishing companies. Lee entered into an agreement with San Diego real estate developer Doug "Papa Doug" Manchester to sell the Escondido, CA area North County Times to Papa Doug for $12M. Despite the fact that we were disappointed that Lee was only able to harvest $12M from the sale of the paper, we believe that it was a good idea for Lee to sell it while it still had value. Lee acquired ownership of the North County Times in 2002 when it acquired Howard Publications for $750M. Under Lee's ownership, average daily circulation for the North County Times declined from 92,490 in 2002 to 75,727 in 2011. Lee also acquired Pulitzer Inc for $1.46B in cash in 2005. Based on the fact that the Howard and Pulitzer acquisitions saddled Lee with $2.2B in debt, we believe that Lee needs to find a way to sell more newspapers to the public or more newspapers publications to investors.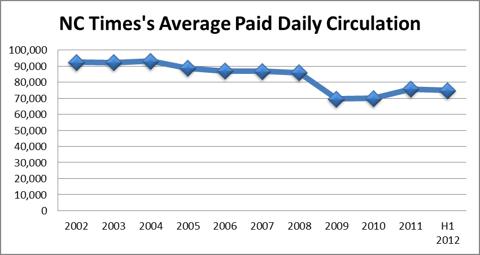 Sources: Lee's 2002-2011 Annual Reports and NCTimes.com
Papa Doug had purchased the San Diego Union-Tribune from the private equity group Platinum Equity in November 2011 for $110M and Platinum Equity had acquired it from The Copley Press in 2009 for an undisclosed amount. Papa Doug had renamed the San Diego Union-Tribune to U-T San Diego in January 2012 and we think that this acquisition of the North County Times is a natural fit for him considering that U-T San Diego serves the city of San Diego and its immediate suburbs and the North County Times serves exurban areas of San Diego County like Escondido, Oceanside and Temecula.
The key factor for our long position in Lee is that Warren Buffett and Berkshire Hathaway (NYSE:BRK.B) is a significant capital stakeholder in Lee Enterprises. Berkshire bought $85M of Lee's junior debt from Goldman Sachs in November. Goldman had previously purchased Lee's junior debt for 80 cents on the dollar and sold it at a loss to Berkshire for 65 cents. Because Lee's 2005 acquisition of Pulitzer saddled it with $1.5B in new debt as it was two years away from paying off the debt utilized to finance the Howard acquisition and because the Lee-Pulitzer combination generated less free cash flows than legacy Lee, the company was not able to generate enough cash to pay off its loans and credit lines before the 2011 maturity. The company was not able to refinance and extend its debt financing and was forced to seek a prepackaged bankruptcy.
As part of the prepackaged bankruptcy, Lee's debt was refinanced and its maturities were extended to December 2015 for the 1st Lien Term Loan Agreement and April 2017 for the 2nd Lien Term Loan agreement. 2nd Term Lien holders collectively received 6,743,640 shares of Lee's common stock. Because Berkshire owned $85M of Lee's junior debt, Berkshire received $85M of Lee's 2nd Lien Debt which carried a 15% coupon and Berkshire also received about 3.3M shares of Lee stock with its debt. Because this equity stake was obtained in Q1 2012 as part of the bankruptcy restructuring, we believe that Buffett was concerned that people who scour Berkshire's quarterly 13-F filings would see it and he tried to keep it secret. We believe that although he wasn't allowed to keep it secret, we believe that the SEC allowed him to disclose half of his position in Q1 2012 and the rest in Q2 2012 as the Q1 13-F for Berkshire showed 1.6M Lee shares and the Q2 2012 showed 3.2M. Warren Buffett owns 49% of Lee's junior debt, 9% of Lee's total debt and 6.2% of Lee's outstanding shares based on his $85M investment in Lee's junior debt.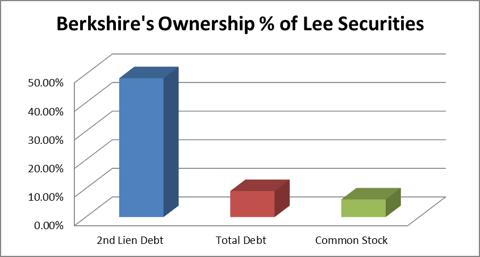 Source: Lee's MRQ 10-Q Report and Berkshire's MRQ 13-F Report
Even though Lee's free cash flow run rate has been cut from nearly $100M in 2011 to an estimated $60M due to the higher interest rate expense on the prepackaged bankruptcy refinancing package, we expect Lee to continue to generate $60M in free cash flows and to use its cash flows generated from operations as well as the sale of non-core papers to pay down debt. We also like that the company's free cash flows to market cap is over 75%, the fact that its newspaper publishing revenue decline has been lower than its larger media peers, its focus on community-oriented newspapers in suburbs and exurbs and the fact that the bankruptcy has already happened. We don't expect it to go bankrupt again for kicks.

Source: Most Recent Earnings Release from these companies
Despite our previous criticism of Lee Enterprises's management, we concede that Lee's advertising revenue performance has outpaced the industry average for 36 straight quarters. We maintain our previous criticism because Lee's management still overpaid for Pulitzer and that debt financed acquisition helped lead the company into bankruptcy as well as seeing its annual interest expense rate increase by nearly 80% and its stock diluted by 13% in order to exit bankruptcy. We noticed that Lee had shifted its Vice President of Publishing Mike Gulledge to Vice President of Sales and Marketing. In his new position, Gulledge will be pushing to expand Lee's revenues from digital sources. We like that he has led Lee's successful introduction of paid digital content and we expect this initiative to be completed in nearly all of Lee's markets within a few months. Gulledge has been a key strategist in Lee's initiatives to accelerate digital sales and in advancing mobile growth. However, we were disappointed in Gulledge's performance as publisher of the Billings Gazette. Gulledge has been the publisher of that paper since 2000 and it has seen its average daily circulation steadily erode from 47,390 in 2000 to 37,310 in 2011.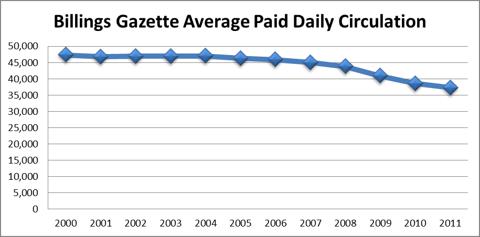 Sources: Lee's 2002-2011 Annual Reports
In conclusion we can see why Buffett invested in Lee Enterprises. Lee is most certainly not a blue-chip company and the glory days of the newspaper publishing business are most certainly over. However, we also believe that the worst for Lee is over. We like that Lee has reduced its outstanding debt from $1.8B in Q3 2005 when it closed the Pulitzer acquisition to $935M as of Q3 2012. We believe that even though Buffett is most certainly not an activist investor, we believe that his capital interest in Lee will implicitly force the company to rationalize its operations. We are aware that Lee's pre-packaged bankruptcy raised the annual interest cost by nearly $40M. We were glad to see Lee sell a newspaper publication that it assumed ownership of through an acquisition. We believe that the company will need to find a way to sell more newspapers either by increasing circulation or by selling off non-core newspaper publication operations. However, we are encouraged to see Lee's management taking strategic steps to strengthen the underlying organization.
Disclosure: I am long LEE, BRK.B. I wrote this article myself, and it expresses my own opinions. I am not receiving compensation for it (other than from Seeking Alpha). I have no business relationship with any company whose stock is mentioned in this article.
Additional disclosure: This article was written by an analyst at Saibus Research. Saibus Research has not received compensation directly or indirectly for expressing the recommendation in this article. We have no business relationship with any company whose stock is mentioned in this article. Under no circumstances must this report be considered an offer to buy, sell, subscribe for or trade securities or other instruments.