On August 24th, Berkshire Hathaway (NYSE:BRK.B) released its Q2 2012 13F-HR report in which it showed that it liquidated its position in Intel Corporation (INTC). We believe that despite the fact that Berkshire's CEO Warren Buffett protests his lack of understanding of technology stocks, we believe that Berkshire has more knowledge of the technology sector than people realize, including Buffett himself. After all, if Buffett was a total ignoramus about technology, Berkshire would not have sold off its position in Intel in Q2 2012 before Intel announced its Q3 2012 earnings warning. While Intel is certainly one of the bluest of the technology and general equity blue-chips, we believe that the declining demand for personal computers will result in the company registering flattish financial and investment performance. We were not privy to what price Berkshire received for its Intel shares but considering that Intel's lowest price during the quarter was achieved on June 4th at $24.84, we can see that Berkshire got out at a good price relative to the $23.31 price as of September 17th.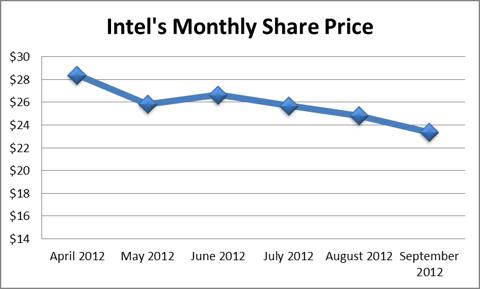 Click to enlarge
Source: Morningstar Direct
On September 7th, Intel preannounced an earnings and revenue warning to the investment community. Intel cut its revenue range projection for Q3 2012 from $13.8B-$14.8B to $12.9B-$13.5B. This helped Intel's projected gross margin for the quarter to slip from 63% previously to a revised level of 62%. The good news is that these new results are comparable to the $13.1B revenue and 61.9% gross margin achieved in Q3 2011. The bad news is that the steadily declining demand for traditional personal computers at PC makers like Hewlett-Packard (NYSE:HPQ) and Dell Inc (NASDAQ:DELL) is resulting in weak revenue and gross margin results at computer chip champion Intel. Intel is pinning its hopes on its new Ultrabook series of high-end subnotebook computer defined by Intel and manufacturers by its PC partners.
We were surprised to see poor levels of revenue and profit growth in H1 2012 versus H1 2011 for Intel even though Intel had spent $9.1B on acquisitions in 2011 and H1 2012. At least its H1 2012 EPS was stable, though this was due to Intel spending $13.5B for net repurchases of common shares. We can see that the company still generates strong levels of free cash flow and has a solid balance sheet position with $14.8B in gross cash and marketable investments offset by $7.2B in outstanding indebtedness for a net liquidity position of $7.6B. Intel increased its per share dividend by 7% in July and its shares now yield 3.86%.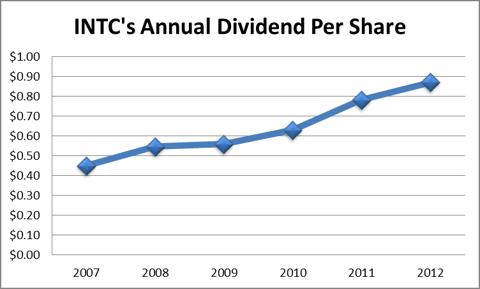 Click to enlarge
Source: Intel's Dividend Summary
While Intel is seeing its fortunes struggle, at least it is still dominating Advanced Micro Devices (NYSE:AMD). We have always seen AMD as a perpetually struggling also-ran relative to Intel but despite Intel's soft financial performance, AMD's performance is even worse. AMD had seen its revenue decline in Q2 2012 and H1 2012 versus the comparable periods in the prior year. This helped AMD rack up a $553M loss in H1 2012. Even if we back out a $703M pre-tax charge due to the waiver of exclusivity from GLOBALFOUNDRIES, the company only generated adjusted income of $150M in H1 2012. Despite the fact that Intel's performance no longer has the vigor and vitality of its 1990s era performance, Intel should be proud that its H1 2012 profits are nearly double the level of AMD's H1 2012 revenue. Plus AMD has recently seen its CFO and other executives resign to pursue better opportunities. We've always presumed that Intel has been playing a part in keeping AMD afloat so as to prevent the Justice Department from going after Intel on antitrust concerns the same way the DOJ went after Microsoft in the late 1990s.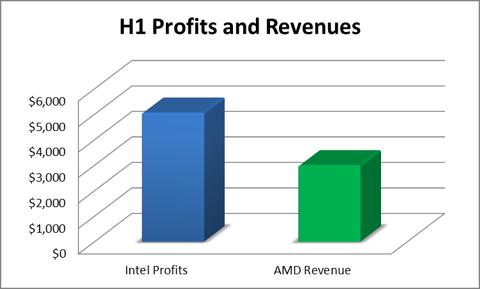 Click to enlarge
Source: Morningstar Direct
In conclusion, we can see that Intel is still a titan in the technology sector. We would not be so foolhardy as to enter into a short position in Intel because the company still generates a strong level of operating and free cash flows as well as consistent use of free cash flows for dividends and share repurchases. At the same time, we believe that there are better investment opportunities to invest in. Berkshire Hathaway's position in Intel ranged from a low of 7.7M shares at the end of Q1 2012 to a high of 11.4M shares in Q4 2011. Berkshire Hathaway's position in Intel represented .12% of its investment securities portfolio, which was less than Intel's representation in the S&P 500 (.88%). Because Intel's position represented a small portion of Berkshire's assets, we would have to guess that Intel was an idea of Todd Combs and Ted Weschler rather than Warren. We are not criticizing Berkshire's managers for including it in its portfolio and the good news about Intel's Q3 warning is that it reinforces our cautious outlook on Hewlett-Packard. In the last month, we had published two reports on H-P because we had added it to our coverage list. We were not ready to take a position in the company but we thought that there would be potential revenue and profit stabilization. Based on the news out of Intel, we can see that Intel's customers (such as Hewlett-Packard) are still struggling and we will be waiting for "a perfect pitch" from HPQ rather than panicking into swinging at HPQ.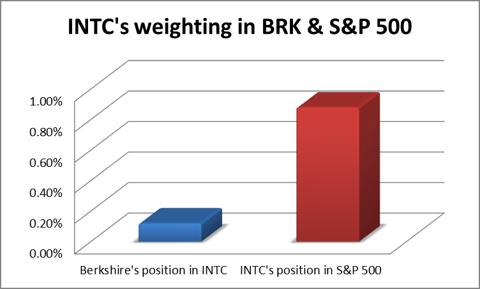 Click to enlarge
Source: Morningstar Direct
Disclosure: I am long BRK.B. I wrote this article myself, and it expresses my own opinions. I am not receiving compensation for it (other than from Seeking Alpha). I have no business relationship with any company whose stock is mentioned in this article.
Additional disclosure: This article was written by an analyst at Saibus Research. Saibus Research has not received compensation directly or indirectly for expressing the recommendation in this article. We have no business relationship with any company whose stock is mentioned in this article. Under no circumstances must this report be considered an offer to buy, sell, subscribe for or trade securities or other instruments.