No Attention Span Summary: A wholesale fuel distributor entrant into the MLP universe that is a more compelling MLP investment if the unit price is closer to $17 or less.
Susser Petroleum Partners, LP (SUSP)
SUSP is currently on the road looking to price its IPO on the evening of September 19, 2012. The company is looking to sell 9.5 million common units at a mid-point price of $20 per unit raising approximately $190 million of gross proceeds. I am going to assume readers are familiar with Master Limited Partnerships ("MLPs") and energy related concepts in general and focus more on key Pros and Cons for SUSP and how it compares to the current MLP universe. Additionally, this article uses some unique terms and ratios that are explained in an earlier article, A Ranking Protocol for the MLP Space.
SUSP's Business
We are a growth-oriented Delaware limited partnership formed by Susser Holdings Corporation (NYSE:SUSS), or SHC, to engage in the primarily fee-based wholesale distribution of motor fuels to SHC and third parties. SHC operates 550 retail convenience stores under its proprietary Stripes® convenience store brand, primarily in growing Texas markets. Stripes® is the largest independent chain of convenience stores in Texas based on store count and retail motor fuel volumes sold. Our business is integral to the success of SHC's retail operations, and upon the completion of this offering, SHC will purchase all of its motor fuel from us. For the year ended December 31, 2011, we distributed 789.6 million gallons of motor fuel to Stripes® convenience stores and 522.8 million gallons of motor fuel to other customers. We believe we are the largest independent motor fuel distributor by gallons in Texas, and among the largest distributors of Valero and Chevron branded motor fuel in the United States. In addition to distributing motor fuel, we also distribute other petroleum products such as propane and lube oil, and we receive rental income from real estate that we lease or sublease.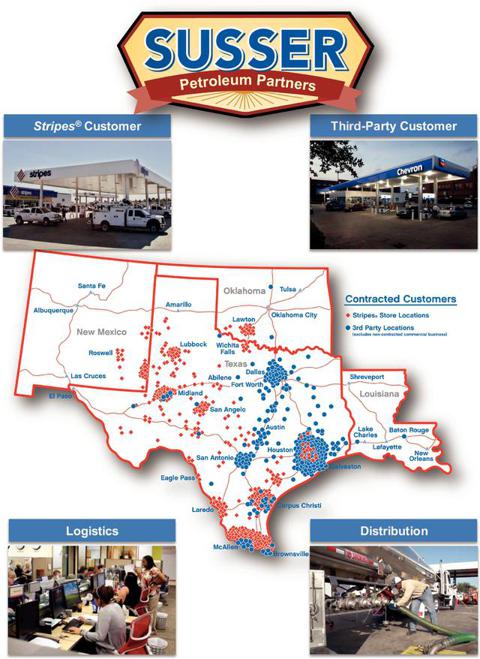 Downstream & Marketing Peer Group

The closest comparable company to SUSP in the peer group is Global Partners, L.P. (NYSE:GLP) but their businesses, while similar, are not exactly the same. CLMT and NTI, while both in the "Downstream" area of the crude value chain, have actual refining assets within their businesses so they are definitely subject to different vastly market dynamics when compared to SUSP, i.e. CLMT and NTI have to contend with the very volatile Crack Spread.
GLP takes title to the volumes that move through its terminals, so it has a much higher inventory position on its balance sheet when compared to SUSP, which does not take title to most of the volumes they distribute since they procure and sell the fuel volumes on the same day (which is a benefit to SUSP's capital requirements). In comparison, GLP has to finance its large inventory so it has a large Working Capital Revolving Credit Facility (around $410 million drawn at June 30, 2012). The Enterprise Value calculation for GLP does not include that working capital debt since the inventory supporting it can be liquidated very quickly in order to pay down the Working Capital Revolver (thus it is not treated like long term debt while GLP's $397 million of outstandings under its regular Revolving Credit Facility are considered long term debt and are part of the Enterprise Value).
Pros
Parent with Proven Track Record of Growth and Low Leverage: Susser Holdings Corporation has grown its total EBITDA from $84 million in 2007 to LTM EBITDA of $225 million as of June 30, 2012 (not pro forma for the SUSP IPO adjustments), all this growth has been achieved during the "Great Recession." SUSS has grown via organic growth and has successfully completed 13 significant acquisitions over its 24-year history, which is also key because the Wholesale Distribution segment is highly fragmented presenting numerous additional acquisition growth opportunities. SUSS made 3 wholesale acquisitions in the last 3 years that added over 170 long-term distribution contracts. Pro forma for the SUSP IPO, Susser Holdings will have Net Debt to LTM EBITDA of only 0.7x.
Stable Fee-Based Cash Flows Generated under Long-Term Contracts in Favorable Markets: Very diverse customer base without any large concentration in a favorable and growing market (population of Texas is projected to continue to grow at one of the highest rates in the U.S.). Approximately 90% of SUSP's fuel sales are under long-term fixed fee contracts with a fixed 3 cents per gallon margin. Third party contracts typically have a 10-year Initial Term and the current contract mix has an average remaining life of 5 years. SUSP will also only be supplying ~5% of the stores in its existing markets (so plenty of room to grow/expand). Rental Income contracts for store locations are also typically 15-year agreements.
Strong Balance Sheet with Substantial Liquidity Post IPO: Pro forma for the IPO, SUSP will have total cash and investments in U.S. Treasuries or other investment grade securities ("Investments") of approximately $148.5 million, Revolver availability of ~$235 million under a $250 million facility (~$13 million of usage is Letters of Credit), and a $147.3 million Term Loan, making its Net Debt essentially zero. The Term Loan will be secured by the Investments (the size of the Term Loan and Investments will also be adjusted based on any change in the IPO price from $20), fully guaranteed by Susser Holdings and the Term Loan proceeds will be distributed to Susser Holdings at closing. Going forwards, SUSP will finance Growth Capital Expenditures by selling some of the Investments and also drawing down on its Revolver to pay down the same amount of the Term Loan. While this probably seems a little convoluted, I expect it is being driven by tax considerations related to the SUSP IPO transaction (possibly allowing more favorable tax treatment at SUSS by allowing the $147.3 million to lower the effective gain on sale).
Dropdown Growth Opportunities: The MLP has the option to purchase/leaseback 75 convenience stores from SUSS over the next 3 years (timing can be accelerated if both parties agree), which will increase the Rental Income stream of the MLP and grow overall cash flow. Rental Income currently represents an estimated 8.5% of next twelve months' Gross Income. SUSP's pro forma initial Revolver availability is sufficient to exercise all 75 convenience store purchase options.
Reasonable Projected Distribution Coverage Ratio and High Estimated Distribution Growth Rate: In the S-1, the company projects a Distribution Coverage Ratio of 1.15x over the next twelve months. The Common Unit owners will also benefit from the Subordinated Units in the structure, which effectively double the Distribution Coverage Ratio for the Common Units to 2.3x since the Subordinated Units' distributions would be cut to zero before any reduction in Common Unit distributions. Additionally, in the roadshow video presentation, management mentions that they expect/plan to grow distributions at a "double digit rate" going forwards.
Cons
Non Traditional MLP Assets/Business: While SUSP is similar to an existing refined products marketing/distribution MLP (Global Partners, GLP), both of them are not typical midstream/pipeline related businesses. Additionally, GLP has a larger asset base by owning physical terminal assets whereas SUSP does not own terminal assets. The larger traditional MLPs will tend to perform better during a market downturn. This phenomenon won't be evident for SUSP near term but will be something to keep in mind when MLP market conditions falter. The business model being slightly outside the traditional MLP comfort zone will also drive up the required yield that investors will demand potentially leading to a lower IPO price.
Low Estimated Tax Deferral on Distributions: The S-1 currently estimates that 45% or less of the distributions will be taxable through December 31, 2015. So approximately 55% of the distribution stream will be tax deferred, which is substantially lower than the typical 80% tax deferral experienced by more traditional MLPs. The tax deferral benefits make the extra effort involved with dealing with K-1 filings worthwhile. The traditional MLPs are in the more "midstream" part of the energy value chain and are more asset heavy (which is probably why they have a higher tax deferral than SUSP). Those MLPs' units still compete for the same MLP investor dollars so investors targeting a certain effective after tax yield will want to pay less for SUSP.
IDR Structure: SUSP has a slight twist in the Incentive Distribution Right ("IDR") structure, the GP has a "non-economic interest" in SUSP and just holds the IDRs structured as follows:

Since their GP interest in "non-economic" they won't be required to invest the typical 2% whenever SUSP does future equity offerings. Generally speaking, the typical full IDR structure (full IDR meaning that the top tier is the 50%/50% split) includes the GP owning a 2% economic interest in the MLP at inception, which the GP then maintains by contributing additional equity dollars to the MLP whenever it sells additional LP units/equity. The trade-off for SUSP is that the GP does not receive any distributions at all, until such time that the LP distribution has been increased by more than 15% above the Minimum Quarterly Distribution (as shown in the table above). Since the GP doesn't receive any distributions until after achieving the First Target Distribution (up 15% for the LP Unitholders), I don't view this as a huge concern, it's just something to keep in mind.
Step-Up in SUSP Valuation from Current SUSS Valuation: As is typical for assets that move from a C-Corp. structure into a tax-advantaged MLP structure, the assets/cash flows moving into SUSP are being valued at a higher Enterprise Value to EBITDA. In this case, SUSS is currently valued at ~5.1x EV / LTM EBITDA and at an IPO price of $20 per unit the assets/EBITDA moving into SUSP would be valued at 9.2x Estimated EBITDA, which represents a really strong 80% step-up in valuation multiple. This robust valuation enhancement also explains why C-Corporations look at forming MLPs. The step-up in valuation looks a little more reasonable to me if SUSP is priced at $17 per unit or less. At an IPO price of $17 the SUSP EV/Estimated EBITDA multiple is 7.8x which is ~53% higher than the current SUSS valuation multiple and more in line with a rough estimate tax adjusted SUSS multiple, i.e. 5.1x/(1 - Tax Rate) = 5.1x/(1 - 0.35) = 7.8x.
Sensitivity Tables


Conclusion
SUSP has many positives behind its story; however, SUSP is outside the typical business model for an MLP which may also lead Institutions to want better/lower pricing at IPO, similar to what happened for the recent IPOs of Hi-Crush Partners, LP IPO (NYSE:HCLP) and Northern Tier Energy, L.P. IPO (NYSE:NTI). Given the higher risk with unproven public MLPs and SUSP's low estimated tax deferral, I would prefer to buy units if the price is closer to $17 or below, based on competing MLP based investment choices, especially when looking at the Estimated Yield After Tax (compared to GLP), overall EV / EBITDA valuation levels and the Sensitivity Tables. However, I may have varying open limit orders when SUSP begins trading and will be watching very closely to try and gauge market reception.
MLP Tax Considerations
Additionally, SUSP is an MLP so additional tax considerations are required for investors, please consult with your tax advisor before making any investments into any asset class that you do not currently own. Some background on MLP tax considerations can be found here:
Basic Tax Principles for MLP Investors
MLPs and Taxes: What Investors Should Know
MLP Tax Issues Every Investor Must Know
Sources
SUSP Roadshow <<The SUSP roadshow presentation will be removed on the night of September 19, but the website is great to bookmark for future IPOs.
Note: I used EBITDA and EBITDAR (Earnings before Interest, DD&A, and Rent) interchangeably, you will notice them use EBITDAR in the Roadshow slides.
Disclosure: I am long CLMT, NTI. I wrote this article myself, and it expresses my own opinions. I am not receiving compensation for it (other than from Seeking Alpha). I have no business relationship with any company whose stock is mentioned in this article.
Additional disclosure: I may add, change or adjust any positions at any time and my ownership should not in any way be construed as a recommendation for anyone else to own the particular security discussed.