Yum! Brands (NYSE:YUM), often recognized by its familiar brands Kentucky Friend Chicken, Pizza Hut and Taco Bell, has a significant amount of exposure to China, as about 49% of the company's revenue is generated in China. Additionally, as presented in the company's 10-Q filed July 24, 2012, China is Yum's largest market segment and contributes almost twice the size of its U.S. revenue. With this much exposure, even the slightest slowdown in China could cause the company some heartburn.
The situation in China was painted as pretty dire by FedEx's (NYSE:FDX) Founder, Executive Chairman, CEO and President Fred Smith in the company's Q1 2013 earnings call held on September 18, 2012. Mr. Smith attributed the global contracting of exports to policy choices in Europe, the U.S. and China. Mr. Smith indicated the quantitative easing by the U.S. Federal Reserve results in investors putting more capital into commodities which results in increased commodity prices and increased costs for companies such as FedEx. Additionally, Mr. Smith noted exports and trade have decreased at a faster rate than gross domestic product. Mr. Smith also indicated that new product launches by Apple (NASDAQ:AAPL) and Microsoft (NASDAQ:MSFT) are not going to provide the type of sustained growth as has been provided in the past.
Yum's stock price was up significantly in the first part of the last year, but has been stuck in a trading range between $62 and $68 as shown below: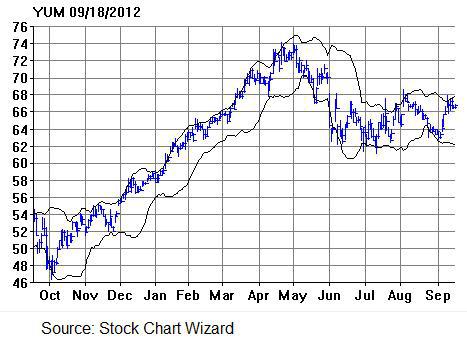 In a recent article related to Yum, a 2012 September 57.6/60 bull-put credit was considered for the company. The bull-put credit position is almost fully profitable at this point with a potential return of 6.4% (72.8% annualized), not too shabby for a holding time of about 30 days. With the profitability of the bull-put credit spread , the bull-put credit spread may be closed at this point or held for a few more days until it expires.
An investor a little queasy over the negative news related to China and Europe as highlighted by FedEx and also concerned about Yum's upcoming earnings release might consider entering a protective position for Yum such as a protected covered call. A protected covered call positions for a potential return, even if the stock price remains stagnant, yet also provides for protection in case the stock price takes a nasty dip. A protected covered call may be entered by selling a call option against a stock and using some of the proceeds to purchase a protective put option. The put option operates as "stock insurance", in case the stock price drops.
Using PowerOptions, a variety of potential protected covered call positions are available for Yum as shown below:

The potential returns in the table above do not include expected dividends received during the holding time. For example, when considering expected dividends, the second position in the table above has a potential return of 1.5% (17% annualized) as compared to a potential return of 1.1% when not considering dividends. The second position looks attractive and may be entered by selling the 2012 Oct 67.50 call option for $1.46 and purchasing the 2012 Oct 62.50 put option for $0.72.
YUM Protected Covered Call Trade
YUM stock (existing or purchased)
Sell YUM 2012 Oct 67.50 Call at $1.46
Buy YUM 2012 Oct 62.60 Put at $0.72
A profit/loss graph for one contract of the Yum protected covered call is shown below: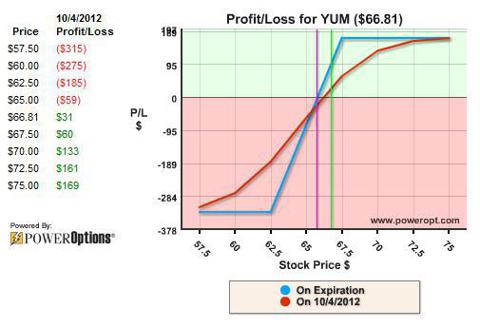 For a stock price below the $62.50 strike price of the put option at expiration, the value of the protected covered call remains unchanged. If the price of the stock increases to above $74, then the position can most likely be rolled in order to realize additional potential return.
Look forward to hearing your comments below!
Disclosure: I have no positions in any stocks mentioned, and no plans to initiate any positions within the next 72 hours. I wrote this article myself, and it expresses my own opinions. I am not receiving compensation for it (other than from Seeking Alpha). I have no business relationship with any company whose stock is mentioned in this article.