Keeping true to its word, Intel (NASDAQ:INTC) has just found its way into the Motorola Mobility "Droid Razr i", the overseas counterpart to the recently released flagship "Droid Razr M" phone. While this design win will likely not have a material impact on Intel's top and bottom lines, it is worth analyzing the significance of this in context of the company's long term mobile bet.
Performance: Hanging With The Big Boys
The "benchmark" mobile system-on-chip right now is the Qualcomm (NASDAQ:QCOM) Snapdragon S4. This chip implements an ARM (NASDAQ:ARMH) Cortex A15-like design and represents a significant leap from the standard Cortex A9 designs present in solutions such as the Nvidia (NASDAQ:NVDA) Tegra 3 and the Samsung Exynos. In terms of performance, Intel's Atom Z2460 with a single "Medfield" core at 1.6GHz is able to meet/exceed the performance of dual core Cortex A9 chips in a similar power envelope without a problem.
However, as the Snapdragon S4 is out, and other phones built on Cortex A15-class hardware roll out, it's important to see if Intel's hardware can hold its own. Sure enough, it seems that it can. In terms of pure CPU performance, the single core "Medfield" built on the 32nm low-power process at 2GHz in the new Motorola phone actually holds its own against the 1.5GHz dual core Snapdragon S4 built on Taiwan Semiconductor's (NYSE:TSM) 28nm process.
So, Intel's ability to compete in the business, both on performance and compatibility has essentially been rendered a worthless argument.
The Roadmap: The Exciting Stuff
While the initial single core "Medfield" has proven that the whole myth that Intel can't make an x86 chip with good power/thermal characteristics whilst maintaining performance has been busted, the really exciting stuff lies ahead: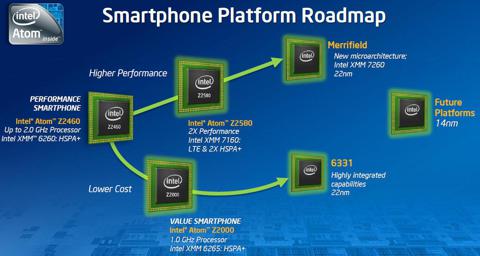 First note that Intel's single core Medfield is based on an absolutely ancient CPU core from 2008. The fact that the chip's performance is highly competitive core-for-core with the latest ARM-based designs should be extremely encouraging to Intel longs. Further note that dual core versions of the SoC as well as a 4G: LTE baseband will be coming by the end of 2012, which means that phones based on it should be available early 2013. On the performance front, Intel will remain competitive with the majority of the ARM based solutions.
But things really heat up near the end of 2013, when Intel will reveal its "Merrifield" system-on-chip based on the brand new "Silvermont" architecture. While little is known about the chip, it is known that the core will be redesigned from the ground up and built on Intel's 22nm tri-gate process. In terms of performance per watt, there is a lot of potential to leverage the company's years of expertise in designing high performance and power efficient solutions for the PC space. Further, the process advantage will further amplify the new micro-architecture's advantage against chips from the ARM ecosystem.
Conclusion
Is Intel the slam-dunk leader in terms of performance per watt in this generation on the smartphone side of things? Nope. However, this shows that even Intel's 4 year-old CPU core designed for low end netbooks is enough to go toe-to-toe with the best ARM based designs today. The next few generations should be exciting for Intel in the smartphone space, especially now that Intel has now shown itself to be credible. Compatibility's not a problem as Android works wonderfully on X86, and performance per watt is currently "good enough".
Disclosure: I am long INTC, NVDA. I wrote this article myself, and it expresses my own opinions. I am not receiving compensation for it (other than from Seeking Alpha). I have no business relationship with any company whose stock is mentioned in this article.