For a few years now, market participants have placed wagers that quantitative easing by the Federal Reserve will have an impact on inflation. As employment continues to stagnate, the Federal Reserve has announced QE3. Some people are dubbing this QE-infinity due to the fact that the Federal Reserve has essentially placed no caps on the amount of stimulus this will provide the economy and appears content with extending the dates for the program until the U.S. economy is roaring.
Additional quantitative easing creates some certainty about the future prices of real assets like Oil and Gold. A prudent investor may wish to accumulate a position in commodities to eventually capitalize on rising prices, or at least to hedge against inflation.
So, what might be a good way to purchase commodities? Some very well-known investors have relied on options trading to accumulate positions in equities. During the financial crisis of 2008 and 2009, many smart investors sold put options in the S&P 500 index to create a bullish bet on the stock market. It is not reasonably possible to time the market, but you can at least create a disciplined strategy for buying assets when they temporarily fall in value. In a similar fashion, investors might consider selling puts against commodity exchange traded funds (ETFs) such as SPDR Gold Shares (NYSEARCA:GLD) or United States Oil (NYSEARCA:USO).
The mechanics of a bullish short put trade are simple. Each option represents a block of one hundred shares of the ETF. Selling a put option requires the seller to purchase one hundred shares, if the underlying security falls below the strike price at expiration.
With the SPDR Gold Shares (GLD) currently trading at $171.72, some analysts are actually calling for this index to break $200 in the near future. So, selling an out-of-the-money put option will give you the right to buy shares when they temporarily drop and potentially boost your long-term return on investment. The October 2012 $170 strike price put option has a bid of $2.54. Selling this option contract will require the trader to purchase the underlying GLD at $170. The seller of the option receives the $2.54 option premium and will only lose money on this trade if GLD falls below $167.56. If the GLD continues to trend upward and doesn't fall below the strike price, then the seller receives portfolio income equal to 1.44% of the capital at risk. On an annualized basis, this type of ROI represents a 16.9% return on investment.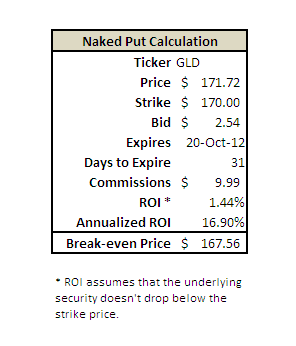 A similar trade can be made with United States Oil (USO). Selling the $35 strike price put option will require you to buy the underlying security for $35 if the price falls below that level at expiration. But you also get to keep the $1.05 option premium, dropping your break-even price to around $34.05 (after commissions). This 2.71% portfolio income yield represents a 31.96% annualized ROI for those willing to take on the risk.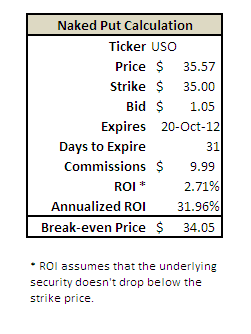 If you do decide to trade oil or gold, be aware that the U.S. Government, or Federal Reserve Bank, could decide to alter course at any time to avoid negative political outcomes. The Obama Administration has threatened to release the strategic oil reserves in the past to push down prices at the gasoline pump.
Disclosure: I have no positions in any stocks mentioned, and no plans to initiate any positions within the next 72 hours. I wrote this article myself, and it expresses my own opinions. I am not receiving compensation for it (other than from Seeking Alpha). I have no business relationship with any company whose stock is mentioned in this article.