Rentech Nitrogen Partners LP (NYSE:RNF) is a nitrogen fertilizer company that was spun off by Rentech (NYSEMKT:RTK) in November 2011 (IPO close 11/9/11). Since that time the stock and the distribution has done nothing but go up. Rentech Inc. is RNF's parent and general partner, although it's a non-economic general partner. Rentech owns 61% of the units, but there are no parent IDRs. The distributions for the first two quarters of 2012 were $0.53 and $1.17 for Q1 and Q2 respectively. Yahoo Finance and TD Ameritrade both list the full year distribution as $4.68 (12.78%) per unit. RNF trades at a PE of 18.48 and an FPE of 11.74, which is quite reasonable for a stock with a five year average analysts' EPS growth estimate pre annum of 12.00% and a 12.78% dividend/distribution.
From a fundamental standpoint RNF is well designed. Its facility is located in the center of the Mid Corn Belt, which is the largest market in the US for nitrogen fertilizers. RNF services primarily Illinois, Iowa, and Wisconsin. Its core market is within a 200-mile radius of its facility. In most cases, its customers arrange transport by truck. This means that RNF does not have to maintain a huge shipping fleet, nor does it have to incur huge storage costs. Further it gets to charge a premium. Its facilities are easily accessible in short periods of time for customers who often want their products on the spur of the moment due to whether conditions. A 200 mile drive at most is at most a few hours away from a customer. Any customer can pick up an order from the facility as quickly as the same customer could pick it up at a train station after it has taken perhaps several days to get to the train station. Think of it as your local lumber yard. If you have a home project, you are willing to pay a premium to get your lumber locally so you can complete your weekend project on time. The graphic below shows RNF's advantage.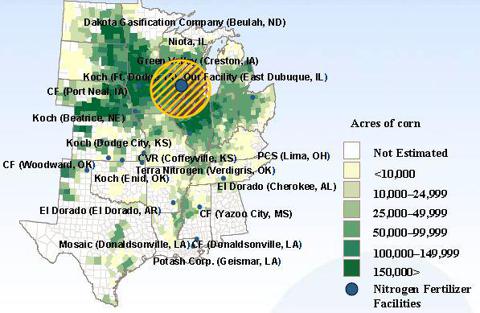 The nitrogen fertilizer consumption in the RNF market exceeds production by 4.0x for ammonia and 1.4x for UAN (urea and ammonium nitrate). Further Illinois and Iowa are the two largest corn producing and nitrogen fertilizer consuming states in the US with about 34% of the US corn production and about 20% of the US nitrogen fertilizer consumption. The convenience of the easy and timely delivery of the fertilizers is doubled by the two ammonia application seasons in the Mid Corn Belt (spring and fall). Plus it means that nitrogen fertilizers sell for a premium during more than one short period.
The freight costs from the Gulf Coast to the Mid Corn Belt are another reason RNF can command a premium. These can average $80-$120/ton for ammonia and $35-$50/ton for UAN. The chart below shows the prices RNF and its competitors have gotten so far this year for ammonia.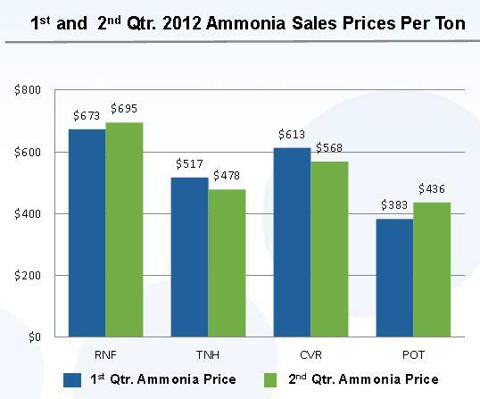 If this wasn't enough, natural gas represents approximately 50% of the cost of nitrogen fertilizers sold, and natural gas prices have fallen through the floor this year. Q2 2012 gross margins rose to 65% from 50% in Q2 2011. Of course, this means that nitrogen fertilizer prices are only being held high by demand. The good news is that demand should be good for the next two years at least. The depleted stocks of grains have to be built up again. History says this takes at least two years after a severe drought. Plus between the high prices of corn and the crop insurance, most farmers have had another banner year. They should have ample money to buy premium priced fertilizer, especially with the prices of grains expected to stay high for at least the next two years.
The nitrogen fertilizer business is growing slowly worldwide at a pace of 1.5%-2.5%. Given the relatively low price of US natural gas, it seems unlikely that foreign competition is going to be a problem at any time in the near future. It is more likely that US and Canadian producers will take more of foreign business, even given transportation costs. The chart below shows the global nitrogen consumption since 1995. The rate of growth seems to have steepened since 2000.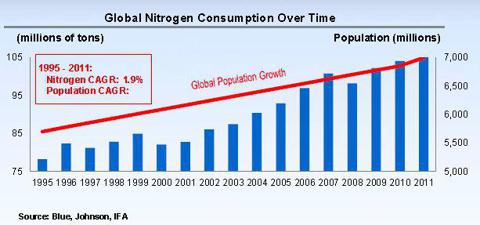 Nitrogen represents approximately 58% of global fertilizer consumption and approximately 59% of US fertilizer consumption. RNF should do well for many years to come. Its dividend/distribution could decrease in bad years, but the company's prospects are solid.
Further RNF is planning for the future. It has a DEF (Diesel Exhaust Fluid) expansion that will be completed in 3Q 2012. Apparently you mix a urea solution with the exhaust stream (in a diesel engine). The urea is converted to ammonia and passed over precious metal catalysts that convert more than 90% of the harmful nitrogen oxides (pollution) to pure nitrogen and water vapor. The standard calculation is 2% DEF or a gallon of DEF for every 50 gallons of diesel used. RNF is already producing and selling DEF to Yara (OTCPK:YRAIF) under long term contract.
RNF has a Urea expansion project due for completion in Q4 2012. This will increase production by 13% or 17,500 tons annually. Urea production will then total 214,600 tons (liquid and granular). The extra urea is intended to be used to produce DEF.
RNF has an ammonia capacity and storage expansion project that will be completed in Q4 2013. This will increase ammonia production by 23% or 70,000 tons annually. It will bring total ammonia production to 370,000 tons. RNF is increasing on-site ammonia storage at the same time by 20,000 tons. This will bring total ammonia storage capacity to 60,000 tons. Overall this will increase ammonia loading capacity by 50%. RNF is also considering further urea production expansion and also possible acquisition opportunities. I have no doubt it will soon announce further projects. It is simply being too successful for that not to happen.
The approximately one year chart of RNF gives some technical direction to this trade.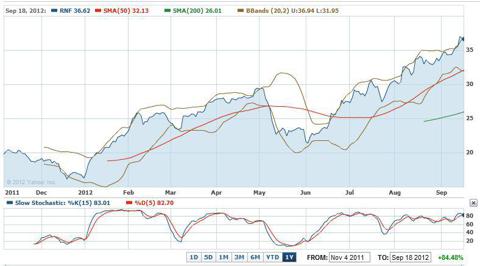 The slow stochastic sub chart shows that RNF is at overbought levels. The main chart shows that RNF is in a strong uptrend. Its price line is far above its 50-day SMA. Its 50-day SMA is far above its 200-day SMA. This uptrend is showing no signs of weakening. However, it seems likely that it will be dented significantly by any overall downturn in the market. We may be due for one of those soon. With this in mind, it might be appropriate to average in slowly, or one might decide to wait for an overall market pullback. Then you could buy on a good dip. Regardless of your entry strategy, this is a very attractive stock. It may provide both an excellent dividend (12.78%) and good growth opportunities.
If you like this stock, you may also wish to look at other nitrogen fertilizer producers such as: Terra Nitrogen Company LP (NYSE:TNH), CVR Partners LP (NYSE:UAN), CF Industries Holdings Inc. (NYSE:CF), and Agrium Inc. (NYSE:AGU).
Note: Some of the fundamental financial data above is from Yahoo Finance.
Good Luck Trading.
Disclosure: I have no positions in any stocks mentioned, but may initiate a long position in RNF over the next 72 hours. I wrote this article myself, and it expresses my own opinions. I am not receiving compensation for it (other than from Seeking Alpha). I have no business relationship with any company whose stock is mentioned in this article.