The E-Mini S&P 500 lacked any vigor after rallying to new highs last week on a full blown QE3 plan from US Federal Chairman Ben Bernanke. The Federal Reserve did not disappoint announcing a buy program of mortgage debt worth about $40 billion per month. They will continue this program until the labor market shows substantial improvements. In addition, they intend to keep interest rates low until at least mid-2015. This is all on top of the two prior QE programs that purchased about $2.3 trillion in US government and housing debt.
US growth has been at a 1.7% annual rate with the last US unemployment report coming in with a scant 96,000 jobs created. The US Unemployment rate dropped to 8.1% from 8.3%. Federal Reserve Bank of San Francisco Chief John Williams ran some numbers suggesting that on QE2, the $600 billion bond buying may have produced 700,000 jobs. The concerns in the Fed's move to increase the cash pumped into the system is consumer inflation. Typically, this could result in higher oil and food prices.
After the markets' exhilaration, it is only natural for a pause to occur. In this case, there may be a case of "buy the rumor sell the fact" now that the Fed has used its final silver bullet. The actual economic numbers must now reflect the Fed action or the marketplace could easily fall back into apathy. The sentiment of QE1 and QE2 not improving the economy for any length of time may have traders reluctant to believe in QE3. Investors also have concerns over the "fiscal cliff" as Federal Chairman Ben Bernanke refers to the end of year expiring programs. This has been extended to the new administration to deal with after the election.
The current US deficit decreased more than expected in the second quarter to $117.4 billion. Imports decreased 0.5% during the second quarter to $579.9 billion. Exports increased 1.4% to $394.10. The US NAHB/Wells Fargo Housing Market index increased to 40 from 37 last month. Single family homes increased to 42 from 38. US CoreLogic Inc. reported single family home values increased 3.8% in July from last year.
The E-Mini S&P 500 started its upward trend when European Central Bank President Mario Draghi spoke of his support for the euro FX and the indebted countries within the Euro Zone. The initiation of the plan is contingent on a nation requesting a full bailout. Spain has yet to do so. The Spanish ten-year yields are at 5.97%. Thursday, Spain will again auction the 3 and 10 year debt instruments.
It is feared that the reluctant country may not request the bailout and the rest of the Euro Zone seems to be hoping for it. The investment world is waiting for some Chinese data for any improvement in growth. China has decreased their holdings of US government bonds by 12.6% this last year. In July, China bought $67 billion in long-term assets. Other foreign nations purchased $50 billion in US paper in July. The shift in assets may be useful in determining the sentiment of the market. Following the money flow may determine the risk tolerance of the marketplace and hence the influx of buying or selling in the indices as well.
On the stock side: JP Morgan Chase and Co. (NYSE:JPM) was up 0.17 % to $41.26. Citigroup Inc. (NYSE:C) was down 0.26 % to $33.97. Bank of America (NYSE:BAC) was down 0.75 % to $9.23. Alcoa Inc. (NYSE:AA) was down 0.94 % to $9.49. Boeing Co. (NYSE:BA) was down 0.01 % to $69.91. Caterpillar Inc. (NYSE:CAT) was up 0.38 % to $92.34. General Electric Co. (NYSE:GE) was up 0.91 % to $22.25. Halliburton Co. (NYSE:HAL) was down 2.09 % to $36.44. Hewlett Packard Co. (NYSE:HPQ) was down 0.63 % to $18.09. SPDR Select Sector Fund - Financial (NYSEARCA:XLF) was down 0.50 % to $16.05.
E-Mini S&P 500 Chart.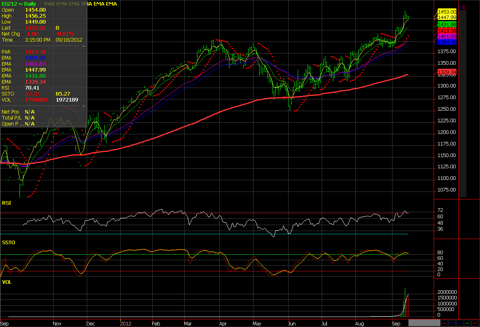 Click to enlarge
We maintain a bullish bias unless the (December) E-Mini S&P 500 penetrates $1413.50. Wednesday, we anticipate an inside to lower to outside day. Tuesday's range was $1456.25 - $1449.00. The market settled at $1453.00. Our comfort zone or point of control for this market is $1452.50. Our anticipated potential range for today's trading is $1455.50 - $1438.50. $1432.50 is the next downside extension.
Disclosure: I have no positions in any stocks mentioned, and no plans to initiate any positions within the next 72 hours. I wrote this article myself, and it expresses my own opinions. I am not receiving compensation for it. I have no business relationship with any company whose stock is mentioned in this article.