So far, overall market trends look just like they should for an election year. No matter what, presidential election years tend to have choppy times between July and the end of the year. In fact, the patterns are so set they can be downright scary. Here are some of the most reliable trends:
Dow Jones Industrials: From 1900 to 2008, during a US presidential election year, the typical Dow starts a strong rally around the start of July that peaks about the first week in September.
Here is the Dow so far this year (click to enlarge images):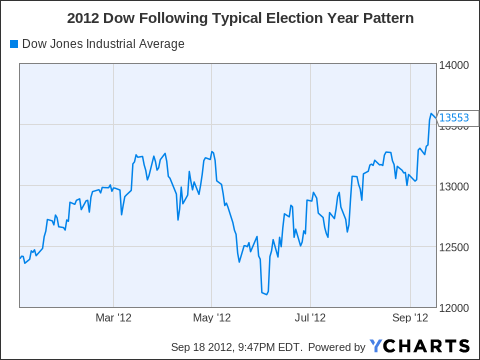 Dow Jones Industrial Average data by YCharts
So far the Dow is matching the historical pattern almost to a T.
In the typical year the Dow then corrects down, giving up about 30% of its gains until the middle of October. The Dow then roars back up through November, then tends to plateau for a few weeks. Finally an early December correction is followed by a New Year's rally that ends the year at a new high. In every year except 1944 the third quarter was worst followed by a strong fourth quarter.
Strategy - Thin holdings now or use naked puts to take advantage of buying opportunities in October. Depending on your goals you can either target individual companies or use an ETF, such as the Dow Jones Industrial Index Fund (NYSEARCA:IYY).
German DAX: Surprisingly, the German stock market seems to have its own pattern in US election years. The typical pattern is for a sharp correction in late September, followed by a sideways choppy pattern through the rest of the year.
Strategy - Trade MSCI German ETF (NYSEARCA:EWG) at top and bottom of rolls.
Dow Jones Corporate Bonds - From 1916 to 2004 the Dow Corporate Bond Index rallied starting around June and levels off in October before sliding back the rest of the year. This has not been as reliable as the other patterns, completely missing in 2008. Here is what we have had so far this year: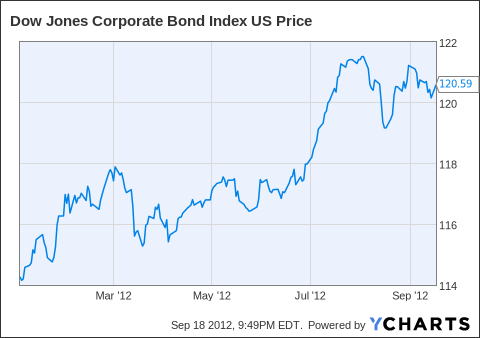 In this case it looks like it started earlier and ended earlier also.
Strategy - With QE-Infinity it is hard to see the bond index falling much for the next month or two, so this might be a historical leader to avoid this year.
Will these typical election year price patterns hold up? I'll be developing a portfolio to see how well trading along with these patterns performs.
I will check back in at the end of September.
Disclosure: I have no positions in any stocks mentioned, and no plans to initiate any positions within the next 72 hours. I wrote this article myself, and it expresses my own opinions. I am not receiving compensation for it (other than from Seeking Alpha). I have no business relationship with any company whose stock is mentioned in this article.