If you leave your grandchildren and great grandchildren only $2,300 as inheritance money, and that amount keeps compounding 15.62% every single year for 125 years, how much will your grandchildren and great grandchildren have after 125 years?
Without doing any calculation, some might guess $2 million; some might guess $200 million or $2 billion. The answer: $174 billion.
Historically, only one stock has made it. That is Coca-Cola (NYSE:KO). KO's history is dated back as far as 1887 (125 years ago), when Asa Griggs Candler bought the formula for Coca-Cola from its inventor John Pemberton for $2,300. And now, at this time of writing, the whole business is worth $173.83 billion, with each share trading at $38.62.
Fast-forward a century, KO's CEO in the 1980s, Roberto Goizueta, often showed analysts one article when the question of "how much longer will it last" came up. It said: "Several times every year a weighty and serious investor looks long and with a profound respect at Coca-Cola's record but comes regretfully to the conclusion that he is looking too late." According to him, the quote was from a Fortune article written in December 1938.
Any investor would love to have a piece of KO. Certainly, we do not have to argue about how great the business competitiveness is or whether it can sustain and grow into the future. It is all about the price. So is it pricey now?
In Berkshire Hathaway's (NYSE:BRK.B) annual meeting in 1995, Warren Buffett mentioned that he had purchased KO in 1988 and 1989 for $11 per share on average, in the range of $9-$13. In 1988, KO's EPS was around $0.78. So Buffett bought KO in the valuation range of 11.5x - 16.7x. During that period, the interest rate was 6%-7%. He also commented that the current multiple interacted with the reinvestment of capital and the rate at which the capital was invested to determine the attractiveness.
In the last 10 years, KO has had increasing positive free cash flow. The annualized growth of FCF/share is 6%. In addition, its return on equity has been very high, fluctuating in the range of 26.3% - 42.3%.
| | | | | | | | | | | |
| --- | --- | --- | --- | --- | --- | --- | --- | --- | --- | --- |
| | 2002 | 2003 | 2004 | 2005 | 2006 | 2007 | 2008 | 2009 | 2010 | 2011 |
| FCF/share USD | 0.78 | 0.94 | 1.07 | 1.15 | 0.96 | 1.18 | 1.2 | 1.33 | 1.57 | 1.4 |
| ROE % | 26.33 | 33.58 | 32.29 | 30.18 | 30.53 | 30.94 | 27.51 | 30.15 | 42.32 | 27.37 |
Furthermore, KO is a constantly growing dividend payer. In 2002, it paid $0.4 dividend per share. Last year, the dividend per share was $0.94. The annualized growth in dividend has been 8.9% for the last 10 years. The current dividend yield is 2.64%.
Several months ago, the stock experienced a short-term pullback from $40 to $37.14, and it is $38.62 now. At the current price, KO is trading at 20.4x P/E, 5.4x P/B and 17.8x P/CF. How about its past valuations?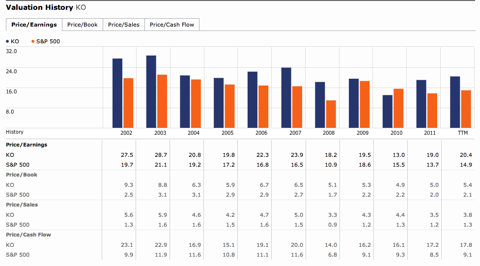 Click to enlarge
(Click to enlarge) Source: Morningstar
Following Morningstar's data, KO's P/E has been as high as 28.7x and as low as 13x. The average valuation for 10 years is 21.27x. So with the current valuation of 20.7x, I personally do not think it is pricey. Investors can get in greatest company in the world at the valuation a little cheaper than 10-year average valuation, and get the constant growing income, which currently yields 2.64%.
One last note, yesterday, SeekingAlpha contributor Paid2Trade posted an article comparing buying KO and buying Intel (NASDAQ:INTC) after I wrote my analysis on how cheap Intel currently is. It depends on the taste of each investor and his/her circle of competence. Personally I think both will serve investors well over time. We are, of course, more certain on future business prospects of KO than Intel, that is why the market is valuing KO at 20.4x P/E whereas Intel is trading at only 9.8x P/E.
Disclosure: I have no positions in any stocks mentioned, and no plans to initiate any positions within the next 72 hours. I wrote this article myself, and it expresses my own opinions. I am not receiving compensation for it (other than from Seeking Alpha). I have no business relationship with any company whose stock is mentioned in this article.