For the past five years, the U.S. government has paid fuel companies billions of dollars in subsidies to buy home-grown, corn-based ethanol, making it a viable part of the nation's gasoline supply. The worst drought in half a century revived a fierce food versus fuel debate. Livestock and food producers and others are calling on President Barack Obama to abandon at least temporarily a government mandate that requires converting more than a third of the U.S. corn crop to ethanol.
Global political pressure is mounting to repeal the U.S. Renewable Fuel Standard (RFS) in 2013, as the most severe drought in more than half a century has cut the US corn supply and driven up prices substantially. According to IEA, the RFS requires a minimum volume of 13.2 billion gallons of ethanol, most of which is derived from corn, to be blended into the gasoline pool each year so as to reduce greenhouse gases and limit the consumption of nonrenewable fuel.
However experts feel that ethanol use is more influenced by economics than by government policies, and waiving the RFS would have little impact on ethanol demand and therefore corn prices. The following chart shows that futures prices for corn, ethanol and gasoline all imply that ethanol blending will maintain its profitability into the near future.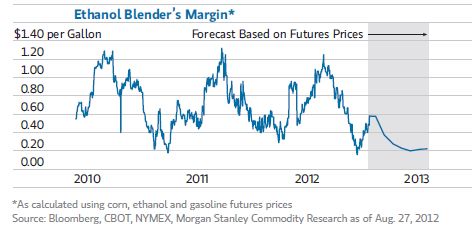 The practice of mixing ethanol into gasoline results in considerable cost savings for refiners, since they can purchase ethanol at a $0.35 per gallon discount to an equivalent amount of gasoline. Furthermore, reducing the proportion of ethanol blended into gasoline would require costly refinery alterations, as well as a realignment of the supply chain.
Another challenge refiners would face, should they decide to revert to conventional gasoline blends, is that octane/oxygenate substitutes, such as toluene and alkylates, cost more than ethanol and are not as widely available. There would be serious political repercussions to repealing the RFS, considering that ethanol plants are a growing source of jobs and that gasoline prices would then increase at a time of tepid economic growth.
Investment options: U.S. retail investors can long the following securities that will benefit from ethanol advantage.
| | |
| --- | --- |
| Pacific Ethanol (NASDAQ:PEIX) | BioFuel Energy (NASDAQ:BIOF) |
| Xethanol Corporation (XNL) | The Teucrium Corn ETF (NYSEARCA:CORN) |
| REX American (NYSE:REX) | ELEMENTS MLCX Biofuels ETN (NYSEARCA:FUE) |
| MGP Ingredients (MGPI | Verasun Energy (VSE) |
| Pacific Ethanol | Andersons (NASDAQ:ANDE) |
| Archer Daniels Midland (NYSE:ADM) | Renewable Energy Group (NASDAQ:REGI) |
| Aventine Renewable (OTCPK:AVRW) | |
| | |
Disclosure: I have no positions in any stocks mentioned, and no plans to initiate any positions within the next 72 hours. I wrote this article myself, and it expresses my own opinions. I am not receiving compensation for it (other than from Seeking Alpha). I have no business relationship with any company whose stock is mentioned in this article.