This past Friday, news came that private equity groups were looking at Staples (NASDAQ:SPLS). Other market participants thought "if Staples, why not Office Depot (NYSE:ODP)?" -- consequently sending the shares of Office Depot up 4.66%. At first glance this thinking appeared rash, except it turned out that market sentiment was basically correct. According to the WSJ:
Activist investment fund Starboard Value LP is expected to disclose Monday it has taken a 13.3% stake in Office Depot Inc. and argue the office-products supplier can improve profitability by implementing a host of suggestions laid out by the fund, people familiar with the matter said....The fund said in the letter that even though Office Depot has shut stores in recent years and revenue has fallen, expenses have increased. According to Starboard, bringing costs down could improve Office Depot's profitability by between $166 million and $379 million.
I disagree with Starboard Value. Not because money might be able to be made, but because the investment is too speculative and the prevailing trends too negative. When we look at the three office supply companies taken together -- Staples, Office Depot and OfficeMax (NYSE:OMX) -- only one appears to offer a safe investment: Staples, which I've written about here. Let us take a look at Office Depot.
Office Depot
Office Depot still has about 1,147 retail locations and is currently selling at a market capitalization of $704 million.
To appreciate how low its shares are relative to revenue, if you take Office Depot's current TTM revenue of $11.19 billion and imagine that it could achieve a profit margin of 3.5% next year -- or about what Wal-Mart (NYSE:WMT) earns -- its P/E would be 1.8.
Now, Office Depot's recent history suggests that is unlikely. When it last turned a profit -- before the round of impairment changes taken in 2008, 2009 and 2010 -- its profit margin was still a slim 2.5%. And the highest profit margin it achieved within the past 10 years was 3.39% in June 2006. If it were to achieve the 2.5% profit margin rate again, the P/E would be 2.5.
Currently, however, Office Depot is experiencing losses, as can be seen by the company's negative 2.56% profit margin: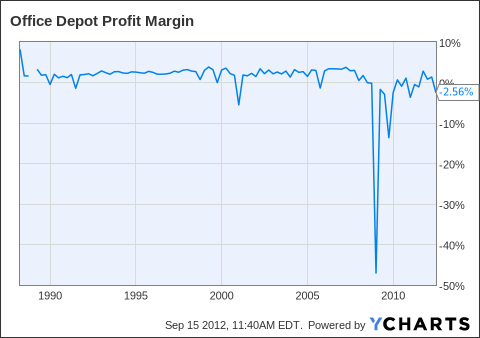 ODP Profit Margin data by YCharts
One of the problems that Office Depot faces is that it built out too much during the boom.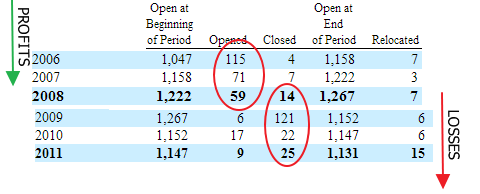 Fortunately, management is dealing with this as the leases expire (Q2 Conference Call Transcript):
As Neil mentioned, we expect to have a definitive real estate strategy in place in the fall which may significantly accelerate the downsizing of stores coming off of lease over the next five years and we look forward to sharing this plan with you. The strategy will address a number of possible actions [for] these individuals stores including, (1) being retained in their current format and location, (2) downsize to one of the smaller format stores, (3) relocate it within the same market, or (4) closed at the end of the lease term.

If we do commit to a more aggressive store downsizing strategy additional non-cash impairment charges possibly even more significant and amount that have occurred to date may resolve
That said, could there be future profitability now that Office Depot is being cut down to size? Could the Starboard Value investment in Office Depot be shrewd and well bought? Can Office Depot rewind its real estate position fast enough?
Office Depot's speed is constrained by its lease agreements. Kevin Peters, the president of Office Depot's North America segment, noted on the second-quarter 2011 conference call that "We have about 100 leases or so that come up for renewal each year." That will limit its ability to get out of operating leases -- which therefore puts a near-term limit on lowering expenses. This is to say, that not only will it not be able to exit low profit (or no profit) stores -- but that it will have to continue paying lease expenses on them. The table below represents the future obligated lease payments:

Referencing the table, if we take the company's future contractual lease payments as a proxy for when leases expire, we see that by the end of 2013, only 13% more leases will have expired. Or by the end of 2014, a good 28% of leases, which are currently in force, will have expired. And so on.
This will present a big challenge in the short term. As we can see, this will continue to limit Office Depot's ability to reduce expenses. Below, one can see how revenue has declined faster than expenses: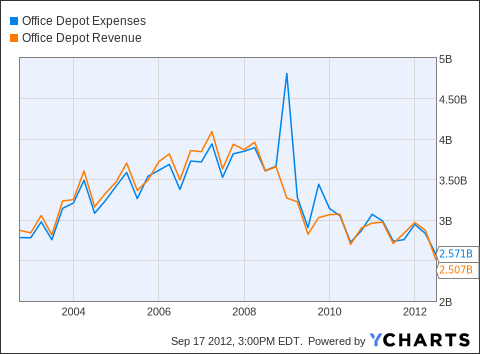 ODP Expenses data by YCharts
Operating Cash Flow
When we look at overall revenue and cash flow trends, the outlook is quite negative -- even though Office Depot managed to turn a small profit in 2011. That profit was due, in large part, to an income tax benefit. Without the income tax benefit, the slim profit it achieved would have gone entirely to the preferred shareholders.
Notice below that Office Depot is digging into its cash account more to fund operations. It has had to draw down on this account, as its operating cash flow figure dips increasingly into the negative.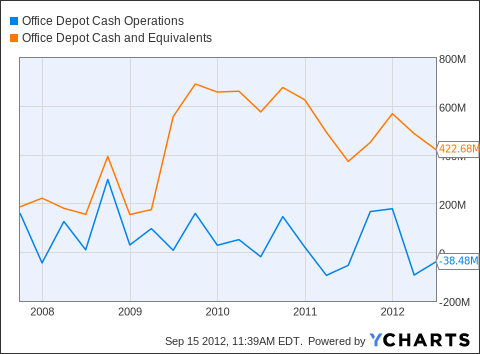 ODP Cash Operations data by YCharts
That may be too harsh an analysis, since the 2nd quarter (or the negative $38.4 million in blue above) is typically Office Depot's weakest quarter. Therefore, we will really get a good picture of the future of this corporation following the next two quarters. But, either way, the trend is still decidedly negative.
In addition to these trends, there are arguably some additional industry pressures. In Office Depot's 2011 10-K (p. 9) it notes:
We do a significant amount of business with government entities and loss of this business could negatively impact our results.
Office Depot goes on to note that state and local government spending has decreased and competition on such contracts has increased. Not a condemnation of its business model, but it is not promising either.
Conclusion
Office Depot's operating history suggests caution. Given that there are many companies with good operating histories within stock market, I'd advise finding a business with a positive operating trend. And further, in Office Depot's case, it is handily beaten by Staples.
Warren Buffett reasons similarly about cheap troubled companies in his 1979 letter to shareholders:
Both our operating and investment experience cause us to conclude that "turnarounds" seldom turn, and that the same energies and talent are much better employed in a good business purchased at a fair price than in a poor business purchased at a bargain price.
Office Depot is currently a poor business and it is only at "bargain prices" if one appeals to a price-to-sales comparison -- a comparison which probably includes a theory beginning with the thought "if only it can make a profit of size x..."
Disclosure: I have no positions in any stocks mentioned, but may initiate a long position in SPLS over the next 72 hours. I wrote this article myself, and it expresses my own opinions. I am not receiving compensation for it (other than from Seeking Alpha). I have no business relationship with any company whose stock is mentioned in this article.