The credit and debit card giant Visa (NYSE:V) was the IPO of the last decade, but is it still a good value buy? The charts and some of the underlying financials seem to say it is, but there are those who have their doubts. After all, it is a little pricey for a value stock, particularly when you compare it to Discover (NYSE:DFS), American Express (NYSE:AXP), and MasterCard (NYSE:MA).
Visa currently holds total cash of $2.30 billion and no debt. In its fiscal third-quarter earnings report, Visa reported a net loss of $1.8 billion on a GAAP basis, due to a $4.1 billion provision for a settlement agreement in a litigation case. Excluding this provision, net income for the quarter amounted to $1.1 billion, a 25% increase from the third quarter of 2011. When looking more closely, Visa saw payments volume growth of 11% for the fiscal quarter ended March 31, 2012, compared to the same quarter in 2011. This was followed by volume growth of 6% in the quarter ended June 30, 2012.
Discover reported net income of $537 million in the second quarter of 2012, compared to $600 million in the second quarter of 2011, equating to a 10.5% drop. Discover plans to report its third-quarter earnings on Sept. 27. American Express reported a slight increase in third-quarter net income of $1.3 billion, up 1% from the same quarter in 2011. Meanwhile, MasterCard reported net income of $713 million in the second quarter, a 17% increase from the same quarter in 2011. Visa currently has a P/E ratio of 65.23, compared to Discover at 8.93, American Express at 13.75, and MasterCard at 27.15. Visa is in great shape financially and investors are expecting high earnings growth from the company, but what does the market think?
Click to enlarge images.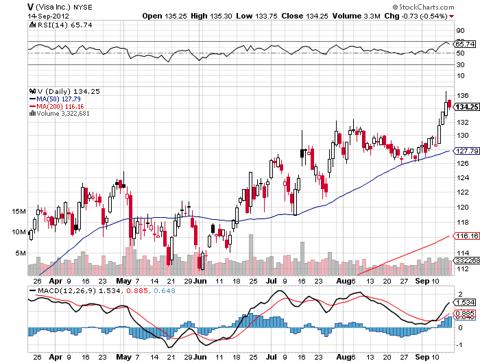 At the end of business on Sept. 14, Visa was trading at $134, American Express was trading at $59.27 per share, and Discover was trading at $39.31 per share. Value investors will obviously say that Visa is no bargain, but it might be when you compare it to MasterCard, which was trading at $454.18 a share on Sept. 14. Yet the charts indicate that Visa is showing a very good value that appears to exceed MasterCard's.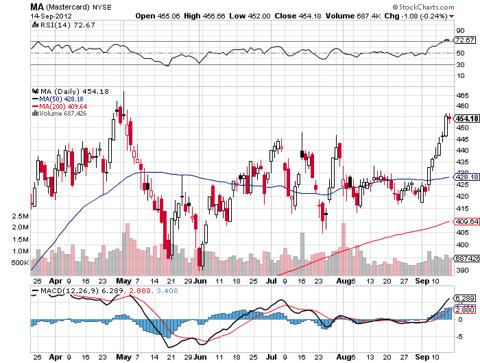 Yet Visa's stock growth is not as impressive as that of Discover's, which has been rising steadily in recent months. Discover has been going up lately, largely because of news stories about its new relationships with eBay (NASDAQ:EBAY), which owns PayPal, and Google (NASDAQ:GOOG). Discover has signed deals that will enable its cardholders to pay with both PayPal and Google Wallet.
There is speculation that such deals will enable Discover to develop new revenue streams from PayPal and Google Wallet. One possible stream of income from these deals will be all of the Americans who lack bank accounts. The FDIC estimates that around 17 million American adults, or 8.9% households, do not have bank accounts. People with a bad credit score can get a PayPal account; poor credit scores are one of the biggest obstacles to getting bank accounts.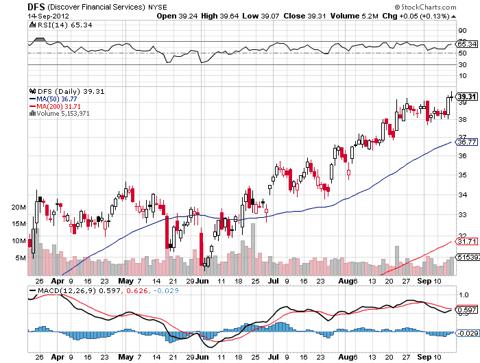 The same FDIC survey found that 28.3% of American households conduct at least some of their financial transactions through alternative methods such as PayPal. This is obviously another potential opportunity for both Discover and eBay, because many of those people might use a PayPal-linked Discover card if it were available.
PayPal and Google Wallet Opportunity
The interesting aspect to this story is that both Visa and MasterCard have so far stayed away from the PayPal bandwagon. MasterCard offers PayPal debit cards, but it is not developing a payment platform that is linked to eBay's cash cow. Neither, it seems, is Visa, which concentrates on offering bank cards.
Does a traditional credit and debit card company like Visa have a future in a world with a wide variety of payment options? The answer seems to be yes, because plastic has a future, and eBay and Google would not be getting into bed with Discover if they did not think plastic payment cards had a future. After all, most of us are still used to swiping a card for payment, and that is not going to change anytime soon.
Visa's financials also indicate that plastic has a future. The company registered a sales growth of 13.9% and income growth of 23.10% in the last year. That translated into a net profit margin of 13.48%. Visa is still capable of growth despite all of the potential competition it is facing.
It looks as if Visa is still capable of growth, and it has other opportunities for growth ahead of it. It goes without saying that Visa is in a good position to strike its own deals with eBay and Google. If the Discover/eBay alliance proves profitable, it will be a simple matter for a company with Visa's technological resources and capabilities to launch its own PayPal option. The same goes for Google Wallet; it will be a simple matter for Visa and Google to cook up a Visa app for Google Play.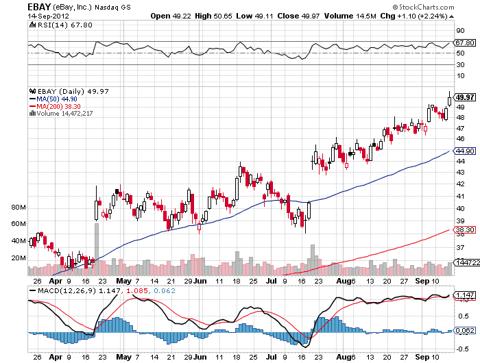 Despite what some analysts think, the new frontier of payment, which includes smartphones, is an opportunity for Visa to expand its revenues. It has recently extended its point-to-point encryption service, which can easily be extended to platforms such as smartphones. One possible use for this will be an app that allows consumers to get cash from an ATM with a smartphone.
Something to remember is that Visa is a technology company as much as it is a finance company. It has the capability to be one of the leaders in the field of electronic payments. It is also developing technologies that can easily be added to smartphones and other devices, such as embedded chips in credit and debit cards. This will allow it take advantage of near field communication, a wireless technology that can be used for electronic payments.
If you are looking for a financial company on the cutting edge of technology that is making money right now, check out Visa. Even at a price of $134, it can still be considered a value stock because of its growth potential. The ongoing revolution in the way we make payments makes Visa a value stock.
Disclosure: I have no positions in any stocks mentioned, and no plans to initiate any positions within the next 72 hours. I wrote this article myself, and it expresses my own opinions. I am not receiving compensation for it (other than from Seeking Alpha). I have no business relationship with any company whose stock is mentioned in this article.