Dark clouds have lingered over US bank stocks for quite a while now, restricting most of this sector like an anchor. First it was "toxic" mortgages, then shadow inventories. The most recent was the "London Whale" trading incident, which caused shares of JPMorgan Chase & Co. (JPM), to sink as much as 24 percent in the month after the news of a multibillion dollar trading loss was released. However, this debacle has been forgotten by investors, and JPM shares have recovered.
In fact, the entire sector has had quite a run lately. Here is a one month chart showing Wells Fargo Co. (NYSE:WFC), JP Morgan Chase & Co. (NYSE:JPM), and Bank of America Corp. (NYSE:BAC) vs. the S&P 500 as a baseline: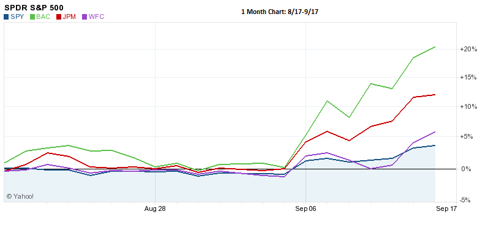 Led by BAC, these popular US banks have done very well. Perhaps the market is finally recognizing their relatively cheap valuations:
| | | | | | | |
| --- | --- | --- | --- | --- | --- | --- |
| Stock: | P/B | P/Sales | P/E ttm | Forward P/E (1 yr.) | Dividend | Dividend Growth ttm |
| WFC | 1.39 | 2.53 | 11.88 | 9.65 | 2.4% | 83% |
| JPM | .86 | 1.82 | 9.61 | 7.92 | 2.9% | 20% |
| BAC | .47 | 1.21 | 10.38 | 10.22 | .4% | Unchanged |
Although uncertain, the forward P/E ratios seem relatively cheap. In addition, the P/B ratios also seem attractive. But let's dig a little deeper by examining the recent history of this important metric:
| | | | | | |
| --- | --- | --- | --- | --- | --- |
|   | P/B on 9/17/12 ( current) | P/B on 9/30/2010 | P/B on 9/30/2007 | 5 Yr avg. P/B | % Discount from 5 yr. avg. P/B |
| WFC | 1.39 | 1.186 | 2.532 | 1.481 | 6.14% |
| JPM | .86 | .909 | 1.292 | .9670 | 11.06% |
| BAC | .47 | .619 | 1.651 | .6975 | 32.6% |
These three bellwethers of the U.S. finance industry are trading at discounts to their 5 year P/B averages. The most significant is BAC, trading at 47% of book value, and at a 32% discount to the 5 year average P/B. These enticing discounts could warrant getting long for some investors. However, there are still plenty of risks in owning these stocks.
Headline Risks Continue:
In addition to mortgages and rouge traders mentioned earlier, just a month ago Deutsche Bank (NYSE:DB), a foreign institution, was named in a U.S. money laundering probe investigation after accusations of funneling billions of dollars through their branches in New York, for sanctioned nations like Iran. More shockingly however, it was announced JPM is also being investigated for similar money laundering activities. Is the press exaggerating what are only suspicions by government officials? Investors must be wondering, will more potentially damaging events unfold for this seemingly cursed industry? Unfortunately, only time will tell.
Other Dangers:
Many experts seem to agree that the struggling economy will continue to pressure profits. Banks need steady depositors to grow money supplies, and accretive rates for loans. It seems there is little opportunity for either of these key pieces of the profit formula lately, especially since QE3 will likely keep rates low for quite a while longer. Additionally, depositors remained stressed.
In the second quarter, WFC, the fourth-largest U.S. bank, reported a net interest margin of 3.91 percent, unchanged from the previous quarter. However, just recently Chief Financial Officer Tim Sloan said he expects a decline in net interest margins. This is due to lower variable income, and expiration of higher yielding loans and securities, as well as reducing deposit inflows.
Deposits are very important to banks such as WFC. Considering much of their business is based in the US, perhaps Sloan's recent comments can be attributed to the struggling US consumer. This past August, the unemployment rate was still alarmingly high at over 8.1%. In addition, a recent study showed the average household income is 7.2% below the December 2007 level. Gordon Green, who previously directed work for the US Census Bureau's income and poverty statistics program, recently stated, "We're in an unprecedented period of economic stagnation." After lending an ear to Green and Sloan, the state of the US consumer does indeed seem troubling.
Closing Thoughts:
Continuing low margins, high unemployment, "economic stagnation" (as per Mr. Green), and continued headline risk tell a story of agony for US based financial institutions. However, there could be opportunity for the patient long term investor, as some valuation metrics such as P/B, P/E, and dividend increases seem to warrant some long exposure in a diversified portfolio.
Disclosure: I am long BAC, JPM. I wrote this article myself, and it expresses my own opinions. I am not receiving compensation for it (other than from Seeking Alpha). I have no business relationship with any company whose stock is mentioned in this article.