By Jason Born, CFA
On-demand hosted application providers (a.k.a. cloud computing companies) have seen and are expected to continue to see robust growth over the coming years. One such provider is Salesforce.com (NYSE:CRM) which has produced dizzying annual revenue growth of about 35% over the past five years. Since we expect much of that growth to continue, this article is not about how we think the market is overly excited by future growth opportunities. Instead our piece is about how a company that has proven itself capable of driving fantastic revenue growth has an intrinsic value considerably below the current market price and therefore becomes today's shorting opportunity.
Salesforce.com began in 1999 by providing Customer Relationship Management software over the web. Its core business of CRM has grown substantially from humble beginnings while related areas such as technology for service management, social computing, and marketing oversight have been acquired. These four business areas are lumped together as "Subscription and Support" in the company's filings. They make up 94% of CRM's revenues with the balance coming under the professional services segment.
Our first stop in any analysis of a company is the balance sheet. Nothing here sends us running for the exits. Debt is very low in the form of convertible senior notes which now price more like a stock since they are safely above the conversion price. CRM has $1 billion in cash and even if it had to pay off all its debt (unlikely given the convertible nature) it would still have $500 million in cash. Goodwill makes up 44% of the company's book value, which in our conservative minds is a bit high, but not out of the ordinary for a fast-growing, fast-acquiring company in the technology space.
Next we swing by the income statement and statement of cash flows for all the fun they bring to the party. Right away we are struck by the wonderful top line growth numbers - truly fantastic. Gross margins are hefty as they've averaged about 80% for several years. Strong gross margins are to be expected from a hosted application provider of any stripe and CRM delivers well in this regard.
If only we could then make the tell-tale sign of a needle being carelessly torn from a spinning record as can be heard in nearly all terrific comedies when the hero finally realizes something unexpected. CRM has negative operating margins. "OK though," we say at first, "CRM is in a hyper-growth mode and is spending some extra bucks to build its client base so it may ratchet up margins and profitability in the future." The best response we can offer to this supposition is a resounding, "Maybe."
The company has been alive and growing revenue for 13 years. In that time period the single best annual operating margin ever recorded came in the fiscal year ending January 2010. That year the operating margin was an underwhelming 8.8%. To put that into perspective we took a run through some other application-type companies and found operating margins consistently ranging from 15% for Blackbaud (NASDAQ:BLKB) to many in the mid-twenties (Adobe (NASDAQ:ADBE), SAP (NYSE:SAP), and Akamai (NASDAQ:AKAM)).
It turns out that CRM spends two-times as much money as a percentage of revenue in marketing its product to new customers compared to peers. Even as the revenues have grown, the money spent on marketing remains remarkably elevated. We offer two possible explanations for this fact, neither of them all that encouraging. Our first stab is that perhaps cloud computing in general, while wildly profitable from a gross margin standpoint, will prove to be less compelling from an operating standpoint as customers do not have the intense sunk cost in infrastructure to utilize a vendor's cloud offering. Therefore, the switching costs between competitors will prove to be low and so to keep customers, hosted application providers will have to spend oodles of money on marketing and service. A second less glamorous possibility is that CRM is just a bad operator.
To see if all this talk is worth any value at all, we ran some projections (see the table and assumptions).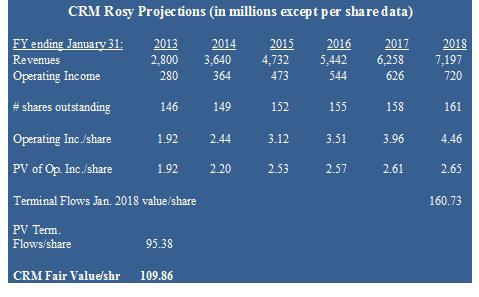 Please note that our share count starts at 146 million outstanding, which assumes that every convertible note actually converts, which is entirely rational given the current price of the stock. We further assumed that the share count grows every year by two percent, which is in the historic range due to incentive plans and the like.
The resulting fair value of $110 per share of CRM would indicate that the company is 45% overvalued at a recent price of $160 per share. Some bulls may take umbrage with our assumptions, but we believe that assuming a growth rate of 10% into eternity is quite generous. The rest of the assumptions are easily defended based upon this company's and similar fast-growing companies' results. We encourage our readers to build a similar simple spreadsheet and change the assumptions as you wish. We believe you will find that your inputs need to be exceptionally optimistic to come close to justifying the current price. One eternal truth in investing is that the price an investor pays, determines much of his return. We've found that CRM is priced too high. Avoid the long of CRM and stick with the short.
Disclosure: I have no positions in any stocks mentioned, and no plans to initiate any positions within the next 72 hours. I wrote this article myself, and it expresses my own opinions. I am not receiving compensation for it. I have no business relationship with any company whose stock is mentioned in this article.