Recent news and financial metrics support the construction of a hedged long/short position using Whole Foods Market (NASDAQ:WFM) as a short position and Safeway (NYSE:SWY) as a long position. These picks take advantage of Safeway's relative undervaluation and more favorable recent news.
Does the Emperor have no clothes?
The allegedly obvious health benefits of organic foods are less obvious than many Whole Foods shoppers believe. A group of Stanford researchers recently published how they found conventional foods and organic foods to be mostly indistinguishable. Senior author Dena Bravata, MD, MS said, "There isn't much difference between organic and conventional foods, if you're an adult and making a decision based solely on your health."
A lack of consensus for the supposed overwhelming nutritional supremacy of organic foods is bad news for the management of Whole Foods. Co-CEO Walter Robb claimed his personal experiences as an organic farmer cast doubt on the Stanford findings, citing his experience of "vitality." He also mentioned studies which have measured increased nutrient density in organic foods. This might be considered selective blindness to the many studies aggregated by the Stanford team which, as a whole, fail to demonstrate any meaningful nutritional benefits of organic foods. Mr. Robb also briefly noted that the science behind the review article is under scrutiny and that there are many other reasons to buy organic such as reduced pesticides and antibiotics.
While I agree that organic foods do not deserve the attention and price premiums afforded to them, I respect organic for its marketing success. Organic is a branding tool which spurs consumers to pay luxury prices for otherwise commoditized food. Though I expect that the brand-loyal followers will continue to ignore or fight the Stanford article, this work is a reminder of how shaky the tenets of the natural foods movement really are. Many are based on faith and assumption rather than overwhelming scientific evidence.
A grocer with good news
Safeway is a large cap grocery store whose stock currently trades at attractive valuation multiples, both on an absolute basis and also relative to other grocery stocks. Furthermore, investors who buy shares of Safeway also stand to benefit from the spin off of Safeway's gift card business. Spinoffs generally benefit investors as the parts of the original firm are usually valued more than the whole. Safeway announced that its gift card business, Blackhawk Network Holdings, is planned to IPO in the first half of 2013.
Computing Future Valuations from Growth Projections
Investors should buy stocks trading at prices which make them good deals. A poor company trading at a dismal price may be an excellent trade. Safeway is a solid company trading at remarkably low valuations which make it attractive. Its metrics are provided with other grocery stocks:
| | | | | | |
| --- | --- | --- | --- | --- | --- |
| Ticker | Company | P/E | Earnings Growth Est. | P/S | Sales Growth Est. |
| SWY | Safeway | 9.0 | 9.4% | 0.1 | 1.7% |
| | Casey's General Stores | 19.5 | 12.7% | 0.3 | 11.5% |
| | Harris Teeter Supermarkets | 19.4 | 12.0% | 0.4 | 5.6% |
| | Kroger | 21.8 | 9.3% | 0.1 | 6.5% |
| WFM | Whole Foods Market | 46.3 | 22.3% | 2.3 | 13.5% |
| | The Fresh Market | 41.7 | 17.3% | 1.6 | 12.5% |
These data inspire an investigation of whether Safeway's lower valuations are justified by its lower earnings growth projections and sales growth trend. Put another way, do the higher growth estimates of its competitors justify their higher valuation multiples? Future valuation multiples of Safeway and its peer stocks were modeled by combining expected growth and trailing valuation multiples for sales and earnings. Graphs of future price-to-earnings and price-to-sales ratios based on analyst earnings growth estimates and historical sales growth follows: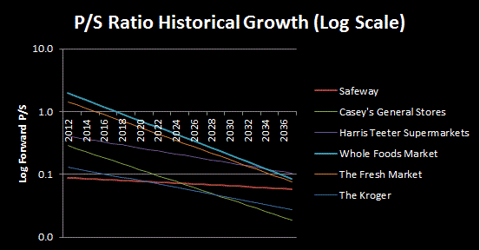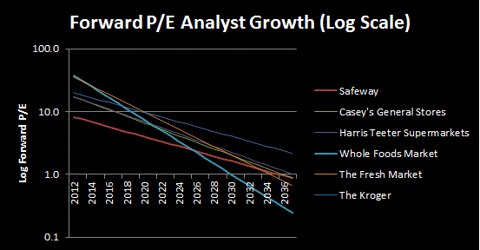 These projections illustrate how Safeway's lower valuations more than compensate for lukewarm growth. Analyst estimates for faster-than-economic growth are not predictive after three years or so, yet somehow investors are paying prices for grocery peers shares which imply they can see earnings at least 14 years ahead.
The estimated years of convergence between Safeway and its competitors years were calculated below:
| | | |
| --- | --- | --- |
| Safeway Competitor | P/E Equivalence | P/S Equivalence |
| Casey's General Stores | 2037 | 2024 |
| Harris Teeter Supermarkets | 2043 | 2052 |
| Kroger | N/A | 2020 |
| Whole Foods Market | 2025 | 2040 |
| The Fresh Market | 2033 | 2039 |
The projected crossover dates span well into the distant future for the price-to-earnings multiple, demonstrating how Safeway is a bargain relative to its peers. Investors should consider Safeway at current prices over its peers since their valuations only cross over well beyond a 3-year horizon.
Conclusion
It's clear that Safeway shares are more attractively priced than those of Whole Foods. Recent news is icing on the cake for Safeway's investors while the organic controversy is bad news for Whole Foods investors. Long-only investors should strongly consider Safeway as a good stock to buy now. Investors who seek a hedged position should consider buying shares of Safeway while taking short positions in Whole Foods Market.
It should be noted that this pairs trade is not perfectly hedged, and that selling short Whole Foods would need to be monitored frequently. Investors who do not want to worry about short selling could buy a put as an alternative way to establish a short position.
Please read the article disclaimer.
Disclosure: I have no positions in any stocks mentioned, and no plans to initiate any positions within the next 72 hours. I wrote this article myself, and it expresses my own opinions. I am not receiving compensation for it (other than from Seeking Alpha). I have no business relationship with any company whose stock is mentioned in this article.