The solar sector has had to adapt to the withdrawal of subsidies of the member countries of the European Union. In the United States, the solar sector is at 100% of performance, and in Asia, the Japanese government announced that it was going to give aid to the solar sector by building more than 3.6GW of solar energy.
Two American companies lead the industry in the solar power conversion solutions: Satcon Technology Corporation (SATC) and Power-One Inc. (NASDAQ:PWER).
These two companies sale 49% of global solar solutions around the world annually.
| | |
| --- | --- |
| Satcon Technology Corporation | |
| Growth | 2011 |
| Revenues | $188.55 Million |
| Gross Profit | $850k |
| Power-One Inc | |
| Growth | 2011 |
| Revenues | $1.04 Billion |
| Gross Profit | $403 Million |
I find at least four reasons to buy Satcon Technology Corporation shares:
Satcon Technology Corporation , a clean energy technology company, provides utility-grade power conversion solutions for the renewable energy market, primarily the large-scale commercial and utility-scale solar photovoltaic markets worldwide. The company designs and delivers power conversion solutions that enable producers of renewable energy to convert clean energy into grid-connected electrical power. It also offers system design services and solutions for management, monitoring, and performance measurement to improve capital investment, and quality and performance over the lifespan of an installation.
The company''s products include PowerGate Plus, a utility-ready photovoltaic inverter; Equinox, a power conversion solution built on the foundation of PowerGate Plus; Prism, an integrated 1 or 1.25 megawatt medium voltage solution; Solstice, a power harvesting and array management solution; Energy Equity Protection, which comprises Satcon design services, APEX project management, preventative maintenance and warranty programs, and system uptime guarantees; and other legacy power products, including static transfer switches, static voltage regulators, frequency converters, and AC arc furnace line controllers from 5 kilowatts to 100 megawatts.
Portfolio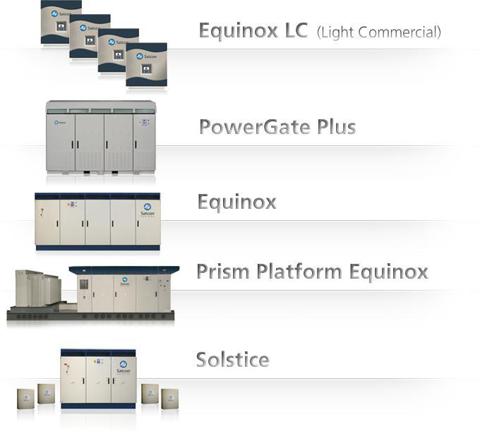 Click to enlarge
(Click to enlarge)
Satcon offers the best-in-class technology for intelligent energy harvesting and power conversion. Built on a foundation of PowerGate solutions, the world's most widely deployed large-scale, Utility-Ready inverters, its experience comes with having hundreds of millions of grid-connected kilowatt hours delivered to date.
Its technologies are consistently setting the standard for system value with advanced, reliable, efficient and innovative solutions.
Satcon shares the leadership of the sector in the U.S. with Power-One Inc.
1. The chart mark bounce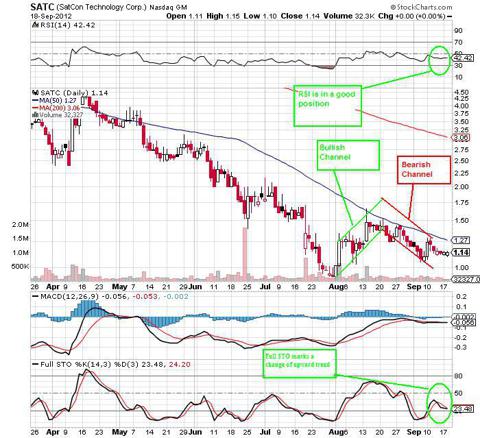 Click to enlarge
(Click to enlarge)
Full STO is in the time of an onset bullish indication. RSI is in a good position. The chart marks a start of bullish channel.
2. Strong Manufacturing Partnership in China
On February 2, 2012 Satcon announced a partnership with Great Wall Computer Company Limited (OTC:GWPC), a majority-owned subsidiary of China Electronics Corporation (CEC).
Strong world position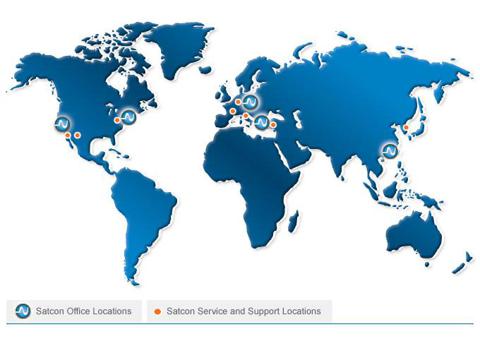 Click to enlarge
(Click to enlarge)
3. Analyst price target: $4.00
On July 19, 2012, Satcon announced that it would carry out a 1-for-8 reverse stock split.
On May 18, 2012, Cantor Fitzgerald downgraded Satcon Technology from Buy to Hold, price target slashed from $3.00 to $0.50.
Cantor Fitzgerald's analyst, Dale R. Pfau, said:
On May 17, the U.S. Department of Commerce imposed an immediate 31% duty on Chinese manufactured c-Si cells, modules, and panels. With the European solar market in decline, and most of world's solar panels manufactured in China, we believe this ruling will have a significant negative effect on what has been a growing U.S. market.
The target price that Cantor Fitzgerald's analyst mentioned was before the reverse split, therefore:
| | | |
| --- | --- | --- |
| PRICE TARGET BEFORE REVERSE SPLIT | REVERSE SPLIT | CURRENT PRICE TARGET |
| $0.5 | 1:8 | $4 |
Satcon Analyst stock recommendations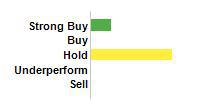 (SOURCE)
4. Institutional Awards
On July 11, 2012, Satcon Technology Corporation announced that they had been selected by the California Energy Commission (Energy Commission) to receive a $2 million grant to develop and demonstrate methods to reduce the effects of renewable power intermittency. The grant is part of a larger initiative to develop the core solutions to enable higher penetration of renewable power onto the electric grid through advanced solar energy harvest, storage and array control capabilities.
Conclusion
Satcon is an unique opportunity in the market. The company is undervalued. The important partners in Asia can help it to achieve important contracts in Japan and China. Their products are innovative and offer an excellent possibility of acquisition to multinationals.
*Chart data sourced from stockcharts, all other data sourced from Nasdaq.com and yahoo.com as well as the web of the previously mentioned company.
Disclosure: I am long SATC. I wrote this article myself, and it expresses my own opinions. I am not receiving compensation for it (other than from Seeking Alpha). I have no business relationship with any company whose stock is mentioned in this article. Investors buy and/or sell at their own risk. I declare that I may day-trade any stock at any time mentioned in this article. For me "long" is until I sell and few tell you that. I do not "short" stocks and few tell you that too. I also get paid one penny per view from SA and other than being published by SA and my own private stock account, I have zero connection to Wall Street and few tell you that too