After looking at different industries and comparing average return on equity to average price-to-book ratios, the casinos & resorts industry appears overvalued. These stocks appear promising for constructing net-short positions because in aggregate casinos & resorts produced below-trend ROE for their average price-to-book multiple. Using this top-down approach to choose industries for a net-short position, attractively-priced stocks and overpriced stocks were identified among casinos & resorts.
Why create a fully or partially hedged position?
Alpha hunters might consider net short positions in industries trading at indefensible multiples, market neutral positions for fairly valued industries, and net long positions in industries with attractive valuations. If they are willing to hedge their positions, they can find more investment opportunities than they would by just hoping to find the best industries or stocks to buy today. Instead, they can use fully or partially hedged positions to bet on the mean reversion of different stocks in an industry while minimizing or reduce exposure to industry and market volatility. Long-only is an absolute game whereas long/short portfolios gain from relative outperformance of its long book as compared to its short book.
Buying Cheaper, Higher Growth Stocks
This analysis is based purely on growth predictors and past valuations. It is not based on CEO interviews or personal hunches about where a stock is going. I would rather provide valuation-based recommendations which are validated by the persistence of the value effect than inklings which have not been tested as being predictive. Media attention to firm specific details is contrary to investment based on financial metrics.
Though the value effect has been empirically demonstrated many times over, financial news often showcases other factors which are not proven to be predictive of future returns and in my view distracts from what is important. They are left as an afterthought to focus on value and growth.
Casino & Resort Stocks
Growth and value were reconciled in this industry by plotting a measure of growth on the y-axis as a function of a measure of cheapness on the x-axis. Historical price-to-earnings multiples, price-to-book multiples, and price-to-sales multiples were used as measures of cheapness. Analyst estimates for earnings growth, historical return on equity, and historical sales growth were plotted as measures of growth.
Plots of these companies reveal how some stocks are much more attractively priced than others: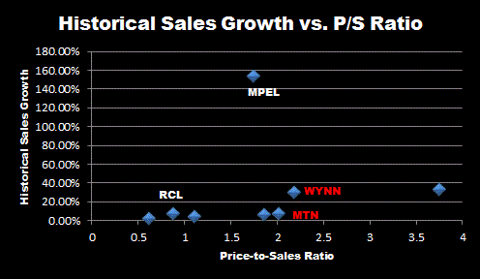 These graphs visually demonstrate how some firms offer investors better growth for value. More attractive stocks are found up and to the left while less attractive stocks are found down and to the right. Since these stocks do not monotonically decrease or increase, there are opportunities to buy stocks which offer exceptional growth/value while shorting stocks which offer suboptimal growth/value.
Two above-trend resorts & casino stocks are presented in bold and two below trend short picks are listed in italics: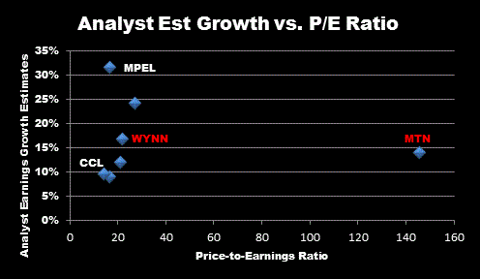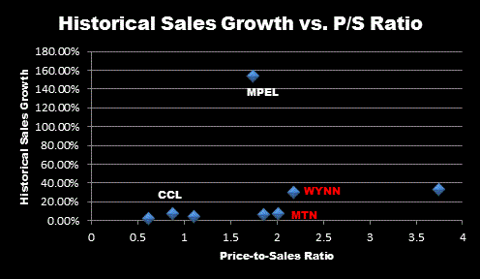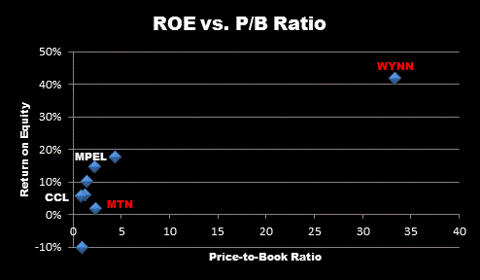 | | | | | | | | | |
| --- | --- | --- | --- | --- | --- | --- | --- | --- |
| Ticker | Company | Country | P/E | P/S | P/B | Growth Est | Sales Growth | ROE |
| | Carnival Corporation | USA | 21.0 | 1.9 | 1.3 | 12.0% | 5.9% | 6.1% |
| | Las Vegas Sands | USA | 27.0 | 3.7 | 4.4 | 24.3% | 33.3% | 17.6% |
| | MGM Resorts | USA | 0.0 | 0.6 | 1.0 | 13.5% | 1.8% | -9.9% |
| | Melco Crown Entertainment | Hong Kong | 16.9 | 1.7 | 2.3 | 31.7% | 154.2% | 14.7% |
| | Vail Resorts | USA | 145.5 | 2.0 | 2.3 | 14.1% | 6.8% | 1.9% |
| | Penn National Gaming | USA | 16.7 | 1.1 | 1.5 | 9.0% | 4.1% | 10.3% |
| | Royal Caribbean Cruises | USA | 14.1 | 0.9 | 0.8 | 9.6% | 7.6% | 5.8% |
| | Wynn Resorts | USA | 22.0 | 2.2 | 33.3 | 16.9% | 29.8% | 41.8% |
Carnival and Melco Crown were found to lie among stocks in the upper left of these plots (higher growth, undervalued stocks) while Vail Resorts and Wynn Resorts were found to lie at the lower right of these plots (lower growth, overvalued stocks). Carnival's low price-to-sales and price-to-book multiples make up for its slow growth. Based on this work, a net short position in the casinos & resorts industry can be constructed by buying MPEL and CCL shares while hedging with a larger total short position (for example, long puts) on MTN and WYNN shares.
As an aside, it should be noted that Wynn Resorts is facing serious legal and management conflicts. Japanese billionaire Kazuo Okada is engaged in a legal battle and power struggle with casino giant Steve Wynn in retaliation for his shares being liquidated at a discount by the company. This is a very messy dispute which has included a letter to the SEC, letters to shareholders to support the appointment of Okada-allied board members, and litigation. This dispute, coupled with the desire of Steve Wynn's ex-wife to liquidate her 10% stake in the company, ought to result in the shares trading at cheaper valuations, not dearer ones. Investors should buy puts based on this disconnect or at least wait until valuations for Wynn Resorts fall before taking a position.
A long/short position using different stocks is not a perfect hedge, so care must be taken to monitor shorts so that they do not grow out of hand. Alternatively, the short positions can be created by buying put options.
Please read the article disclaimer.
Disclosure: I have no positions in any stocks mentioned, and no plans to initiate any positions within the next 72 hours. I wrote this article myself, and it expresses my own opinions. I am not receiving compensation for it (other than from Seeking Alpha). I have no business relationship with any company whose stock is mentioned in this article.