By: Brendan Gilmartin
Summary
Oracle (NASDAQ:ORCL) is scheduled to report 1Q 2013 earnings after the close of trading on Thursday, September 20. The software giant is expected to report its earnings right at the closing bell and host a conference call at 5:00 p.m. EST.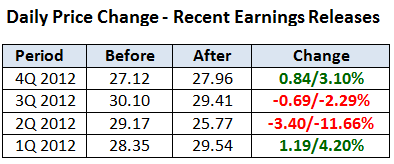 Outliers & Strategy
Key Measures:
Non-GAAP Earnings Per Share: Back in June, Oracle stated in its 4Q 2012 earnings conference call that Non-GAAP EPS for the current 1Q period is forecast to range between $0.54 to $0.58 in constant currency or $0.51 to $0.55 at current rate, up from $0.48 last year. The current Street estimate is $0.53.
Revenues: Oracle indicated it expects 1Q 2012 total revenue growth on a GAAP and non-GAAP basis to range from 3% to 6% in constant currency and negative 2% to positive 1% in current rate. That would equate to $8.199 billion to $8.458 billion. The consensus is toward the high end of that range at $8.43 billion - flat with the year-ago period.
Oracle President

and

CFO Safra Katz acknowledged last quarter that the strength in the

dollar

and recent reports on the economy factored into the outlook for the 1Q period, implying the guidance was on the conservative side.
Oracle shares are up about 30% YTD and off just 1.72% from the 52-week high of $33.81 established in October of last year, implying investors are betting Oracle will deliver earnings at or above the upper end of its outlook.
Since reaching a recent high near $84 in late July, the US Dollar Index (DXY) is off more than 5%, helping to support Oracle's top and bottom-line as it derives nearly 50% of revenues from outside North America.
Recent News
09/18: According to a report on Investors.com, Oracle is seen posting in-line results for the seasonally-weak 1Q period. Channel checks from UBS and RBC Capital Markets reportedly show that Oracle is likely to report in-line new software licenses, while Europe is seen lagging.
09/17: Lazard Capital raised its price target on Oracle from $34 to $37 and increased earnings estimates in anticipation of a solid 1Q report, according to a post on SeekingAlpha.com.
09/15: In a report in Barron's, Jason DeSena Trennert, managing partner of Strategas Research Partners,

said

he likes Oracle, based on upward dividend payout potential. Oracle is currently yielding just 0.73%, but has $6.28/share in cash on its books.
09/10: Barclays maintained an Overweight rating on Oracle with a price target of $37, according to StreetInsider.com. The firm expects Oracle to deliver an in-line quarter and potentially offer upside guidance to 2Q 2013.
Technical Review
Oracle shares are up close to 30% YTD and near the highest level in 11 months. In the event of a well-received earnings release, the shares face initial resistance in the $33/$34 area - with breakout potential to the multi-year highs near $36 established in mid-2011. But with in-line results expected in the wake of the recent run-up and the momentum oscillators (MACD and RSI) starting to recede, there is downside risk to key support at $32.00 if results disappoint, followed by $31.00, just below the 50-Day SMA. (Chart courtesy of StockCharts.com).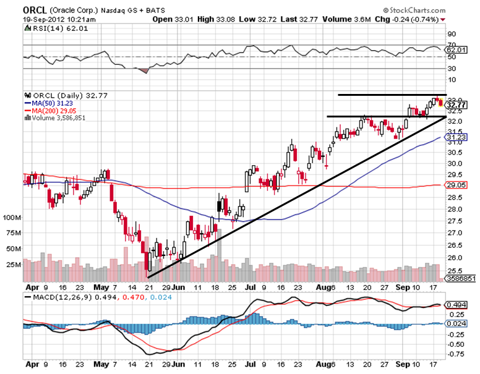 Summary
Oracle shares are closing in on a 52-week high, despite what is typically a seasonally weak quarter against an uncertain economic backdrop. Rather, Oracle is benefiting from stabilizing demand trends, growth in cloud-based services, the Dollar reversing its upward trajectory versus the other major currencies, and a substantial buyback plan announced back in June. With that being said, expectations are fairly elevated going into the release.
DISCLAIMER: By using this report, you acknowledge that Selerity, Inc. is in no way liable for losses or gains arising out of commentary, analysis, and or data in this report. Your investment decisions and recommendations are made entirely at your discretion. Selerity does not own securities in companies that they write about, is not an investment adviser, and the content contained herein is not an endorsement to buy or sell any securities. No content published as part of this report constitutes a recommendation that any particular investment, security, portfolio of securities, transaction or investment strategy is suitable for any specific person.
Disclosure: I have no positions in any stocks mentioned, and no plans to initiate any positions within the next 72 hours. I wrote this article myself, and it expresses my own opinions. I am not receiving compensation for it (other than from Seeking Alpha). I have no business relationship with any company whose stock is mentioned in this article.