Since we last wrote about Annaly Capital (NYSE:NLY) in July, the price of NLY has increased a mere 0.77%. Because it only pays dividends quarterly, an investor who bought it on or around that day would still not have received a dividend. That long-awaited dividend will be declared this week, with a payout date sometime in October. We expect the dividend to be slightly lower than the $0.55 dividend paid in July and we think the rest of the market is also expecting it. But this shouldn't scare investors away just yet.
Annaly, known for its top-tier management within the REIT industry, has taken steps to reduce the risk of a rise in interest rates. It recently issued $400 million of preferred securities with a dividend of 7.5%. With the proceeds, it repurchased $281 million of the 4% convertible notes due in 2015 and are using the rest for regular investing activities. The recapitalization is part of management's strategy to strengthen the balance sheet and protect the value of its portfolio in the event of an unexpected change in interest rates.
But concerns about margin compression, higher prepayments and dividend reductions are prevalent in the industry so it no longer would be an unexpected event. Instead, we think that moves by Annaly management to mitigate valuation changes may not yet be recognized by the market.
Meanwhile, prepayment risks should be somewhat lower in the latter part of 2012 and the rise in interest rates isn't expected until 2015. So management's strategy to maintain leverage at historically low levels should give investors additional comfort to hold the stock for the long-term. Financial leverage is well below the double digit levels it had reached between 2002 and 2007.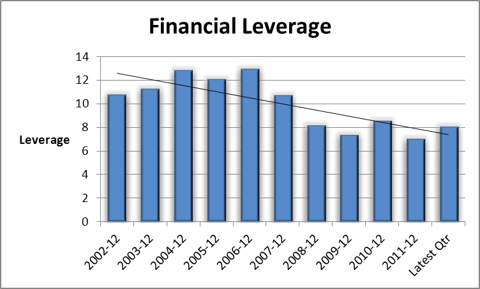 This week's dividend announcement will be closely watched not for whether the dividend will be decreased, but rather, by how much. A dividend decrease of 10% would still provide investors with a yield of 11.6% at a price of $17.19. But risks do remain.
Risks
Policy Risk
It is difficult to predict the impact of policies being pursued by the Fed on the housing industry and more specifically, the mortgage space. In addition, as we approach the elections in November, the market may react unpredictably as one candidate or the other shows signs of being elected. Not to mention, the results of Congressional elections as well.
Interest Rate Risk
We think that Annaly is well protected against changes in interest rates and have gone even further to minimize the impact of unexpected changes. But unexpected changes are just that, unexpected, and Annaly, like any other mREIT, can be impacted by both a drop or rise in interest rates. A drop in interest rates may spur additional prepayments, forcing the company to expense the premium paid for the securities at a faster rate than planned. Meanwhile, an unexpected rise in interest rates will lower the value of the securities held in the portfolio.
Our Conclusion
Annaly will reduce its dividend in the latter part of 2012, beginning with the dividend for 3Q. However, we feel that management continues to protect assets during these uncertain times and will maintain the company well positioned for opportunities as they arise. Investors should stand pat unless the dividend yield threatens to fall below 10%. At that point, we think enough investors will be scared into selling and the price will fall.

Disclosure: I am long NLY. I wrote this article myself, and it expresses my own opinions. I am not receiving compensation for it (other than from Seeking Alpha). I have no business relationship with any company whose stock is mentioned in this article.