Given the sorry state of the market these days, lots of investors are looking for so-called "recession-proof" investments - companies that will perform consistently in bull runs and bear markets to keep their money secure. What better place to look than a company that dedicates itself to safekeeping?
IRM)" rel="nofollow">
Iron Mountain (IRM) helps customers store and discard paper documents securely. In effect, this means driving a van to a customer's location, filling it with documents in boxes that IRM has sold to its customers, then driving them to a secure location to be retrieved when the company needs them, or shredded when the docs have outlived their usefulness.
There's a lot to like about Iron Mountain - 93% of the Fortune 1000 uses the company for at least one of its services. Its business has stickiness as well - once a company signs on with IRM, it is unlikely to switch providers or take the operation in house. In the last major economic crisis, after the tech bubble burst in 2001, IRM's revenues kept growing, and its three segments (Domestic Physical storage, International Physical storage, and Worldwide Digital storage) have grown at a 12%, 16%, and 39% CAGR between 2005 and 2007, respectively.
Iron Mountain's main competition doesn't even come from another company - it comes from its own clients, who often choose to manage sensitive information on their own rather than outsourcing to a company like IRM. That's why Iron Mountain controls just 33% of its market despite its impressive client list and continued growth.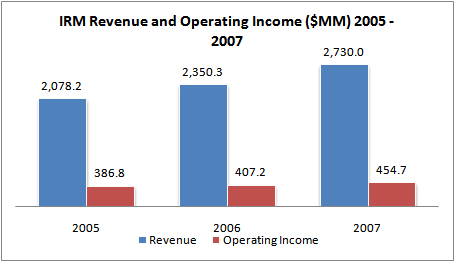 But before you put all your eggs into Iron Mountain's super-safe basket, think about the company's future prospects. To keep pace with the new digital age, IRM will need to evolve beyond its core, physical document business. It has boosted its case for becoming a one-stop shop for all of a company's information needs with the 2008 debut of its SaaSProtect Escrow program, which will provide a back-up plan for customers who rely on software-as-a-service applications. Iron Mountain will try to cross-sell existing customers on its ability to provide digital safe-keeping, and in doing so boost a segment that represented just 6% of revenues in 2007.
Long term, an IRM investor must decide - does the company's dominance in physical information storage give it the opportunity to become a leader in digital storage as well? Or will Iron Mountain become a dinosaur in the high-tech world, relying on vans and boxes while big business moves on to servers and semiconductors? In the short term, the stock has dropped 25% since February as it keeps pace with the market. At this price, an IRM investment seems like a safe bet - fitting for a company that makes its living on security.