In my previous articles, I had the opportunity to look into detail at two shipping companies I would consider adding in a diversified shipping portfolio: Safe Bulkers Inc. (NYSE:SB), and Baltic Trading Limited (NYSE:BALT). The two companies are executing different chartering strategies, in effect offering different risk / reward profiles.
Safe Bulkers operates the majority of its vessels on fixed-rate time charters, providing the company with earnings visibility. Baltic Trading on the other hand operates its vessels on index-related time charters, providing full exposure to the vagaries of the spot freight market.
Fixed-rate charters may appear the safer and more conservative way to go, but one unintended consequence is increased credit exposure. The risk of default gets bigger with longer durations, higher rates, but also lack of a diversified customer base.
Safe Bulkers has relied on two Japanese charterers for the majority of its revenues for the past four years as demonstrated on the table below. Its credit exposure to Daiichi Chuo Kisen Kaisha (Daiichi) is exceptionally high, and should be a cause of concern to investors, especially given Daiichi's gloomy outlook for its current fiscal year.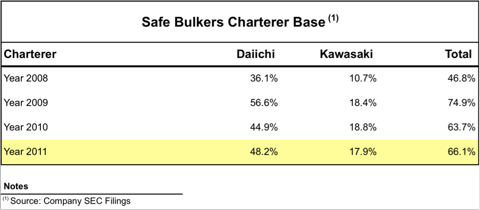 For the record, Safe Bulkers has candidly described the extent of such relationship and associated risks in its annual filings with the SEC. Also, Daiichi has fully performed its contractual obligations for the past five years, despite a world wide financial crisis in 2008 and very depressed freight markets since 2011.
With that being said, it should be prudent to assess the risks associated with such a relationship. Safe Bulkers provides only partial disclosure regarding its fleet employment. It does not publicly disclose the charterer on an individual (vessel) basis, with the only exception being its initial public offering memorandum in May 2008. Five of these legacy charters with Daiichi still exist today, with remaining durations ranging from one year to 2.5 years.
These charters account for only part of Safe Bulkers' relationship with Daiichi, but they provide a very useful insight to the degree of the company's credit exposure to Daiichi.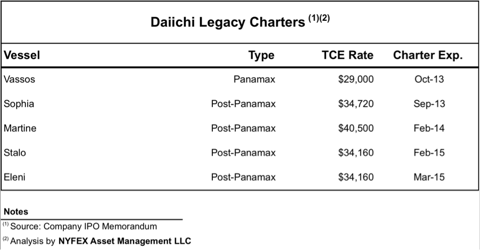 The average cash daily rate for these charters is approximately $34,500. Assuming, for argument's sake, that the current period market for panamax/post-panamax vessels is between $10,000 and $12,000 per day, the company's credit exposure from these five charters is enormous. If Safe Bulkers were to re-charter these vessels in today's market environment, it would forgo between $41 million and $45 million in revenue on an annualized basis.
Relying on a sole customer for half of your revenue is never a good idea, especially when there is such discrepancy between contractual rates and spot rates. Coincidentally, the company's annual dividend payment is approximately $46 million.
Investors have been attracted to Safe Bulkers for its conservative business strategy, earnings visibility, and dividend yield. They should expect more clarity from management regarding risk exposure and measures taken to mitigate such risk. Whether it is the shipping industry or life in general, putting all your eggs in one basket never comes risk free.
Disclosure: I am long SB, BALT. I wrote this article myself, and it expresses my own opinions. I am not receiving compensation for it (other than from Seeking Alpha). I have no business relationship with any company whose stock is mentioned in this article.