Often during a bear market quality companies can be bought for fractions of their intrinsic value, and one of the clearer examples of this in the current market panic is Legg Mason (NYSE:LM). Legg Mason is a diversified asset manager with substantial assets under management in equities, bonds, money markets, and fund of funds. Contrary to public perception they are not overly reliant on any one fund or manager but instead they have a broad array of managers and asset classes to offer investors in their funds and separate accounts.
At the close of trading on July 28, 2008 LM had the following statistics:
Price - $35.55
Market Cap - 4,947,000,000
P/E - 19.12
P/CF - 5.31
P/S - 1.1
P/B - .74
LM was once a favorite of Wall St. best known for its proficient value funds., vaulting to $130 a share and 30 times earnings in late 2005, but has since become one of the most hated names in the market synonymous with poor recent investment performance, and inexcusable SIV exposure. Bill Miller who is the Chief Investment Officer for Legg Mason's equity funds has gone from having the perception of being a genius from his long tenure of outperforming the S&P 500, to that of a plagued and hopeless manager with a penchant for companies riddled with poor balance sheets such as Bear Stearns (NYSE:BSC) and Countrywide Financial (CFC). Like most things in life the truth probably lies somewhere in the middle, but the stigma of Miller's recent struggles has detracted attention from the rest of the company which has not been performing nearly as poorly as the funds that Miller has managed.
In addition to suffering outflows in many of its fund categories due to underperformance, Legg Mason's Western Asset Management's Money Market Funds have been riddled with illiquid SIVs which has caused LM to take substantial write-downs to make up for the shortfall to investors who were expecting cash substitutes but instead got something completely illiquid, and far riskier than advertised. The money market assistance that the company has provided has annihilated earnings for Legg Mason but many of the charges are of the non-cash variety, and management expects that they will be able to recoup the money from their subsidiary over time. If this does occur it would entail the money flowing back through the income statement, but I assign no value to this possible future revenue stream.
With all of this being said you are probably wondering why this author views Legg Mason as an extraordinary value at these prices. Well let's look at the business moving forward and see if we could prescribe some measure of valuation to this bruised company in these most uncertain of times.
Judging by the numbers of their most recent earnings release, Legg Mason is extremely well diversified. They have $923 billion in assets under management with 28% being allocated to equity funds, 53% in fixed income, and 19% in liquidity funds. 53% of total assets under management were in Institutional, 41% in Managed Investments, and 6% in Wealth Management. Assets Managed for non-U.S. domiciled clients represented 34% of total AUM at June 30, 2008.
Many value investors have struggled over the past year in addition to Bill Miller, who has unfairly been cast as one of the whipping boys of this bear market. Value investing has lagged behind momentum investing many times over the years, most recently during the late 90s tech fad, but in every cycle has bounced back to outperform again.
Bill Miller, like many other fund managers, has been overweight financials that have been trading at fractions of their book value and earnings power. Historically these bets have paid off in spades but in this market many of these companies have been exposed to toxic balance sheets and liquidity issues which have forced the Federal Reserve and Treasury to take unprecedented actions.
Companies reliant on outside financing like Bear Stearns and Countrywide have borne the brunt of the pain. Miller, like many others, has been very wrong in the case of these companies but time will tell how the rest of his portfolio holds up in the next couple of years.
Asset Management is an extremely lucrative business. Legg Mason has averaged above 24% operating margins over the last 10 years and once the liquidity issues in the money markets are fully resolved LM should average a 20% return on equity once again. None of their problems are permanent issues and the company is flush with cash after a recent capital raise.
To give you an idea of the quality of earnings for a company like Legg Mason, in the trailing twelve month period the company made $267.6 million in net income, but due to the non-cash nature of the write-downs LM recorded $793.4 million in free cash flow. Normalized earnings for Legg Mason given their current financial situation should be about $630-$700 million a year. These earnings basically all filter down to free cash flow so currently the company is trading at about 7 times normalized earnings and less than 8 times free cash flow. Once the SIV issues are resolved this cash can be used to buy back stock at attractive levels or expand their international business.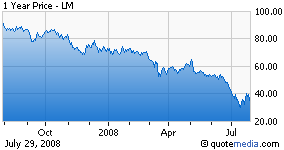 A company like LM that has consistently earned 20% on equity could easily be valued at 20 times earnings which is close to LM's historic 22 multiple, but I am going to err on the side of caution and value LM at 15 times normalized earnings of $700 million placing LM's value at $10,500,000,000 or approximately $60 a share.
To a private buyer the company is worth substantially more then this figure but being that there aren't many logical buyers with the capital to make a big acquisition in this environment, I figured it to be more prudent to value it as a standalone business.
Legg Mason has an extremely strong cash position with cash and equivalents equal to their total long term debt. They are not reliant on outside financing and when the market rebounds it is very likely that they will begin to grow earnings again, but once again to ensure the safety of principal on the investment I prescribe no value to growth.
Bear markets are the breeding grounds for outperformance and by looking past the noise and focusing on the facts, great values like Legg Mason are there for the taking. By betting on hated names such as this, I fully expect significant volatility and I make no pretense towards having any skills at picking a bottom, but for the long term investor this is an excellent opportunity to potentially double your money over the next 3-5 years.
Disclosure: Long LM stock and short puts.