I'm a sucker for a good story. And in the oil and gas business there are a lot of good stories.
The most interesting stories to me are those about companies like Petrominerales (OTCPK:PMGLF) or IPC Oil and Gas that are drilling high-impact exploration wells. For these companies, success on one high-impact exploration well has the ability to create a step change in value for shareholders.
Exploration success can result in fantastic returns, huge value where previously there was none. Exploration however involves a high level of risk. For that potential of a huge payoff from a successful well is the possibility of a dry hole.
For me that risk is tough to stomach. I'm more interested in getting an opportunity for a step change in valuation without the risk involved in exploration.
And with the changes that have taken place in the oil and gas business over the past decade, I think an investor can now avoid taking on exploration risk and still invest in companies that can create step changes in valuation. I believe that opportunity lies in companies focused on unconventional resource plays.
Let me demonstrate with a company I own called Bellatrix Exploration (BLLXF.PK).
For roughly the past year, Bellatrix has indicated that the company has 377 net horizontal drilling locations in the Pembina Cardium unconventional resource play located in Alberta.
Here was the slide from the June Bellatrix presentation showing the 377 drilling locations: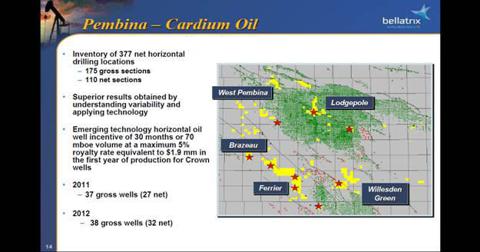 Now have a look at the most recent Bellatrix presentation that was released in September: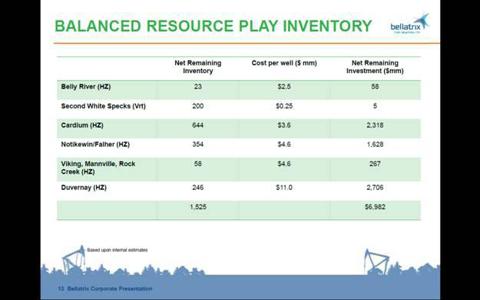 The number of net Cardium drilling locations has increased from 377 to 644. That is an increase of 267 drilling locations, which is a 71% increase. At roughly 400,000 barrels of oil equivalent per drilling location, that is an increase in recoverable barrels from 150 million to 257 million.
Why the increase? Did Bellatrix purchase more property?
No, this increase in drilling locations did not involve Bellatrix spending any money on property acquisitions. This increase in drilling locations is the result of Bellatrix learning more about its existing Cardium acreage. Bellatrix has determined that in certain areas where the pay zone is thicker, a higher well density can be employed. Since production from these unconventional plays is relatively young, companies keep making improvements through trial and error.
Bellatrix has figured out a way to create a step change in value for shareholders by figuring out how to extract more of the oil and gas that it has in place in its unconventional resource play. And Bellatrix did this without having to risk capital on a high risk exploration well.
This is the beauty of the unconventional revolution and why my portfolio is loaded with unconventional producers. These companies sit on a vast amount of oil and gas in their unconventional resource plays. Over time, through trial and error these companies are figuring out how to extract more and more of that oil.
The stock market generally values these companies based on their current booked reserves, which assume very conservative recovery factors. That means as investors we pay nothing for the enormous option value that lies in those recovery factors increasing.
Let me demonstrate how the stock market is undervaluing unconventional producers by using Canadian producer Petrobakken (PBKEF.PK) and its Bakken property.
The stock market currently values Petrobakken at the value of its booked reserves. Those booked reserves (100 million barrels) are based on a 6% recovery factor on Petrobakken's 1.7 billion barrels of oil in place in the Bakken.
Meanwhile, Petrobakken believes that over time the amount of oil that is going to be recoverable from its Bakken land is more like 25%. On that 1.7 billion barrels of oil in place, a 25% recovery factor would mean 425 million barrels are recoverable.
That is 425 million barrels vs. the 100 million barrels that are currently booked as reserves and upon which Petrobakken is currently valued by the stock market. That is a lot of upside not factored in by Mr. Market. It is also interesting to note that Crescent Point, the other major player in the Canadian Bakken isn't suggesting that 25% will be the ultimate recovery factor, rather Crescent Point (CSCTF.PK) is suggesting 30%.
At current stock prices, I think Mr. Market is greatly underestimating the value that both Bellatrix and Petrobakken have in their unconventional acreage. I don't expect the stock prices of either company to double overnight, but over the next decade as these companies continually grow production, their stock prices are going follow that production upwards.
Disclosure: I am long BLLXF.PK, PBKEF.PK.
Business relationship disclosure: I have a business relationship with IPC Oil and Gas.